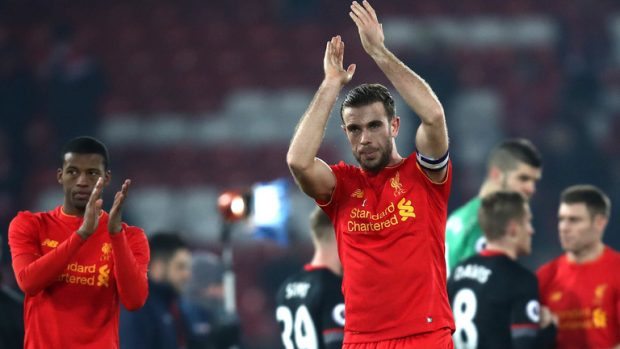 Liverpool midfielder Jordan Henderson feels Danny Ings' absence could be a big boost for them. Southampton are set to visit Anfield on Saturday and will be looking for their second win of this ongoing campaign.
Ings moved to St Mary's on the deadline day on a season long loan and is due to complete a permanent move next season. Ings will have to sit out this particular fixture as he won't be able to show his trickery against his parent team.
The 26 year old has been Southampton's main goal scoring threat since completing his move and has already found the net three times. It remains to be seen how Mark Hughes' side copes up with him but his influence has become pretty evident.
Henderson said, "There's no hiding the fact that we're delighted Danny can't play against us today at Anfield because for the first season of his move he's on loan. I don't mean that with any negativity – we're delighted because we know his class better than most.
"When people in the game talk about Danny it's always with positivity, but it's quite often focused on what a great person he is and how fantastic his attitude is. Both of those things are correct – he is someone you fall in love with when you spend time with him and his courage and spirit is contagious. But people should not ignore his ability and talent. He is technically superb and extremely clever.
"Danny's Liverpool story didn't materialise as he ultimately would have hoped, but when he told us he was going to leave during the summer window and join Southampton it was always going to be a case of starting a new story and kicking on.
"Like everyone in our dressing room I was chuffed Danny got the move he wanted. I've been lucky enough to represent my home town team previously so I know what it means. Southampton is Danny's home – it is his club and it means every goal he scores and every point he helps to win will mean even more.