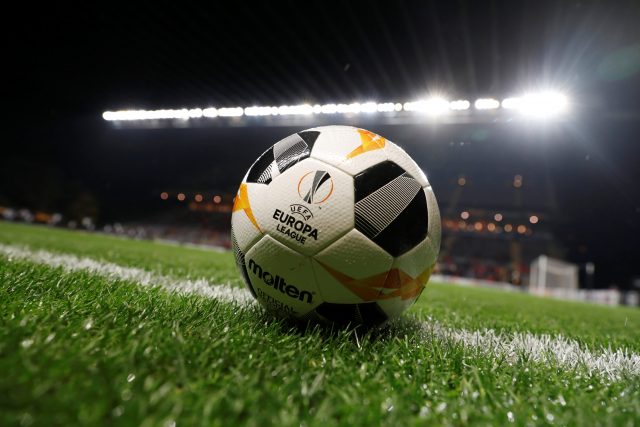 Europa League Round Of 32 Draw
The UEFA Europa League (UEL) Round of 32 draw for the 2019/20 season has finally concluded, and we have some mouthwatering ties lined up. Among the recognizable teams in the Round of 32 are Manchester United and Arsenal, both of whom made it through as group winners, and have some interesting opposition to contend with.
The first team drawn for the knockouts was England's Leicester City, who have impressed this season in the Premier League and in Europe, and they were handed a tie against SC Braga. Arsenal were handed a tough trip to Portugal to play against Benfica per the draw, where Mikel Arteta's side will have their work cut out for them.
Manchester United secured qualification to the UEL knockout rounds as group winners by beating AZ Alkmaar 4-0 at Old Trafford recently, and have been drawn against Club Brugge of Belgium, who drop down from the UEFA Champions League group stage. Arsenal's Greek opponents also dropped into the Europa League after finishing third in their Champions League group behind Tottenham. Olympiakos could only manage one win and a draw from their six matches.
The first legs of the Europa League round of 32 will take place on 18 February and the second legs on February 24 onwards. Other notable ties include Getafe against Ajax, Roma vs. Gent and Inter Milan against Ludogorets.
Bayer Leverkusen face Porto and fellow Bundesliga side Eintracht Frankfurt will play Salzburg, who finished behind Liverpool and Napoli in their Champions League group. Ajax, Roma and Inter also failed to qualify for the Champions League knockout phase.
View this post on Instagram
UEFA Europa League Draw – Round Of 32
| | | | | |
| --- | --- | --- | --- | --- |
| Team 1 | Agg. | Team 2 | 1st leg | 2nd leg |
| Wolfsberger AC  | 1 |  Tottenham Hotspur | 18-Feb | 24-Feb |
| Dynamo Kyiv  | 2 |  Club Brugge | 18-Feb | 25-Feb |
| Real Sociedad  | 3 |  Manchester United | 18-Feb | 25-Feb |
| Benfica  | 4 |  Arsenal | 18-Feb | 25-Feb |
| Red Star Belgrade  | 5 |  Milan | 18-Feb | 25-Feb |
| Antwerp  | 6 |  Rangers | 18-Feb | 25-Feb |
| Slavia Prague  | 7 |  Leicester City | 18-Feb | 25-Feb |
| Red Bull Salzburg  | 8 |  Villarreal | 18-Feb | 25-Feb |
| Braga  | 9 |  Roma | 18-Feb | 25-Feb |
| Krasnodar  | 10 |  Dinamo Zagreb | 18-Feb | 25-Feb |
| Young Boys  | 11 |  Bayer Leverkusen | 18-Feb | 25-Feb |
| Molde  | 12 |  1899 Hoffenheim | 18-Feb | 25-Feb |
| Granada  | 13 |  Napoli | 18-Feb | 25-Feb |
| Maccabi Tel Aviv  | 14 |  Shakhtar Donetsk | 18-Feb | 25-Feb |
| Lille  | 15 |  Ajax | 18-Feb | 25-Feb |
| Olympiacos  | 16 |  PSV Eindhoven | 18-Feb | 25-Feb |
Europa League On UK TV
Europa League games are demonstrated live on BT Sport on TV, on the web and through the BT Sport application.
There are different approaches to get BT Sport. In case you're as of now a BT Broadband client, you can add it to your current agreement for an extra £15 every month. You can likewise get a 'Major Sport' bundle for £40 every month which incorporates BT Sport channels in addition to 11 Sky Sports channels by means of NOW TV.
You can likewise purchase a month to month go to BT Sport for only £25 without joining to an agreement.
In the event that you don't have or need BT broadband, you can add BT Sport to existing broadband or TV administrations including Sky, TalkTalk and Virgin.
There will likewise be features bundles of each game online after the last whistle, and ordinary TV features show. Watch & Bet Sports =>
Europa League Final Time And Date
You can catch the Europa League Final on TV on 21st night. The kick off time is 20:00 hours GMT or 21:00 CET. The final is taking place in Cologne, Germany. The final is between Inter Milan vs Sevilla. Both teams have had different seasons domestically but neither have won a trophy. Conte is in his first season at the club at Inter.
He can win a major trophy after finishing second in the league. As for Sevilla, they took out two English teams in Wolves and Manchester United.
It will be an interesting final to watch. The winner of course gets to play the winner of the Champions League in the next season's UEFA Super Cup match.
View this post on Instagram
Frequently Asked Questions about Europa League draw –
Q1. What time is the Europa League draw?
A – The draw for the round of 32 was held on 14 December 2020. The draw for the round of 16 will be held on 26 February 2021, the quarter-finals and semi-final draws on 19 March 2021.
Q2. How does last 32 of Europa work?
A – The Europa League round of 32 participants are decided by the participants from 16 different groups. The top two teams from each group progress to the first knockout round of the tournament.
Q3. What time is the Europa League round of 32 draw?
A – The Europa League round of 32 draw was held at 13:00 CET on 14 December 2020.
Q4. Who qualified for Europa League 2021?
A – Plenty of attractive names qualified for this season's Europa League. English sides like Arsenal, Manchester United, Tottenham Hotspur and Leicester City are all playing.
SEE ALSO: