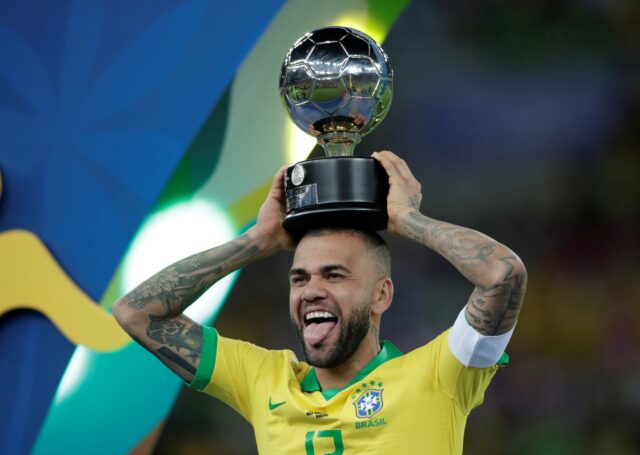 Dani Alves is the most decorated footballer of all-time with 46 trophies at club level.
Brazil's football manager Tite has defended his decision to select 39-year-old defender Dani Alves in his 26-man squad for the 2022 World Cup after receiving some negative comments on social media.
Alves will become the oldest player to represent Brazil in Qatar, surpassing the record set by legendary right-back Djalma Santos who was 37 years old at the 1966 World Cup.
The right-back is the most decorated footballer of all-time with 46 trophies at club level. Qatar world cup will be his third World Cup for Brazil. He was part of Brazil in 2010 and 2014 event.
Many on social media have questioned Alves's inclusion in the final squad, but Tite is not concerned by the negative feedback and insists that the experienced defender has many qualities that will be invaluable to his side in Qatar.
Speaking at a press conference on Monday, Tite said: "I didn't come here to please people on Twitter, which I don't even know what percentage of the Brazilian people represents.
"I respect differing opinions and I'm not here to convince everyone. I just want to give information so that people democratically form their own opinion. Now, everyone has their opinion and everyone has my respect.
"[Alves] adds technical and tactical aspects that are impressive, to be an organiser, an articulator. Sure he is not a 60 to 70 metres player anymore, but he has other virtues.
"The criteria awards his technical quality, but mental and physical aspects too."
Alves has not played for Pumas since the end of September, has recently been training with Barcelona to build up his fitness, and Brazil team doctor Fabio Mahseredjian has confirmed that the right-back will be ready in time for the tournament in Qatar.
"We have been following his recovery from up close and all the data that we have from Barcelona doctors show that he is fit to play," Mahseredjian told reporters.
Alves missed the 2018 World Cup in Russia due to injury, but he is one of only three players in Tite's squad.
Injured playmaker Philippe Coutinho, Gabriel Magalhaes, Matheus Cunha, Gabriel Barbosa, Renan Lodi and Roger Ibanez have also not made the cut, but Gabriel Martinelli, has been selected and is the youngest member of Tite's squad.
See More: