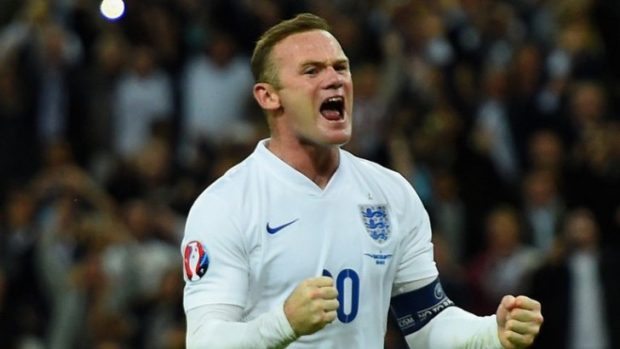 Another disappointing result after another dominating performance may well up end having a silver lining for England. If results pan out the way most people expect then this could be the last 16 draw .
Switzerland vs Poland
Spain vs Austria
Wales vs Albania
Portugal vs Belgium
Germany vs Slovakia
Italy vs Croatia
France vs N Ireland
England vs Hungary
The countries in bold are definite qualifiers so far. Looking at England's half I believe they may just have had a lucky escape by coming second in their group. The silver lining for England could be a relatively easy game against Hungary and being placed in the easier of the two halves of the draw. Potentially the next round could still be against Portugal and Ronaldo if they do not beat the Hungarians in their last group match. Surely Portugal with 'the best player in the world' can do that!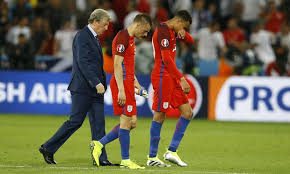 Another silver lining for England is they should avoid Spain, who seem the best and most complete team so far in the tournament and the fast improving Belgians whose destruction of The Republic of Ireland bore no resemblance to their disappointing opener against Italy. Assuming England get through their last 16 tie, they should then come up against the not so impressive French. The home nation were clueless against the Swiss in the goalless draw and previously lucky to beat both Romania and Albania relying solely on Payet's magical goals right at the death of both games. Pogba, Griezmann and Martial have so far failed to set the Euros alight as their fans may have expected.
England can quite easily get past the current French team unless 'Les Bleus' step up a few more gears, let's hope they carry on being 'Les Miserables'. Failing that we could see England in the semi-final against the perennial enemy….The Germans! So far the current German side have too failed to impress and were poor in their goalless draw against Poland. It could however be that Germany lose to the Italians anyway in the Quarter-finals in which case England may face Italy in their third successive tournament after their penalty defeat in 2012 Euros and a 2-1 defeat in the 2014 World cup.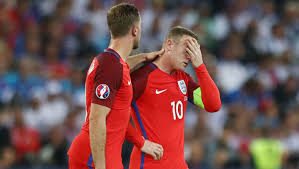 Of course we are assuming here that England can remember how to score again! In yesterday's game against Slovakia, England had 29 shots, a tournament record. England now have the record for the most shots in the tournament but also the unwanted record of the most shots off target. England have definitely impressed in all three group games so far, dominating possession but shot conversion is the main issue for them. They are creating many chances but yesterday the Slovakians seemed to have little intention to attack England and preferred instead to 'park the bus' so blocked shot came after blocked shot. When England did get through fine goalkeeping and desperate last ditch defending met England. It was an extremely fine line between victory and draw, and England can count themselves extremely unlucky that they did not win.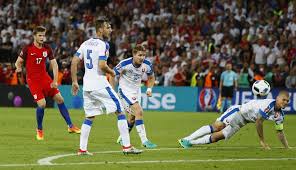 One reason England will need to find the goal scoring touch quickly is that up against a more attacking team, which based on yesterday's Slovak performance is every other team in the Euros, there are still major worries at the back. Despite having virtually nothing to do all game, Joe Hart and Chris Smalling almost managed to gift Slovakia a goal with misunderstanding and hesitation from a simple Slovak cross. Joe Hart has looked unsure and out of sorts in all three England games so far and this cannot help the confidence of the England defence in front of him who are not having the best of times as it is!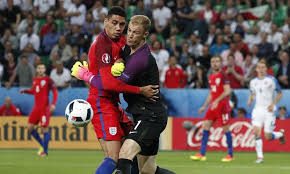 Ultimately the question lingers, does Roy Hodgson actually know his best team? In an important game like yesterday's he made six changes from the Wales game. Surely that couldn't have helped the team's momentum and rhythm as although Kane and Sterling were rightly dropped, Rooney and Walker should have started after being so impressive in the tournament so far. Sticking with the attacking wing backs of Walker and Danny Rose would have given England another dimension going forwards yesterday as although Bertrand and Clyne were good in defence, there was really nothing to defend against!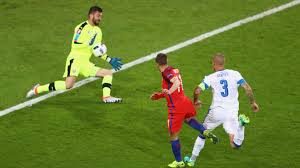 Maybe we are all underestimating the genius of Hodgson.  Calculating how the draw may work out, he deliberately focused on achieving second place. The silver lining for England is they will now avoid the current European champions, Spain and the highest ranked team in Europe, the Belgians. Maybe it was actually a masterstroke! Somehow I don't think so.