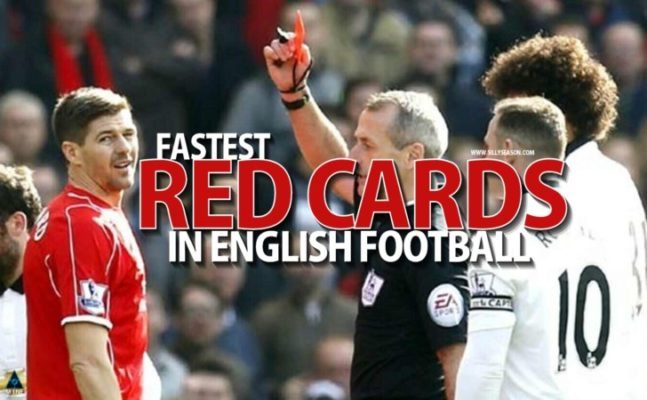 Fastest Red Cards in English Football History
Quickest Red Cards in English Football? Which players got the Fastest Red Cards in English Football? Which player have received the quickest red card in English Premier League history? Which players have received the fastest red cards in English Football?
Have you ever thought of finding out which players have been dismissed the quickest in English football either after making bad tackles, abusive language etc. Well if you have then worry not because as Sillyseason.com have picked out the quickest red cards in English Football history. Watch & Bet Football Live =>

Fastest red card in English Football – which was the quickest red card ever in English football history?
Steven Gerrard of Liverpool was dismissed just after 38 seconds for Liverpool against Manchester United, but the question is does his 38 seconds red card make the list of the Fastest Red Cards in English Football? Let's find out below.
Quickest Red Cards in English Footboll/ Soccer History
Which is the fastest red card in football? Previously we have published the fastest ever goals in football history , worst fights to happen in football and the worst injuries to happen in football! If you haven't seen these before make sure you check them out after this list. Here are the Fastest Red Cards in English Soccer History. Watch & Bet Football Live =>

8. Steven Gerrard, Liverpool vs Manchester United, 2015 – 38 seconds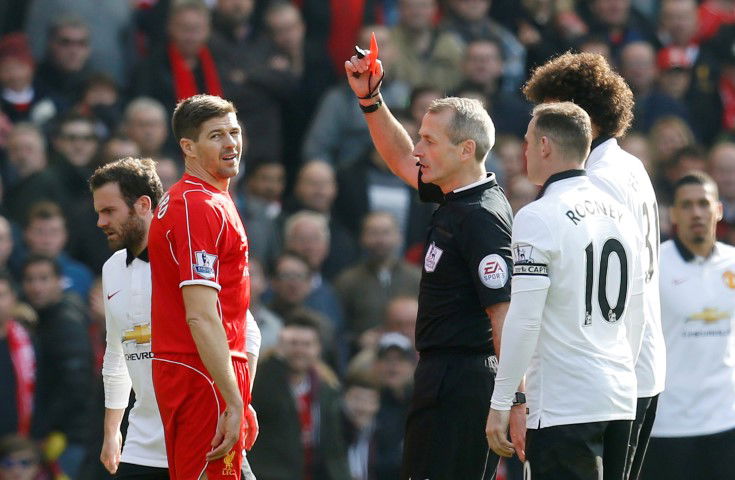 Starting the list is one of the most recent red cards. Steven Gerrard was sent off just after 38 seconds in Liverpool's clash with Manchester United in the Premier League.
Gerrard came on as a substitute for Liverpool at half time, but was sent off for a robust challenge on Ander Herrera, after throwing in a clear tackle on Juan Mata.
Gerrard, winning the ball cleanly in Herrera's challenge to win the ball from Gerrard, the Englishman left a stamp on the Spanish midfielder and was given a straight red just after 38 seconds.
7. Jason Crowe, Arsenal vs Birmingham City, 1997 – 33 seconds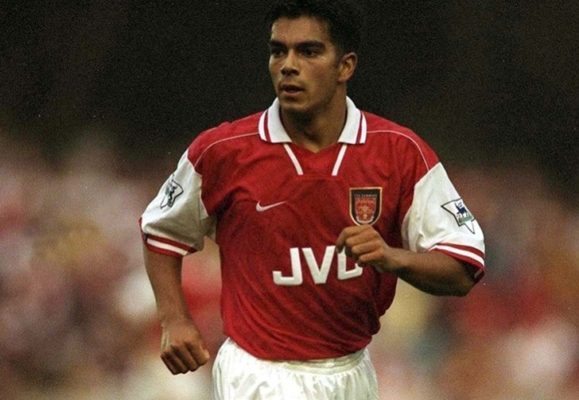 In seventh is Jason Crewe's red card just after 33 seconds, the unfortunate thing is that he was making his debut for Arsenal in a match against Bermingham in 1997.
This sending off meant that it's the fastest debut sending off. He was sent off by referee Uriah Rennie for an unusual tackle on  Martin O'Connor. What a way to start his career at Arsenal! Watch & Bet Football Live =>
6. Mark Smith, Crewe Alexandra vs Darlington, 1994 – 19 seconds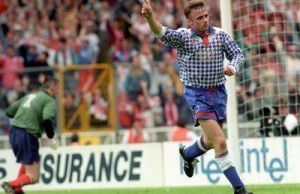 Mark Smith was dismissed just after 19 seconds into the game meaning that Crewe Alexandra had to play with 10 men for 89 minutes plus added time. The goalkeeper was dismissed for a professional foul against Darlington in 1995. Mark Smith's 19 seconds dismissal makes it sixth on the Fastest Red Cards in English Football.

5. Kevin Pressman, Sheffield Wednesday vs Wolverhampton Wanderers, 2000 – 13 seconds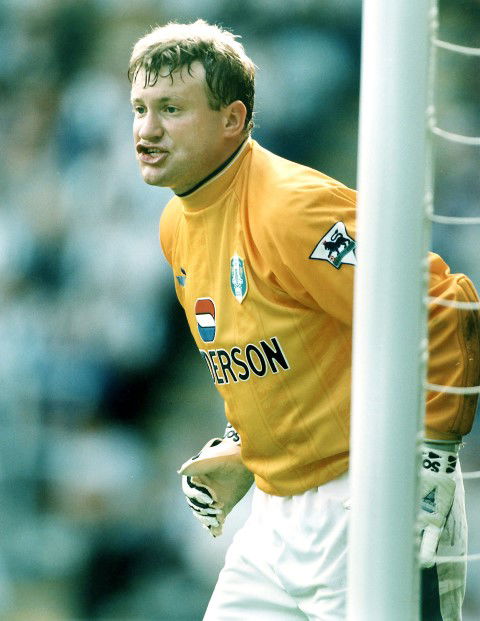 Sent off just after 12 seconds into the game. Kevin Pressman had the worst 13 seconds of his life as he was adjudged of handling the ball outside the 18 yard area and was sent packing just after 13 seconds against Wolverhampton Wanderers in 2000.
The goalkeeper barely had a normal touch of the ball and was sent to watch from the dressing rooms. Watch & Bet Football Live =>
4. Keith Gillespie, Sheffield United vs Reading, 2007 – 12 seconds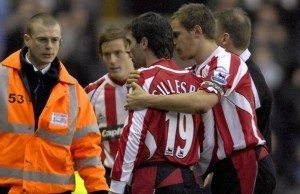 Closing down on the top four is Keith Gillespie who was sent off for Sheffield United for an elbow on Stephen Hunt during a throw in against Reading in 2007 just after 12 seconds.
Kieth is known for his aggression on the pitch and he only lasted 12 seconds before he was dismissed for a harsh challenge. It is one of the Fastest Red Cards in English Football.
3. Preston Edwards, Ebbsfleet United vs Farnborough, 2011 – 12 seconds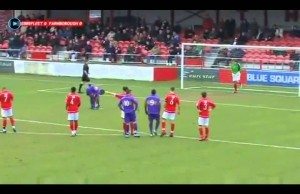 Third of our Fastest Red Cards in English Football is Ebbsfleet United's goalkeeper who was sent off just after 12 seconds after kick off.
The goalkeeper was sent off for fouling Farnborough striker after his defender fluffed a back pass to him, and in the attempt to get to the ball he was judged of fouling Farnborough striker and was given his matching orders. Watch & Bet Football Live =>
2. David Pratt, Chippenham Town vs Bashley, 2009 – 3 seconds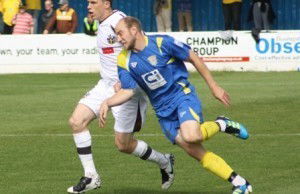 The second fastest red card in English football came just after three seconds of play between Chippenham and Bashley in 2009.
Well strikers are not fond of making sliding tackles nor getting red cards but David Pratt's two footed challenge just after kick off was deemed by the referee as dangerous and deservedly of a red card.
David Pratt received his marching orders just 3 seconds into the game making his red card the second fastest in English football. Watch & Bet Football Live =>
1. Lee Todd, Cross Park Farm Celtic vs Taunton East Reach Wanderers, 2000 – 2 seconds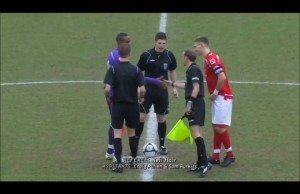 The fastest red card in english football goes to Lee Todd. It's crazy how the fastest red car was not due to a dangerous foul or something really aggressive, but was due to the fact that Lee Todd swered just after the start of the game with the referee standing next to him.
Lee told said after the referee blew the whistle " F#ck me, that was loud". The referee did not hesitate to send the striker to the changing rooms just after 2 seconds into the game making it the fastest red card in English Football. This is also probably the quickest red card in football history. Watch & Bet Football Live =>

See More: