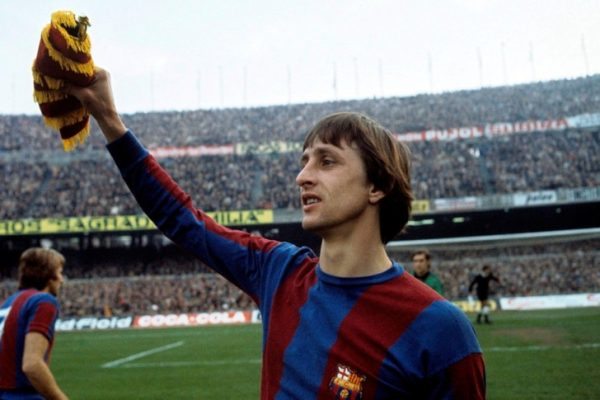 Cruyff had been battling lung cancer for five months
Former Barcelona and Holland international Johan Cruyff has today died aged 68, following a battle with lung cancer.
The football world has been paying respect to the Dutch legend, with former Barcelona player Gary Lineker, Real Madrid defender Sergio Ramos and Barcelona president Josep Maria Bartomeu just some of those showing their support via Twitter.
Cruyff, a man who revolutionised modern football, claimed he was "2-0 up" in his battle with cancer. However, his condition since worsened and passed away peacefully at his home in Barcelona.
A statement on the World of Johan Cruyff website read: "On March 24 2016 Johan Cruyff (68) died peacefully in Barcelona, surrounded by his family after a hard fought battle with cancer. It's with great sadness that we ask you to respect the family's privacy during their time of grief,"
Honouring a legend
No sooner had the news broke, Twitter was quick to react to the news.
"Sad to hear that Johan Cruyff has died. Football has lost a man who did more to make the beautiful game beautiful than anyone in history." said Lineker.
The former Ajax forward, who was voted 1971, 1973 and 1974 European Football of the Year, was also complimented by Ramos. "Goodbye to one of the all-time legends of football. Player and coach ahead of his time. RIP Johan Cruyff."
Meanwhile, Bartomeu added: "Both as a player and as a manager, you changed the history of our Club. Thank you Johan."
Cruyff had been a heavy smoker, undergoing double heart bypass surgery in 1991 – during his time managing Barcelona.
But prior to his managerial success, which saw him win four league titles, the European cup and Copa del Rey with Barcelona, he was considered one of the world's best players, in an era that saw Pele, Franz Beckenbauer and George Best grace football.
And in 1974, a sublime piece of skill which would subsequently be named after the Dutchman – the Cruyff turn.
Ajax were helped to three consecutive European titles, in 1971, 1972 and 1973, thanks to the influence of Cruyff, who, up until his death, had been acting as an adviser for the Dutch club.
Words are not enough
"With great sadness we have learned of the death of Johan Cruyff. Words are not enough," The Dutch Football Federation posted on Twitter.
Barcelona adding: "We will always love you, Johan. Rest in peace."
Cruyff proved value for every penny of the club's then world record fee to bring the Dutchman to the Camp Nou, scoring 392 times in 520 appearances.
His leadership, communication and admirable knowledge of the sport allowed him to implement a legacy, not just for Barcelona, but one that world football has since acknowledged and admired – know as Total Football.
Manchester City defender Vincent Kompany tweeted:"Johan Cruyff, true football royalty. I don't think anyone has ever influenced the game as much as he has done. We have all been touched and inspired by his vision and his believes. Football will miss him but we will never forget."
And another man who is closely following in Cruyff's footsteps as a Barcelona legend, Lionel Messi, paid his respects also:"RIP Johan Cruyff. Your legacy will live on forever."
Cruyff may have left us, but he departed with a gift to the football world that will forever be appreciated, and a legacy that will live on forever. Rest in peace.