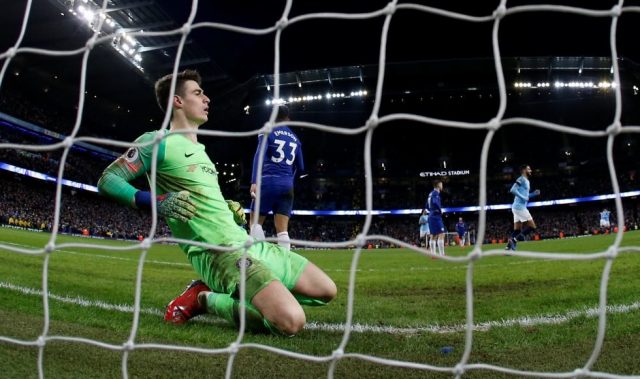 Kepa Arizzabalaga's second season with Chelsea was one he would surely want to put behind.
It proved costly for the whole team who were aiming to be title contenders under Frank Lampard's first term as club manager.
The Chelsea shot-stopper failed to justify his £71.6m price tag due to a series of inconsistent performances between the posts. He struggled in maintaining a clean sheet streak throughout the season, making Chelsea one of the weakest teams in defence. Stopping set-pieces was the most notable issue for the Spaniard keeper.
This led Lampard to relieve Kepa from the starting squad and rely on Argentinian Willy Caballero in the mid-season. The Chelsea boss gave Kepa the nod to return to the starting squad during the restart, but it wasn't quite enough. Caballero took charge of the posts towards Chelsea's last three games.
Kepa ended the season with a 54.5% save percentage, the worst in the Premier League, and all European top-flight leagues. Surely, it was a big failure for the Spaniard.
For sure, Chelsea have a lot to figure out when it comes to assigning the right man between the posts. Given his horrific performance, is Kepa truly worth keeping?
With his price tag, the practical answer may be yes. But when it comes to his performance, it may be a big no. With Chelsea being linked to notable shot-stoppers like Andre Onana, Mike Maignan, and Edouard Mendy, Kepa's future seems hanging in the balance.
In spite of the links, sporting director Petr Cech is reportedly offering an unprecedented move on this matter. According to TalkSport, the former Chelsea keeper is backing the Spaniard between the posts, insisting that the club is not looking to set him aside.
"But the club invested in him and gave him a long-term contract because they believe he has the qualities and attributes to be successful", Cech said. "But nobody is giving up on Kepa and we all hope he has a great future."
With Cech putting his high hopes on Kepa, Chelsea will seemingly keep the Spanish stopper in the long run. After all, it will be unfair for him to be easily judged since he just spent two seasons with the club.
Keeping Kepa may be the most budget-wise move for Chelsea to make, but it will be a very risky one. For sure, once they resorted to this, they'll make sure to develop Kepa into a keeper worthy of his price tag.
READ MORE: Chelsea Players Salaries 2020 (Weekly Wages)