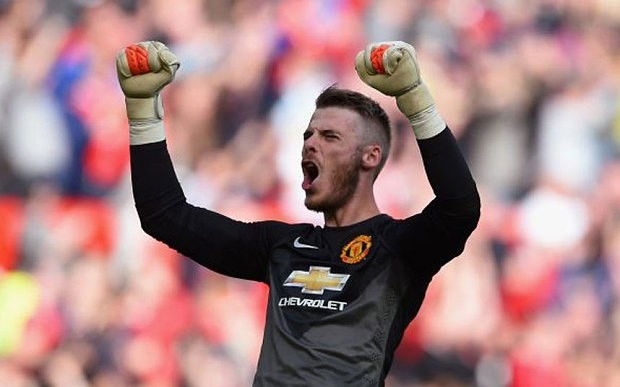 Marcos Rojo has wished David De Gea well should he leave Manchester United
Rojo has fuelled speculation De Gea's move could be on the horizon, talking of his departure.
The former Sporting Lisbon player has spoken about a great friendship with the United goalkeeper since he joined the club last summer.
"Ever since I came to the club he has treated me as a brother. I am very happy for his present situation and whatever lies ahead for him" said Rojo.
"If David is not the best goalkeeper in the world today, then he is very close. He is at an incredible level and is an outstanding goalkeeper."
De Gea, 24, has been heavily linked with a move to Real Madrid and reportedly turned down a £200,000-a-week contract at United to try and force a move through.
Ramos to United
Whilst the Red Devils are reluctant to let De Gea leave they are thought to be willing to listen offers above £25million plus defender Sergio Ramos.
United recently made a bid of £28.6million for the 29-year-old, after he reportedly claimed he wanted to leave the La Liga giants.
Southampton's Morgan Schneiderlin has also been heavily linked with the Old Trafford club – Saint's manager Ronald Koeman has said he has "doubts" about the Frenchman's future at St. Marys.
Turan urged to join the Red Devils
Arda Turan, 28, is a key target for Arsenal, Chelsea and Liverpool as well as United the Atletico Madrid midfielder is thought to be keen on a move this summer.
European football expert, Andy Brassell has urged the Turkey international to join Louis Van Gaal's side as he believes he would be best suited to United's style of play.
"He wants to come to the Premier League and my gut feeling tells me [he'll move to] Manchester United, they're the most likely" said Brassell.
Written by Jack Wynne – @JackRobertWynne