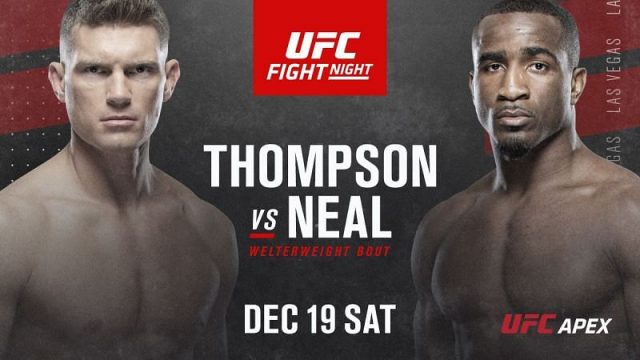 Stephen Thompson vs Geoff Neal Betting Odds
Thompson vs Neal betting? Would you like to bet on Thompson and Neal? Would like to know the odds on Thompson vs Neal betting? How much can you win if you place your bets on Geoff Neal? Here you can find Thompson vs Neal betting tips.
After watching Deiveson Figueiredo and Brandon Moreno battle out a draw and Charles Oliveira defeat Tony Ferguson, we are set for another exciting round of fixtures on Saturday night. The Flash Forum in Yas Island has been the only other venue other than the UFC Apex Facility in Vegas hosting fights through the COVID-19 pandemic.
If you want to make your pick on the best fighter, read on below!
Thompson vs Neal Betting Tips
We are into the final UFC event of 2020 and the entire organization has done a remarkable job in keeping the weekly fights coming during the pandemic. UFC Fight Night 183 went through a lot of hoops to finally get here and two big names will be headlining the event – Stephen Thompson and Geoff Neal. This will be a step right before a welterweight title shot next year for both fighters.
We can expect Thompson to stay in his corner of the Octagon and try to draw in Neal. The former makes sudden darts to land his blows, trying to be as unpredictable as ever. Neal's biggest task will be to time his attacks as he spends the entire fight trying to close the gap.
This is a massive step up in competition for the Dallas native who has done everything right to get to this point. He is the younger fighter at 30 who will have to tackle Thompson's tankful of experience and takedown power. After what has been a highly entertaining 2020, these fighters are the ideal ones to close out the year in memorable fashion.
Thompson and Neal: UFC Fight Night 183 Time
The Thompson and Neal fight kicks off on Sunday morning 20 December 2020 at 11:00 CEST / 12:00 AM UK time at UFC Apex Facility, Las Vegas, USA. The MMA clash between Thompson and Neal is the main card of the UFC Fight Night 183 gala.
Thompson, a two-time title challenger is coming off a win over Vicente Luque in UFC 244 in New York. He took a long break to take on his next opponent at 38 years of age. The South Carolina native is still a top 5 fighter in the 170-pound division and a second win here could send him into title-contention once again in 2021.
His Saturday night's challenger, Geoff Neal also fought last year in December, beating Mike Perry in 90 seconds at UFC 244. He faced non-COVID related health issues earlier in the year that landed him in the hospital. Now, he has fully recovered and looking better than ever.
In addition to the welterweight matchup, we will be waiting to see José Aldo and Marlon Vera duke it out in the bantamweight division. If you are a UFC fan, then you simply can't miss this fight! Watch & Bet on Sports Here =>
The Thompson-Neal fight has been set for 19 December 2020 at 00:00 AM GMT.
Thompson vs Neal Betting: How to bet on UFC Fight Night 183?
bet365 is an UFC-sponsor and have shown many of the top fights free via live streaming. To see a UFC fight free, you are required to open an account at bet365 and make a deposit. Make a minimum deposit and watch the UFC fight live streaming free in the UK. You do not need to make any bets. However, you need an account with money.
There are several markets you can bet on UFC Fight Night 183 from. Check bet365 TV to see if they show UFC Fight Night 183 Thompson and Neal fight via live streaming free. Unibet TV =>
The main event is the welterweight UFC fight between Thompson and Neal. UFC Fight Night 183 is shown on BT Sport as the only UK channel. The UFC Fight Night 183 starting time for prelims is 00:00 AM GMT UK time and the main card starting time is 00:00 AM GMT UK time and is broadcasted on BT Sport. Thompson and Neal fight starting time is 00:00 AM GMT UK time at BT Sport with live UK commentators.
UFC Fight Night 183 Odds: Thompson vs Neal betting Tips – bet365
As it stands, the odds are in favour of neither fighters. Both are incidentally on level grounds to win on Saturday night with bet365 handing out odds of 1.90 for both "Wonderboy" and "Handz of Steel".

Visit bet365 for the latest odds on the Thompson and Neal UFC-fight. If you are going to bet on Thompson and Neal fight, then make sure to claim the bet365 bonus offers.
Thompson and Neal: Betting Odds, Prop Bets For UFC Fight Night 183 Welterweight Fight
The betting odds for Thompson-Neal are equally distributed between both. In a long time, nobody truly knows who is going to win this fight. Both of them are coming back from a long hiatus and aiming to fight for the same thing – a title shot. While Thompson has challenged for the title twice already, Neal is looking hungrier than ever to get his shot.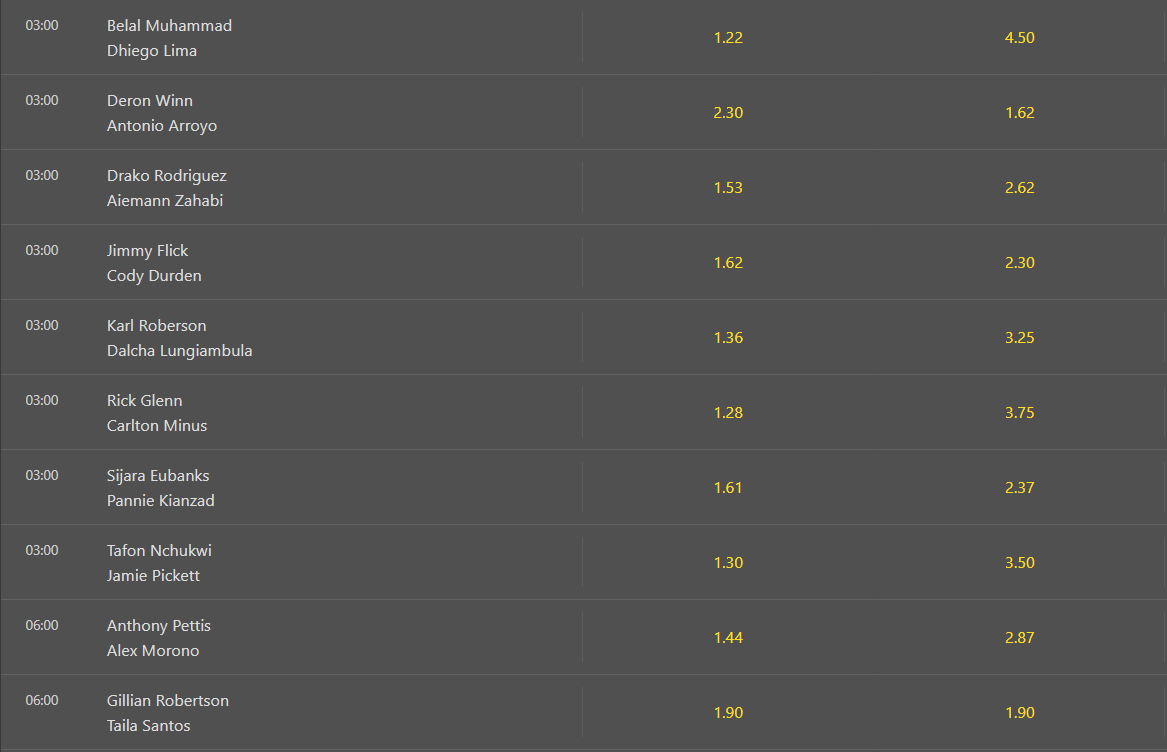 UFC Fight Night 183 Betting: Fight Night Schedule
What time will Thompson and Neal clash start?
What time will Thompson-Neal fight start? The undercard's coverage starts around 09:00 PM in the UK. The main event, the fight between Thompson and Neal, is scheduled to start at after 00:00 AM GMT UK time and 07:00 PM ET US time.
UFC Fight Night 183 Main Card looks like this:
Main Card (ESPN+)

Welterweight
Stephen Thompson
vs.
Geoff Neal
Bantamweight
José Aldo
vs.
Marlon Vera
Welterweight
Michel Pereira
vs.
Khaos Williams
Bantamweight
Marlon Moraes
vs.
Rob Font
Heavyweight
Marcin Tybura
vs.
Greg Hardy
Welterweight
Anthony Pettis
vs.
Alex Morono

Preliminary Card (ESPN+)

Women's Bantamweight
Sijara Eubanks
vs.
Pannie Kianzad
Catchweight (195 lb)
Deron Winn
vs.
Antônio Arroyo
Bantamweight
Aiemann Zahabi
vs.
Drako Rodriguez
Middleweight
Tafon Nchukwi
vs.
Jamie Pickett
Lightweight
Rick Glenn
vs.
Carlton Minus
Watch & Bet Sports at bet365 =>
Thompson-Neal UK and US Television – Thompson-Neal UK TV?
Thompson-Neal UK & US TV does not appear on any ordinary channel that is free and the UFC Fight Night 183 is shown mainly on paid channels and pay-per-view.
Who shows Thompson-Neals MMA fight on TV in the US and UK?
Thompson-Neal MMA UFC fight TV (PPV): bet365, UFC.tv (global), (Fight Pass), BT Sports (UK) and ESPN+ (US)
Thompson-Neal MMA UFC fight time: US and UK time, see above.
For more info check out –