18 Asian footballers playing For Famous European clubs – 2018/19 Season
Asian footballers playing For Famous European clubs? Which Asian footballers playing For Famous European clubs? Have you wanted to find out which Asian footballers are playing for famous football clubs? Well, if you have then worry not because we have prepared a list of the Asian footballers playing For Famous European clubs
Eighteen Asian footballers playing in famous European clubs – 2018/19 Season
Not soo many Asian footballers have played in European football in time being as compared to other continents. But among of them few are getting success as well. In European football we usually get used to seeing European or Latin American footballers. Sometimes seems to play other continents but there are exceptions. In European football divided into Latin Dominions, several Asian footballers accepting the European footballers. Here we talk about some of them in below.
So far, most of the Asian football players are Japan and South Korea, who are nominated by the European Football Federation. The fastest in football in Asia has progressed and its continuity is keeping these two countries the most. On the global stage, the two most successful teams of the Asian teams are Japan and Korea.
Previously we published the:
List of the 18 Asian Footballers Playing in Europe
Here is the list of Asian Footballers playing in Europe. Enjoy
| | | | |
| --- | --- | --- | --- |
| PLAYERS | COUNTRY | POSITION | CLUB |
| Takashi Inui | Japan | Attacking Midfielder | Real Betis |
| Shinji Kagawa | Japan | Attacking Midfielder | Borussia Dortmund |
| Eiji Kawashima | Japan | Goalkeeper | Metz |
| Yuto Nagatomo | Japan | Defender | Galatasaray SK |
| Yuya Osako | Japan | Forward | Werder Bremen |
| Makoto Hasebe | Japan | Defensive midfielder | Eintracht Frankfurt |
| Gaku Shibasaki | Japan | Midfielder | Getafe |
| Genki Haraguchi | Japan | Midfielder | Hannover 96 |
| Maya Yoshida | Japan | centre-back | Southampton |
| Shinji Okazaki | Japan | Forward | Leicester city |
| Gotoku Sakai | Japan | Defender | Hamburger SV |
| Yoshinori Muto | Japan | Forward | Mainz 05 |
| Hiroki Sakai | Japan | Defender | Olympique de Marseille |
| Son Heung-min | South Korea | Winger | Tottenham Hotspur |
| Ki Sung-yueng | South Korea | Central Midfielder | Newcastle |
| Koo Ja-Cheol | South Korea | Midfielder | FC Augsburg |
| Karim Ansarifard | Iran | Forward | Olympiacos FC |
| Ali Adnan Kadhim | Iraq | Defender | Udinese Calcio |
Top 3 Best Asian Footballers Playing for Europe's Big Clubs
Who are the best Asian footballers playing in Europe? Have you ever wanted to find out the best Asian footballers playing in Europe? If you have then worry not because i have prepared a list of the 14 Asian players playing for the best European clubs
3.Maya Yoshida
Maya Yoshida is one of the leading Asian roster who made jump to European side. He played more than 150 games in the English club. The Japanese is a well experienced guy. As starter his ability brilliant. His extraordinary performance and strength of play outstanding.
Not only club side Yoshida also good in national side. He made 10 goals in 80 appearances in the national side
2. Shinji Kagawa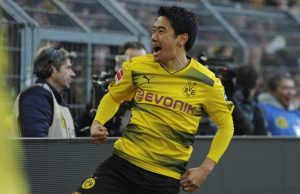 The Former Manchester United player makes it on the list of the best asian footballers to be playing in europe.
At the age of twenty-eight, Shinji Kagawa is perhaps the only lucky Asian footballer, who has jerseyed two giant clubs like Manchester United and Barbosa Dortmund. He used to Youth Carrier in Japanese club FC Miyagi. Kagawa's first senior career club was"Asaka".
The midfielder scored 57 goals in more than 120 matches at the jersey of Asaka. In 2010, Kagawa unknowingly, went straight to German giant Borussia Dortmund from Japan. From 2010-2012, Dortmund scored 21 goals in 49 appearances.
In 2012, as the first Japanese player to move to Manchester, in Red Devils camp in Manchester. The Red Devils won the premier title title for the 2012-13 season; Although he could not even show himself very much in front of the world. In the 2014 he back to German club again
Shinji is one of the best player makers in Europe and is also known for his pace and agility on the ball.
1. Son Heung-min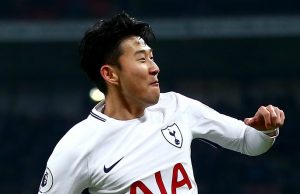 In 1st place as the best Asian Player to be Playing in Europe is Tottenham winger Son Heung-min. The South Korean star of this long-standing winger is a 6-foot height in Tottenham. South Korea's 2011 and 2015 AFC Asian Cup and Representing the 2014 World Cup are currently "No. 7" of English club Tottenham Hotspur.
San Houngmin Hamburg's senior team started the career of Son's senior career. This year the Bundesliga debut was made by the Youth Club Hamburg's main team in 2010. From 2010-2013, in Hamburg he made 73 appearances and scored 20 goals. The 19-year-old Son was one of the best players in the club. On several occasions Club Fancy Favrett won the Monthly Awards.
San is an athaka, who is equally efficient at both feet. The attacking halfway can play anywhere. When he played for Hamburg, he played the second striker role. He has also played Left Wing or Right Wing. Asking him about his favorite position, his answer was: The great pace of the day, the extraordinary drilling abilities will not escape the eye of any real football fans.
The hard work that EPL has led to the rapid rise of this underrated footballer, has revived his Youth career coaches. This South Korean jam is much more industrious than many others, and its benefits are today's Son Heung-min.
ALSO HAVE A LOOK AT: