Chelsea boss Antonio Conte has hilariously responded to a journalist telling him Diego Costa made a half-time trip to the canteen to get himself some cake
With all the hit pieces out there saying Costa will leave the club and Antonio Conte will leave as well, It's actually refreshing to see something other than the constant attacks on the club.
The funny moment happened when Costa was snapped on camera at the canteen looking for a snack.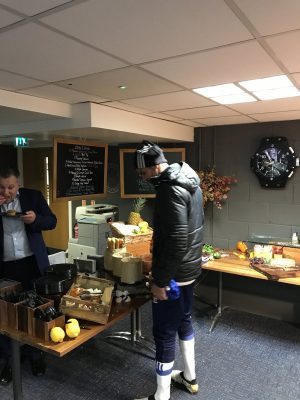 After the match Conte was told The Spanish striker looked to be eyeing up the cheese board, however, instead opted for the orange instead.
"Which type of food did he have?" the Italian asked assembled journalists after the game.
One journalist joked Costa had snaffled a chocolate cake during the break, prompting Conte to admonish his player for failing to share his treat.
"It is important, this …chocolate cake? In this case I am very angry with him!" he joked.
"He must think to bring me a bit of chocolate or cake to share because I was suffering during the game.
"To eat a bit of cake or chocolate, that would be good. Next time I will tell him to think of me as well and share."
On Diego Costa eating at the Press room's Buffet #CFC pic.twitter.com/N66Ad80bCf

— The Chelsea Lady (@TheChelseaLady) May 16, 2017
See Also.
THREE players Chelsea should Keep, Sell and Loan this summer
Chelsea boss ready to back Conte to land FOUR key signings
The top 5 reasons Chelsea won the league!s