They have been described as the worst Italian team of all time but this evening they beat the world number two ranked side, Belgium. In the most anticipated game of the tournament so far we were expecting the flair and skill of the Belgians against the aggression and intimidation of the Italians. What materialised was very different.
The Italian goals came from two players with Premier League connections, who didn't exactly set the league alight last season. Giaccherini the ex-Sunderland man in the 32nd minute and a stunning volley from Southampton's Graziano Pelle in the 92nd minute, gave Italy a comfortable 2-0 victory.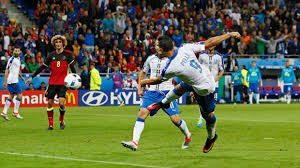 While the Belgians looked disjointed and underwhelming, the Italians were very well organised and disciplined. Since the Italian team had few recognised world class players, great credit must be given to their boss, Antonio Conte. Chelsea fans unsure about their future incoming Italian boss, will draw great pleasure from seeing his work. He turned an average group of players into world beaters. In fact a couple of months ago the Belgians were actually the number one team in the world, having lost only twice in their last twenty-five competitive matches.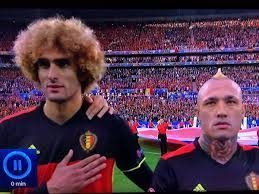 Even from the line-ups before the game started, the Italians looked slick and smart, while the Belgians looked, well….strange and not on the same level. The referee for the game was Mark Clattenburg and there was speculation as to how he would decide to handle such a big game. In the last big game he took charge of, he adopted his own rules in a game where he booked nine Tottenham players against Chelsea but failed to send off at least three of them for eye gouging, stamping and brutal, dirty fouling. If he showed the same lenience with the Italians in this game then the magical but often targeted Eden Hazard and his fellow teammates would be on the receiving end of another night of bruising and hobbling around.
As the game kicked off there were a few early fouls by the Italians showing they meant business, but they were met by Clattenburg's laughable Italian style hand gestures as his main means of telling off the guilty party. Nainggolan let loose a fierce shot in the 10th minute but it was well saved by Buffon. The game flowed back and forwards quite easy on the eye for the first 20 minutes or so.
The Belgians were looking out of sorts already, with de Bruyne messing up many simple passes, and Fellaini running around hurriedly sometimes into the Italian players and sometimes with no real direction at all, but the Italians were cool and composed.
Then in the 32nd minute a long pass from the half way line finds Giaccherini in the box who from just a few yards out has no trouble scoring around the outstretched body of Courtois.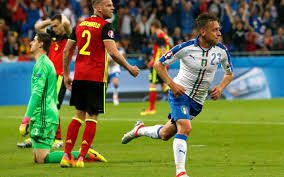 For the first half an hour Hazard has done little on the left wing as all the play seems to be coming down the right, so he switches wings and immediately he goes on one of those great runs of his, taking on and beating two Italian players with ease but the subsequent pass to de Bruyne is wasted by the Man City player.
Soon after though Italy almost make it 2-0. A great shot by Candreva is met by an equally good save from Courtois. From the resulting corner Pelle a few yards out misses an easy chance as he heads wide.
In the last few minutes before half time Belgium and more notably Hazard up their game. A couple of chances though are wasted by de Bruyne and then, which is to become a repetitive theme in the game Lukaku. Unfortunately for Hazard it doesn't matter how creative or how many Italians he beats to set up a team mate, if it isn't Diego Costa to meet it, then it looks like there isn't going to be a goal tonight.
As half-time arrives the studio panel are quick to pounce on Hazard who is captain for the night because of the badly missed Kompany. Vialli criticises him for his lack of running back to help in defence while he is also criticised for not taking a more forward central role. They don't seem to realise there are ten other Belgian players out there,  the worst being de Bruyne, Fellaini and by far Lukaku.
The second half gets going and the Belgian manager, Wilmots, seems to have gone to a 4-4-2 formation, but since the front two are now Lukaku and Fellaini, you can be forgiven for thinking the game will end 1-0 to Italy.
A few minutes later a fine move set up by Hazard and de Bruyne is unfortunately met by and blasted over by Lukaku when it looked easier to score. His time in this game must surely be up soon!
A minute later though and Italy are back on the attack. They almost make it 2-0, with a good header by Pelle which is again met by a great save by Courtois. Thanks to the young Belgium keeper and not much else really, they are still in the game.
Then Belgium are back on the attack with Hazard and a good shot is saved well by Buffon. The game is almost going end to end with Belgium having the greater share of possession and shots on target but inevitably the moves come to nothing if it falls to Lukaku who is missing everything or Fellaini who seems more intent in knocking over the Italian opposition than anything else.
After just over an hour's playing both teams make their first substitution. And just as Roy Hodgson brought off the wrong player against Russia, when he left the awful Kane on and took off the impressive Rooney, Wilmots does the same. Off comes Nainggolan for Mertens. Lukaku has survived for now.
Hazard is trying his best in almost a one man show to create something now setting himself in the middle of the pitch but the supporting cast keeps letting him down. Finally in the 73rd minute and that's 73 minutes too long I'm afraid for Lukaku as he is substituted and Origi comes on.
Belgium are pushing harder and harder now and Italy are fouling more and more. Eder rugby tackles Mertens and Bonucci hacks down Origi, two yellow cards for Italy within a few minutes of each other but still overall Italy remain calm and composed.
Then with less than ten minutes to go Origi has two chances in the space of two minutes. He has unfortunately got Lukaku disease and badly misses both chances! The first one was a header only two or three yards out and the second with a bicycle kick that had he just left it, Fellaini was there for a simple tap in.
In the dying minutes not much changes. It is still an entertaining affair back and forwards and with Fellaini and Origi missing the latest chances. Hazard is still trying to create but also is continually fouled but I suppose he is used to that from his three seasons in the Premier League.
Into three minutes of injury time and Italy counter-attack. Immobile passes to Candreva , who in the box chips to his left for the waiting Pelle with a great volley it's game set and match to Italy 2-0. All over and a great victory and performance by the Italians.
Conte's team who started as one of the lesser favourites will have joined the ranks of the Spanish, French and Germans at the top of the bookies favourites to win Euro 2016 now. And the Belgians? On this form they will at least have the comfort of a very short trip home as their country is on the border with France, but unfortunately for them that could be very soon as little else can be taken from this game.