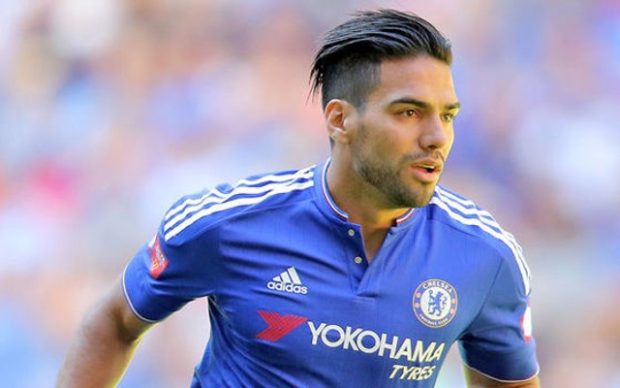 Falcao's loan spell at Chelsea is set to expire this summer
Chelsea's on-loan striker Radamel Falcao has hinted that he could move to Major League Soccer, with the Colombian set to leave Stamford Bridge this summer.
The 30-year-old has endured a tough two years in England, firstly on loan with Manchester United, before joining the Blues on loan this season. He has made just two starts for Chelsea this campaign, scoring once in a 2-1 home defeat to Crystal Palace back in August.
And now Falcao has hinted that he could move to the United States, although, a move across the pond isn't expected imminently, with the striker set to return to parent club AS Monaco, who he is contracted to until 2018.
"I follow the league [MLS]," said Falcao. "In England they are showing the games and I have some friends who play in it who I played with in River Plate or Porto like [Federico] Higuain or [Diego] Valeri.
"Some other Colombian players are playing in Major League Soccer and obviously the big stars like Andrea Pirlo, Kaka and Giovani dos Santos. I think MLS could be bigger than now because they have everything they need to become an even stronger league and become even more competitive."
Uncertainty over future
"I am not thinking about next season," Falcao admitted. "When the season is finished I start to think about that but I don't know, we have four more games left. I would like to play more minutes.
"The experience [in England] has been a little bit tough. It has not been easy because I couldn't play constantly like I wanted to.
"I will still fight for an opportunity to play and I am waiting for that. These last couple of years have allowed me to be better in another ways. I am happy for that."
For AS Monaco, it is a tricky situation. They face keeping hold of their out-of-form striker, who is on a six-figure weekly wage, and has two years remaining on his current contract, but need to find a prolific striker – as that is something they have lacked this campaign.
They are currently 28 points behind rivals and Ligue 1 champions Paris Saint-Germain, in second, who have long since secured this year's league title, in another dominant season for the Parisians. And, if Monaco can get the Colombian back to his best, they know they have a striker that will help them to compete in the league next season.
And Falcao has suggested he would be happy to stay in the principality, saying: "I never say no but in this moment I am thinking about Europe and my performances here,
"I think I have more years to fight in these leagues."
Falcao is hoping to feature for Colombia in both the Olympics and Copa America this summer.