Wenger out is the only way Arsenal will compete
It's never nice to see a legend of any profession, tarnish their status of 'legendary'.
The secret of success in football is one I'm sure we'd all like to know. Sir Alex Ferguson knew, Jose Mourinho knows, and I have to say, Arsene Wenger knows for sure.
Wenger is a living legend of football, a man who will go down in football history for the great things he has achieved at Arsenal, but every fan can see that all good stories eventually end.
As a Liverpool fan, I see myself as someone on the outside looking in at the situation, and I have to admit I am starting to feel very sorry for Arsenal fans.
I'm currently 18 years old and Arsene Wenger has been the Arsenal manager my whole life, but watching a club so greatly admired for their style of football and professionalism head into such turmoil is difficult for any fan to see. When I see things like this happen, I can't help but think about how frustrated I'd be if this was my own club, and once I think about that, I realise that in this case, Arsenal need to let Arsene Wenger go in order to start competing, and start moving forward as a club once again.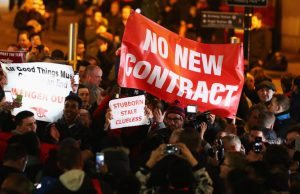 Some people will agree with me, some people will think I'm crazy for wanting one of Liverpool's rivals to get back to their best. But, like I said, it's a case of putting myself into the shoes of an Arsenal fan. The levels of frustration they must be feeling at the moment is unreal. Like I said, I'm only 18, if I was an Arsenal fan, I wouldn't know anything but Arsene Wenger managing my team. I would be sick to death of it right now. In the last 10 years, they've won two FA Cups, and that's it. Yes, they're consistently getting into the top 4, and yes, they consistently in the Champions League, but let's be honest with ourselves, have they come close to winning either of those competitions since 2006? When they lost the Champions League final to Barcelona? They reached the semi-final in 2009, but at the moment, they are royally stuck in a never-ending cycle of getting to the last 16 without any further success.
Have they come close to winning the league? Definitely not. Now, of course, Manchester United and Chelsea dominated in the late 00's, and in the 2010's so far, the rise of Manchester City and the rise of competitiveness in the Premier League has arguably made it a lot more difficult than it used to be to run a good title race, but Arsenal should be more than capable of doing this with the resources they have. There were a lot of excuses made for a long time about how signings weren't happening, because of the stadium being paid for and blah blah blah, I don't believe any of that for a second. £42million was spent on Mesut Ozil in 2013, £31million on Alexis Sanchez a year later. It is clear that Arsenal have the financial resources to be a powerhouse in the transfer market.
So where does the problem lie? With Arsene? Or with the owners? Probably a bit of both. Wenger has always relished the opportunity to develop young players, which requires less spending power, but that is a long-term plan that Arsenal never seem to be benefitting from more than if Wenger just decided to buy proven stars. Theo Walcott and Alex Oxlade-Chamberlain fall into the category of players that have been developed by Wenger from a young age, and they've turned out to be decent players, but that's it. Decent. That's the best you can describe them, they're not world-class, they're not game changers, they're barely even getting into the England team. This method is not how you win the Champions League, or the Premier League, for that matter.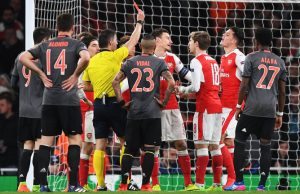 There is, for sure, a deeper problem within the club, a problem with the owners. Arsenal's majority share-holder is a man named Stan Kroenke, an incredibly wealthy American businessman. Notice my use of the word 'businessman'. That's all he is, he's a man not interested in the sport itself, or the fans who are passionate about the sport, he's satisfied as long as Arsenal are making the top 4 every season, with an FA Cup every now and then. As long as his pockets are full, he's happy.
Incidentally, Kroenke also owns the NFL franchise, the Los Angeles Rams. The NFL franchises are run quite differently to how football clubs are run over in England, in terms that they are a franchise, a company, with no set location. Until the 2016 season, the Rams were always based in St. Louis, but Kroenke opted to move to LA, a mere 1,587 miles away, as he plans to build a new stadium there for the team to share with the Los Angeles Chargers, another team in the NFL relocating to LA from San Diego. This might all be sounding a bit complicated, but the point is that this guy just blatantly moved his franchise 1,587 miles away from it's core fan-base in St. Louis.
If that doesn't paint a picture for you of a man that doesn't understand the passion of sport, nothing will.
So, to him, Arsenal are doing perfectly fine under Wenger. Consistent top 4 is benefitting him financially, and as far as he's concerned, that's a success in modern football, to be playing in the Champions League. 'Be careful what you wish for!', fans are told, but there's been such a distinct lack of progress since the club moved to the Emirates, and Kroenke is completely unaware that there's only so many seasons getting into the top 4 and doing nothing else is acceptable from a fans point of view. A lot of people laugh at ArsenalFanTV, but who can blame them for their ranting? Those guys pay hundreds, no, THOUSANDS of pounds per season, they travel all around the country. Have they won away at any of the top 7 this season? Nope. When was the last time they won away at Old Trafford? Anfield? Stamford Bridge? Exactly.
It's been a fantastic 20 years Arsene, but leaving at the end of the season would benefit all parties. As someone on the outside looking in, it's time for change at Arsenal.
By Ben Kelly – @benkelly_10