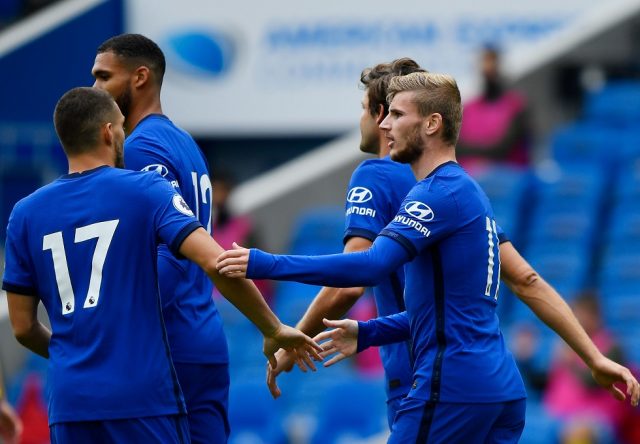 Chelsea got the first taste of their new squad for the 2020/2021 season when they visited Brighton and Hove Albion for a pre-season friendly.
This was Frank Lampard's moment to test the abilities of his new signings, Hakim Ziyech and Timo Werner.
Both showcased credible performances, with the German striker scoring his first Chelsea goal within four minutes. Ziyech displayed his good passing skills to the team. His day was cut short after suffering a twisted knee injury.
Reece James surprisingly put up a good defensive performance that helped the Blues maintain a clean sheet in the first half. Mateo Kovacic also supplied good balls in Chelsea's midfield.
Youngster Callum Hudson-Odoi made up for lost time by displaying his swiftness on the field. He also recorded an assist for Timo Werner's goal.
Noting the good side of Chelsea's game, lapses were also evident that made the west London side concede a goal. Defensive conviction remains an issue, particularly in set pieces and defending inside the box.
Chelsea conceded two penalties, with Willy Caballero saving the first that was conceded by Antonio Rudiger. Chelsea almost conceded from a free-kick prior to the second penalty.
Both sides could not be separated as they ended the game with a 1-1 draw. The result was a considerable one, with many young players given minutes in the second half of the game.
Lampard will surely note each player's performances and on how the team should improve their game for next season. With the transfer window business still very much on for Chelsea, the line-up may still change and players may even come and go.
With the recent signings of Ben Chilwell and Thiago Silva, Lampard is looking to add more strength to Chelsea's defence that conceded 54 PL goals last season.
Talks on the signing of Kai Havertz from Bayer Leverkusen is still unfinished business, with reports that the German club is holding the agreement until they find a replacement.
Kepa Arizzabalaga's future hangs in the balance following a forgetful season, with reports from The Guardian that the club is prepared to make a second bid for Rennes goalkeeper Edouard Mendy.
It will not all be about buying for the Blues as they also look to lay off some of their players, with the names of Emerson Palmieri and N'Golo Kante being the most prominent to leave Stamford Bridge this season.
READ MORE: Highest-Paid Chelsea Players 2020