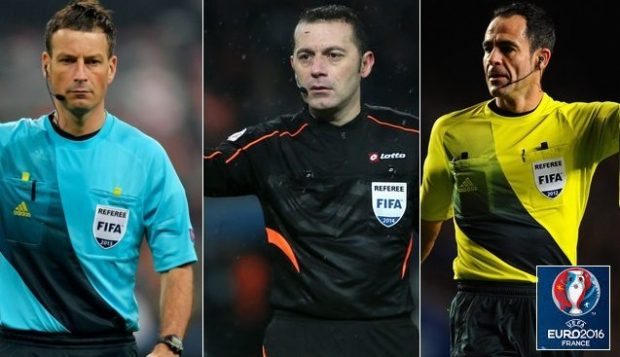 UEFA Announce List of Referees for Euro 2016
Which referees will be officiating at the Euro 2016 in France? Has it ever occurred to your mind about finding out which referees will be on duty in France (Euro 2016)? well, if it has don't think no more because we have a list of referees who will be at the tournament.
Finally, UEFA has released a list of referees who will be on duty for the Euro 2016 tournament in France. The body unveiled a list of 18 referees from 17 countries who will be maintaining law and order on the pitch during the tournament. Also on the list is Premier League referee Mark Clattenburg who will be one of the referees, Clattenburg was the referee for the 2015/16 UEFA Champions League final.
Two referees are from the same country (England) Martin Atkinson and Mark Clattenburg were named together with others from different countries and their assistants will be officiating all 51 matches of the tournament.
The referees are expected to arrive on the 6th June (Today) four days before the tournament kicks starts.
Each main referee will have two assistants and two additional referees during a game
Things You Should Know:
Referee Appointment Rules :-
No referee can officiate the match of his national team (except semifinals and finals)
Referee appointments are made 3 days before the every match
Referee for the final will be decided after the semifinal stage and based on the performances of the referees until the semifinal stage.
Also have a look at the:
List of Referees for Euro 2016
Here is a full list of referees who will be officiating at the Euros 2016 in France. Any referee who will be removed due to injury will be replaced with the next candidate.
| | |
| --- | --- |
| Referees | Country |
| Pavel Kralovec | Czech Republic |
| Mark Clattenburg | England |
| Martin Atkinson | England |
| Clement Turpin | France |
| Felix Brych | Germany |
| Viktor Kassai | Hungary |
| Nicola Rizzoli | Italy |
| Bjorn Kuipers | Netherlands |
| Svein Moen | Norway |
| Szymon Marciniak | Poland |
| Ovidiu Hategan | Romania |
| Sergey Karasev | Russia |
| William Collum | Scotland |
| Milorad Mazic | Serbia |
| Damir Skomina | Slovenia |
| Carlos Velasco Carballo | Spain |
| Jonas Eriksson | Sweden |
| Cuneyt Cakir | Turkey |
List of Assistant Referees & Additional Referees for Euro 2016
After FIFA Announced the 18 referees for the Euro 2016 it has also announced the assistant and the additional referees who will be on duty during the tournament. Here is a full list of the Assistant and addition referees for Euro 2016.
| Name | born |   | Country | M. |
| --- | --- | --- | --- | --- |
| Roberto Alonso Fernández | 18/09/1976 | | Spain | 0 |
| Frank Andås | 26/09/1975 | | Norway | 0 |
| Anton Averyanov | 31/01/1973 | | Russia | 0 |
| Simon Beck | 15/05/1972 | | England | 0 |
| Mark Borsch | 16/03/1977 | | Germany | 0 |
| Frédéric Cano | 23/07/1973 | | France | 0 |
| Stephen Child | 21/08/1973 | | England | 0 |
| Jake Collin |   | | England | 0 |
| Frank Connor |   | | Scotland | 0 |
| Nicolas Danos | 27/09/1980 | | France | 0 |
| Elenito Di Liberatore | 17/01/1973 | | Italy | 0 |
| Bahattin Duran | 26/09/1975 | | Turkey | 0 |
| Dalibor Đurđević | 00/00/1973 | | Serbia | 0 |
| Sebastian Gheorghe | 07/03/1976 | | Romania | 0 |
| Kim Haglund | 27/05/1977 | | Norway | 0 |
| Tikhon Kalugin | 03/12/1974 | | Russia | 0 |
| Mathias Klasenius | 25/04/1975 | | Sweden | 0 |
| Tomasz Listkiewicz |   | | Poland | 0 |
| Stefan Lupp | 09/09/1978 | | Germany | 0 |
| Damien McGraith | 12/10/1980 | | Ireland | 0 |
| Mike Mullarkey | 03/05/1970 | | England | 0 |
| Tarik Ongun | 03/02/1973 | | Turkey | 0 |
| Jure Praprotnik | 00/00/1985 | | Slovenia | 0 |
| György Ring | 18/03/1981 | | Hungary | 0 |
| Milovan Ristić | 01/05/1974 | | Serbia | 0 |
| Roman Slyško | 04/08/1973 | | Slovakia | 0 |
| Pawel Sokolnicki |   | | Poland | 0 |
| Octavian Sovre | 19/07/1973 | | Romania | 0 |
| Mauro Tonolini | 30/03/1973 | | Italy | 0 |
| Vencel Tóth | 24/03/1978 | | Hungary | 0 |
| Sander van Roekel | 28/03/1974 | | Netherlands | 0 |
| Robert Vukan | 00/00/1976 | | Slovenia | 0 |
| Daniel Wärnmark | 30/12/1974 | | Sweden | 0 |
| Martin Wilczek | 23/05/1970 | | Czech Republic | 0 |
| Juan Yuste Jiménez | 25/09/1975 | | Spain | 0 |
| Erwin Zeinstra | 31/01/1977 | | Netherlands | 0 |