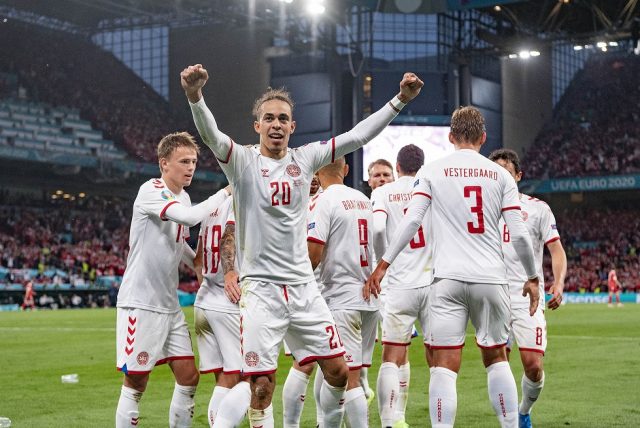 Best Euro 2020 Players
We have seen some great performances so far into the 2021 European Championships. We have seen giant-killings, brilliant tricks and flicks, worldly strikes from distance and some heart-wrenching losses.
Amidst all the drama surrounding this year's Euros, we are here to recognize the standout performers of the tournament. Watch & Bet Here =>

Top 5 Best Euro 2020 Players So Far
Some of the bigger names of the tournament have already exited in the early knockout stages. Almost all predictions made for the 2021 Euro Cup has been blown out of the waters, adding to the excitement that we have been hoping for all year.
Fans have also grown frustrated over seeing some of their favourite players riding the bench instead of being fielded by their coaches. England's Jadon Sancho is one who heads this list amongst many. Manchester United fans were really disappointed to not see Bruno Fernandes at his best for Portugal.
Here are the best Euro 2020 players so far into the tournament –
5. Denzel Dumfries
View this post on Instagram
One of Netherlands' main attacking forces was one of their defenders. Who would have thought? PSV Eindhoven's Denzel Dumfries wowed the crowds with his energetic presence in the opposition half.
He was given the freedom to charge ahead while three centre-backs sat back to defend Holland's backline. Dumfries acted as a constant threat against every side he faced and finished the tournament with two goals.
4. Manuel Locatelli
View this post on Instagram
Italy's resurgence back to the top has been an inspiring process under Roberto Mancini. And one of the side's main reason for playing fluid football has been their star-studded midfield. Sassuolo's Manuel Locatelli has broken out as a star in the Euros.
Playing in a trio of Jorginho and Nicolo Barella, Locatelli showcased his fluid passing skills and vision. Understandably he might still be behind Marco Veratti in the pecking order but Locatelli should easily be able to cement himself in a starting role over the next few years.
He struck the back of the net twice in the 3-0 win over Switzerland in the group stage. Fans will be looking to see him and his deft left foot back in the quarter-final tie against Belgium.

3. Romelu Lukaku
View this post on Instagram
Belgium has mostly disappointed based on the expectations they had coming into the tournament. Despite the talent they have at their disposal, they have not been able to dominate teams off the pitch.
Romelu Lukaku, however has been a consistent scoring threat up front, scoring thrice so far, once against Finland and twice against Russia. Lukaku has carried over his form from an excellent season he enjoyed with Inter Milan. The forward's physical presence up front and his speed off the ball is a real problem for defenders to deal with.
2. Andreas Christensen
View this post on Instagram
Denmark has been electric in the tournament and almost every player deserves a shoutout, especially Martin Braithwaite. But Andreas Christensen has been simply sensational in defence.
The Chelsea defender came into the tournament fresh off of a Champions League triumph. His confidence with his passing and tackling has been nearly perfect, giving Denmark the strength to hold off top opposition. Christensen's shining moment was when he struck the decisive goal in Denmark's final group game against Russia, giving them the momentum to progress into the knockout round.
1. Patrick Schick
View this post on Instagram
Almost everyone had ruled Czech Republic out based on the teams that they were set up to face but they began the tournament in perfect fashion. Patrick Schick scored a brace in his first game against Scotland, one of them a brilliant strike from beyond the half-way line.
He struck from the spot against Croatia and then rounded of Czech Republic's round of 16 win over Netherlands with an 80th minute tap in. Schick has established himself as a force to be reckoned with in this year's Euros. He is strong on the ball, has a brilliant left-foot, capable of holding up the ball and bringing his teammates into the attack.

Read more about the 2020 Euros here –
Read more about Euro 2020 at www.uefa.com.