The Greatest Manchester United Vs Liverpool Moments
Manchester United vs Liverpool. The meeting of the two most successful clubs in the history of English football is always an eagerly anticipated fixture.
The game might not have the significance of being a title battle in recent years, but it is always a big deal for supporters looking to put one over on their arch rivals.
The two clubs have thrown up some enthralling matches, and breathtaking drama over the years.
In the build up to the teams facing up on Saturday tea-time, this is Silly Season's countdown of the Top 10 Manchester United Liverpool moments.
10. Steven Gerrard stamp (Liverpool 1 Manchester United 2- 2015)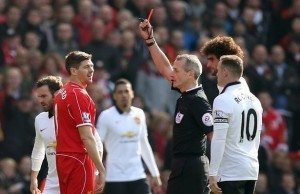 The last meeting between the sides saw one of the most extraordinary moments in the history of this rivalry. Gerrard sat on the bench frustrated, as he saw his side go into half time 1-0 down.
Brendan Rodgers bought him immediately on, and his perfect tackle was greeted by an almighty roar from the Anfield crowd.
But then Ander Herrera slid in for a late challenge, and the Liverpool skipper stamped on the Spaniard. He was sent off having been on the field just 38 seconds, the quickest ever sending off in this fixture.