5. Patrice Evra Luis Suarez: Part 2 (Manchester United 2 Liverpool- 2012)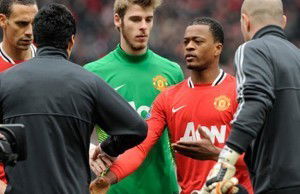 Back in 2011, Luis Suarez was given an 8 match ban for racially abusing Patrice Evra on the pitch at Anfield. The bad blood between the clubs was increased when in Liverpool's subsequent match they came out wearing t-shirts in support of Suarez.
Before the match in 2012, all the attention was on whether the two would shake hands. bBut Suarez refused to shake Evra's hand. That added even more spice to a tempestuous encounter, where United won 2-1.
Evra at the end of the game then celebrated right infront of Suarez, a game that certainly would not be remembered for the football.