The Greatest Champions League Comebacks of all-time
There is nothing more exciting that a dramatic come-back in football. Add in some of the greatest teams in the world and the richest club competition in the world, you have one amazing spectacle. Bring in great Champions League Comebacks and it's one of the best competitions in the world.
The Best Champions League Comebacks of all-time
SillySeason are today going to look into some of the greatest ever Champions League comebacks and put together a top-12 list of the ones that stick out in our memory as the best, biggest and greatest Champions League Comebacks ever. Some you will agree with, and some you will probably disagree with. We will probably have forgotten some as well, but you can always bring it to our attentions in the comment section below.
Tottenham recently made a great comeback in the Champions League Round of 16 in 2017/18  season when they went 2-0 down to Juventus. But Harry Kane came to the rescue and Spurs equalised 2-2 at Juventus. While we haven't included this in the list, we thought it was worth an honorable mention.
Additionally, in the 2016/17 season, Barcelona went down 4-0 to PSG in the first away leg for the Catalans. But somehow, miraculously, Barcelona came back to the Nou Canp and won 6-1. This, we feel is probably one of the greatest Champions League comebacks in history.

The Biggest Champions League Comebacks of all-time
But without wasting anyone's time, lets dive right into the list of the greatest ever Champions League comebacks. Starting at number-12!
12. Werder Bremen 5-3 Anderlecht
Our first memory comes back in 1993. (I was one at the time so don't personally remember this game so had to do some research)
Werder Bremen were hosting Anderlecht in the group-stages and somehow found themselves 3-0 down after just 33-minutes. The German side went into half-time with the same scoreline needing an absolute miracle to recover.
However, a miracle is what they got.
Just after the hour mark they made it 3-1 and six minutes later, they got it back to 3-2.
With ten-minutes left on the clock, Bremen equalised and sensed the comeback was nearly complete. Just three-minutes later, job was done. 4-3 to the hosts and a stunning comeback.
However, they didn't stop there. They then made it 5-3 in the 89th minute to complete what was a truly sensational Champions League comeback.
11. Liverpool 3-1 Olympiakos
When you need to win a game by two clear-goals, you don't want to go 1-0 down, but that's what happened to Liverpool at Anfield back in 2004.
It was against Greek side Olympiakos and the match goes down as one of the greatest nights in Champions League history thanks to a stunning moment from Steven Gerrard.
Rivaldo had given the visitors the lead, meaning The Reds had to score three goals to qualify for the knockout stages.
Florent Sinama Pongolle got one back for the hosts before Neil Mellor gave them a 2-1 win. However it still wasn't enough.
Up step Stevie G.
With four minutes left on the clock, the Liverpool legend thrashes a shot home from 25-yards to give his side the vital third goal. Cue Anfield explosion.
An unforgettable night, but surprisingly not Liverpool's best comeback….
10. FC Barcelona 4-0 Milan
Champions League Last-16 stages here. AC Milan drew FC Barcelona.
The first-leg went against the script and the Serie A side won it 2-0 meaning Barca had to complete a superb comeback at the Nou Camp, a place they rarely lose.
2-0 is usually a solid scoreline to have for any team, but when you travel to the La Liga giants, you will almost certainly concede goals, and that's what Milan did.
In fact, they conceded four and lost on the night 4-0 meaning the tie ended 4-2 to Barca.
Easy work for them.
9. Deportivo 4-3 PSG
We go back to 2001 for this epic comeback and it saw Deportivo La Coruna come from 3-0 down to win 4-3 during a group stage match with Paris Saint-Germain.
The Spanish side were 3-0 down at home with just 33-minutes left on the clock, but after Deportivo got one back in the 57th minute, PSG started to panic.
Three minutes later, it was 3-2 and the game was turning in the Spanish sides favour.
With 14-minutes left on the clock, it was 3-3 and Deportivo were on the brink of completing their own remarkable Champions League comeback.
They then finished the job off in the 84th minute.
The loss knocked PSG out of the Champions League. Sickening end!
8. Chelsea 4-1 Napoli
Three years ago Chelsea took on Napoli in the Champions League and produced a stunning second-leg performance.
The Blues had lost the first-leg in Naples 3-1, meaning they had it all to do at Stamford Bridge to advance to the next round.
Just before the half hour mark, Chelsea made their way to the comeback when Didier Drogba put them 1-0 up on the night and 3-2 on aggregate.
Then, moments after half-time, it was 2-0 on the night and 3-3 on aggregate with Chelsea going through on away goals as John Terry doubled the host's lead.
However, it was soon 2-1 and the game was in Napoli's hands when Gokhan Inler scored for the Italian side. 2-1 on the night and 4-3 on aggregate.
Just 15-minutes before the end and before elimination, Chelsea were rewarded a penalty which Frank Lampard calmly converted. It was now 3-1 and set for extra-time.
The game was won in the 105th minute when Branislav Ivanovic scored the vital goal to give Chelsea a 4-1 win on the night and a 5-4 win on aggregate.
7. Deportivo 4-0 Milan
Deportivo feature on our list for a second time.
Back in 2004, the Spanish side lost their first-leg against AC Milan 4-1 at the San Siro, meaning they needed a miracle in the return leg in Spain.
A miracle is what they got as they beat the Serie A side 4-0 meaning they advanced 5-4 on aggregate.
The La Liga side got the start they needed when they took the lead after just five minutes. That lead was then doubled 30-minutes later.
Deportivo went in at half-time 3-0 up after they scored their third just moments before the interval.
The game was won in the 75th minute as the hosts made it 4-0 on the night and 5-4 on aggregate.
6. Monaco 3-1 Real Madrid
Staying in 2004 there was another epic comeback that year between AS Monaco and Real Madrid.
The La Liga giants won the first-leg in Spain 4-2 and travelled to France feeling fairly optimistic about their chances of qualifying for the next round.
However, they were beaten comfortably in Monaco when the French side turned them over 3-1 and progressed on away goals.
The tie ended 5-5 but due to Monaco scoring two away from home, they progressed at the expense of Madrid.
5. Juventus 2-3 Man Utd
1999. The year Manchester United won the treble and it could have been all over at the semi-final stage.
The Red Devils drew 1-1 to Juventus at Old Trafford in the first-leg meaning they had a massive job on their hands to progress to the final.
Things looked even worse when they went 2-0 down in Turin after just 11-minutes, leaving the tie at 3-1 to The Old Lady.
However, goals from Roy Keane and Dwight Yorke turned the game on it's head and gave United the advantage thanks to the away goals rule.
The game was settled late on when Andy Cole slotted to make it 3-2 on the night and 4-3 on aggregate to United.
4. Man Utd 2-1 Bayern Munich
What followed from the Juventus game was a final against Bayern Munich.
United had somehow got to the final despite being 3-1 down on the tie at one point against Juventus, but the final started badly for them as they went 1-0 down after just six minutes.
Mario Basler gave Munich the lead and they held onto that lead until the 91st minute. Then something remarkable happened.
In the first minute of stoppage time, United were level and somehow rescued the final and looked certain to send it to extra-time. Teddy Sheringham with the goal.
But then, just two minutes later and in the 93rd minute, Ole Gunnar Solskjær, who had only been on the pitch for ten minutes, converted the ball into the back of the net to give the Premier League champions the lead.
It was a famous year for United as they completed an astonishing treble.
3. AC Milan 3-3 Liverpool (Liverpool win 3-2 Penalties)
Somehow United vs Bayern Munich was topped.
Liverpool vs AC Milan in 2005. The GREATEST ever Champions League final. The GREATEST Champions League comeback ever in a final.
The Reds were 3-0 down at half-time to one of the greatest ever AC Milan teams. Paolo Maldini had given the Serie A side the lead after just one minute.
Then a Hernan Crespo brace close to half-time made the game all-but over at 3-0.
However, it didn't end 3-0. Oh no.
In a six-minute spell, Liverpool turned the game from 3-0 to 3-3.
Steven Gerrard, Vladimír Šmicer and Xabi Alonso scored the goals to put Rafael Benitez's side back on level terms. It then went to penalties.
AC Milan missed three of their spot-kicks, meaning the Premier League side won the shoot-out 3-2 with just one of their players missing theirs.
Unreal.
Video: Liverpool vs AC Milan 3-3 (Liverpool win 3-2 Penalties)
2.  Liverpool 4-0 Barcelona, 7th of May 2019, Champions League 2018/19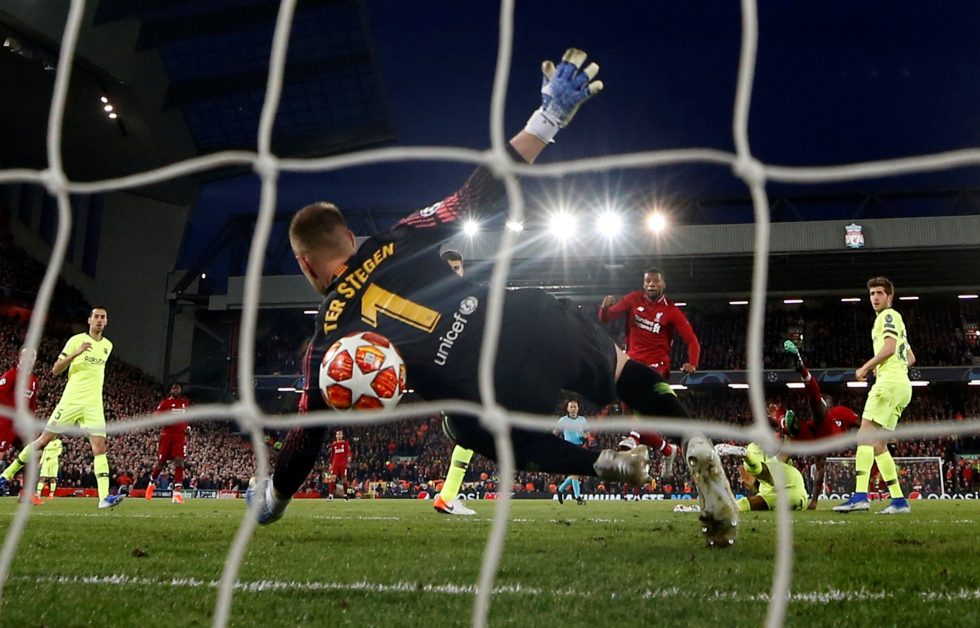 The latest addition to our special list. Last night, 7th of May, 2019 was a special night in Anfield. The Reds have had a fantastic season so far but it was all falling apart in terms of trophies until last night. Despite already having collected 94 points, they might just lose out on a league title, a record in itself. On top of that, after losing in the final of the Champions League last season, they were about to surrender their hopes this season as well.
A week ago, Messi and company had destroyed Liverpool 3-0 at Nou Camp. Everyone had written off the Reds. To make matters worse for them, they had lost their two star forwards Mo Salah and Roberto Firmino. Indeed the bets had gone so high, nobody in their right mind thought Liverpool could do anything. Except the team itself, of course.
They began in fine fashion with a quick goal and immediately after half time, they turned things around and by the end of 90 minutes, miraculously it was 4-0 to the Reds. What  a night for football!
1. Barcelona 6-1 PSG, 17th of March 2018, Champions League 2017/18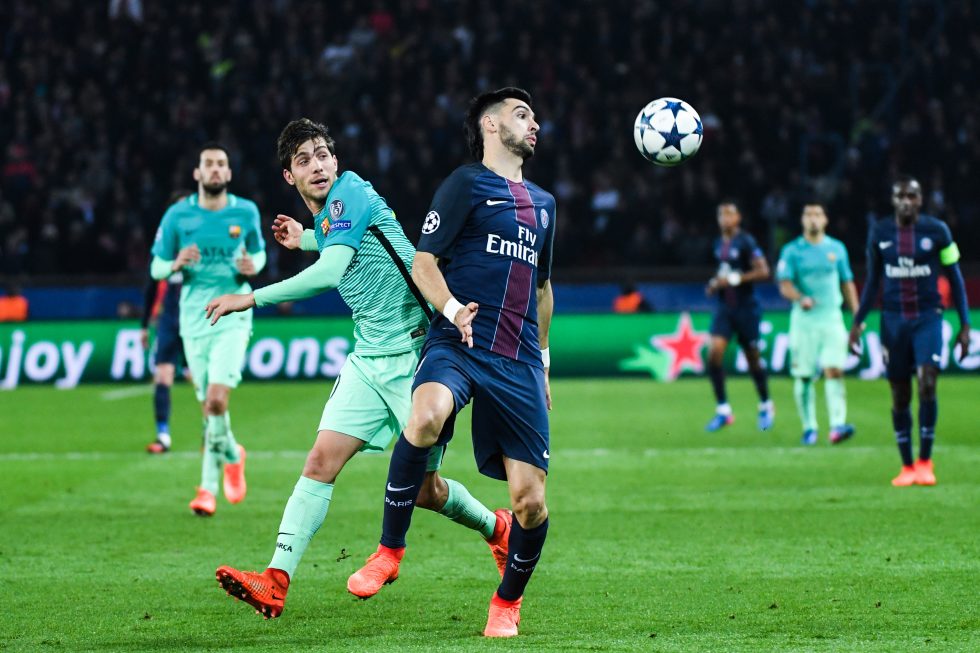 This is famously the night Paris fell in love with Neymar. PSG had all but killed the tie with a 4-0 win at home and Barcelona had to score at least 5 to win, 6 if PSG scored once.
Yes PSG did score and Barcelona put six back to make the most epic comeback of all time. This was the night Neymar announced himself on the world stage. The Brazilian rose like a flame out of Messi's shadow to put three past PSG, including 2 late goals to drown PSG.
And it began a love story chase which saw PSG steal Neymar for a world record fee from Barcelona. How the night turned out, even the best bookies could not have predicted. Barca were only 3-1 up until the 88th minute, still needing 3 goals to progressl and 3 they did score in the last 6 minutes!
Football Bloody Hell!
See also: