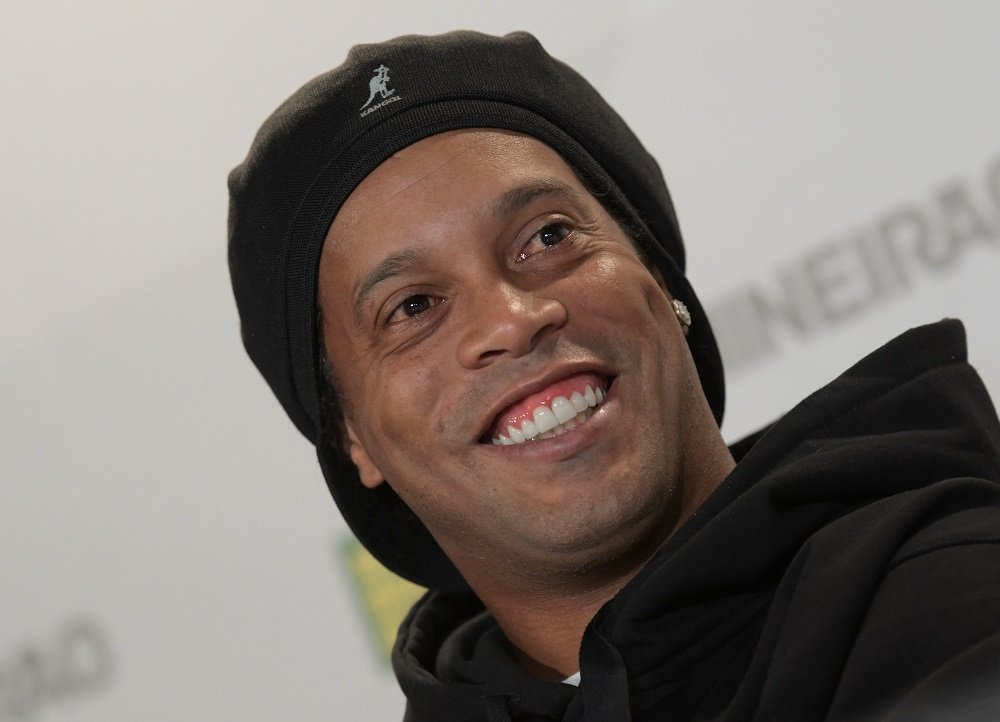 How Much Is Ronaldinho Worth? All Details About Ronaldinho Net Worth & Career Earnings!
Ronaldinho net worth? How much is Ronaldinho Gaucho net worth? Our romantic memories of the Brazilian legend has not faded even years after him hanging up his boots. Ronaldinho's career in football brought us fans as much joy as we could possibly digest even though it ended far too quickly than we would have liked. Needless to say, the former Barcelona star is still a widely popular celebrity who travels the world as an unofficial ambassador of the sport, endorsing several brands and inaugurating public events. He was recently seen in the NBA All-Star game, talking to some of the most famous basketball players and exchanging jerseys with them. Watch & Bet Here =>

Ronaldinho has always been a fan of parties and the finer things in life, a reputation he built since his early days as a footballer. Of course, he enjoys all of it after a very successful career at the very top of football. He retired in January 2018 through his brother and agent announcing – "He has stopped, it is ended. Let's do something pretty big and nice after the Russia World Cup, probably in August." Ronaldinho became the one of just seven players to have won the FIFA World Cup, the UEFA Champions League and the Ballon d'Or.
Ronaldinho Net Worth: Age, Height & Other Stats
How old is Ronaldinho Gaucho?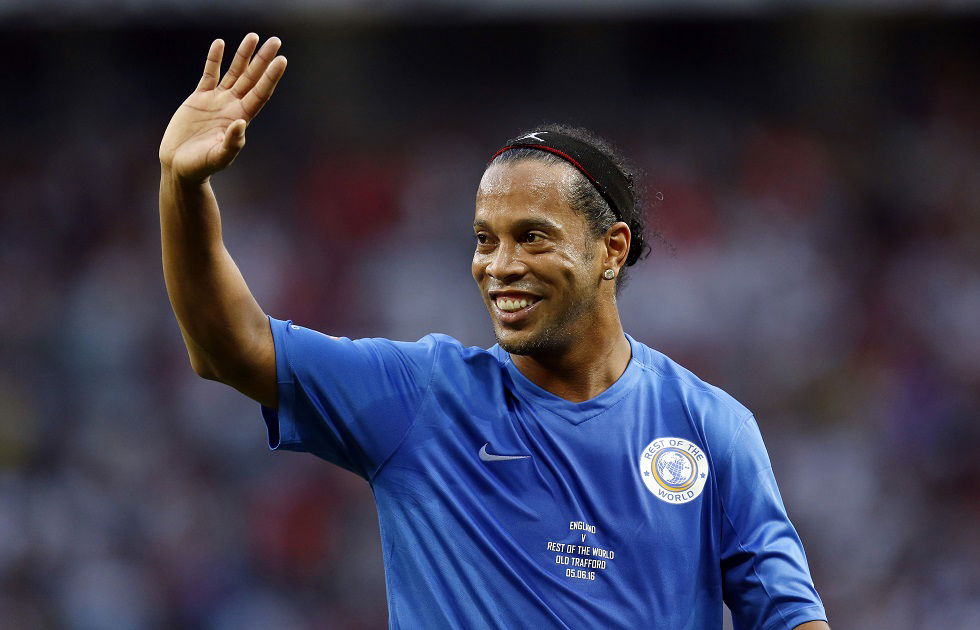 | | |
| --- | --- |
| Net Worth: | $90 million |
| Date of Birth: | 21 March 1980 (age 42 years) |
| Place of Birth: | Porto Alegre, Brazil |
| Height: | 1.81 m (5 ft 11 in) |
| Weight: | 80 kgs |
| Position: | Attacking Midfielder |
| Nationality: | Brazil |
Ronaldinho Net Worth
There is a big story revolving around Rolandinho Gaucho's net worth and we will get to the bottom of it. Ronaldinho was already once the best player across the planet. He was earning the highest wages, recording £19 million through endorsements alone in 2006. AC Milan had him on £480,000-per-week wages before eventually selling him halfway through his third season at San Siro. Ronaldinho was not making anywhere close to that back home in Brazil but he was still taking home more than £100,000 per week with Flamengo.
Unfortunately, this is where his fortunes start to turn in the wrong direction. Flamengo could not stick with their promises of paying him such high fees and terminated his contract in 2012. Ronaldinho switched to Atletico Mineiro on a £150,000-per-week deal but faced the same treatment due to the lack of funds at the club. His brand deal with Coca Cola was also cancelled subsequently after he was seen taking a sip out of a Pepsi can during the Atletico unveiling.
On his heyday, Ronaldinho made several millions of dollars through sponsorship deals with Coca-Cola, EA Sports, Gatorade, Nike & Pepsi among others. Ronaldinho net worth was estimated to be around £80.8 million ($100 million).
Ronaldinho Gaucho Net Worth In 2020
What happened to Ronaldinho? Ronaldinho has run into a few financial problems with reports claiming that he is £1.75 million in debt. Some might gawk at how little that sum should be to millionaire footballer but Ronaldinho has not exactly been saving. His playboy lifestyle has eaten through his wealth faster than he has been out of the sport, leaving him something around just £5 million in the bank.
In July 2019, the government seized Ronaldinho's Spanish and Brazilian passports over unpaid taxes and non-payment of fines for illegally building on a Brazilian nature reserve. To make matters worse, the former Balon d'Or winner got arrested in Paraguay with his brother in March 2020. The two got caught carrying fake Paraguayan passports and were sentenced to prison. Ronaldinho does play in charity games every now ant then but that is currently put on hold till his time in prison gets over.

Ronaldinho Net Worth: Instagram, Facebook & Twitter
The star with the toothy grin has amassed over 60 million followers on Instagram and is thought to charge over 150,000 per post to advertisers. Watch & Bet Here =>
View this post on Instagram
He is also huge on other platforms with nearly 20 million followers on Twitter and 35 million on his Facebook page.
Ballers 😎#UCL pic.twitter.com/D2hida1jDq

— UEFA Champions League (@ChampionsLeague) June 13, 2022
Ronaldinho Net Worth Includes Houses & Cars
Ronaldinho had bought a $20 million mansion in Rio de Janeiro after ending his European career. He, unfortunately, had authorities search his house and seize all of his paintings and cars over unpaid dues. Ronaldinho is also thought to own properties in Greece, Barcelona, Florida, and Lake Como (Italy).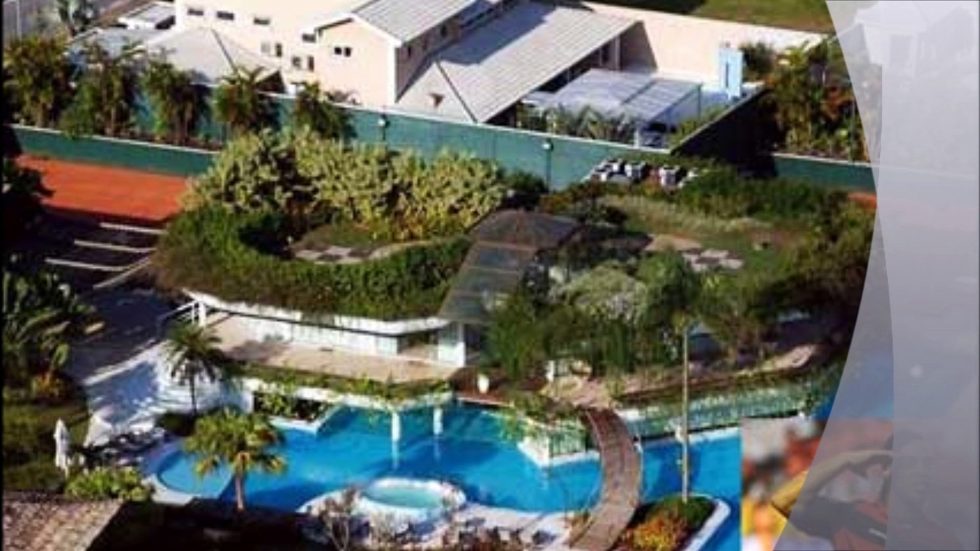 His car collecton included a Lamborghini Aventador, a Porsche Carerra S, a Ferrari 458, Bugatti Veyron, Hummer H2 and Audi R8.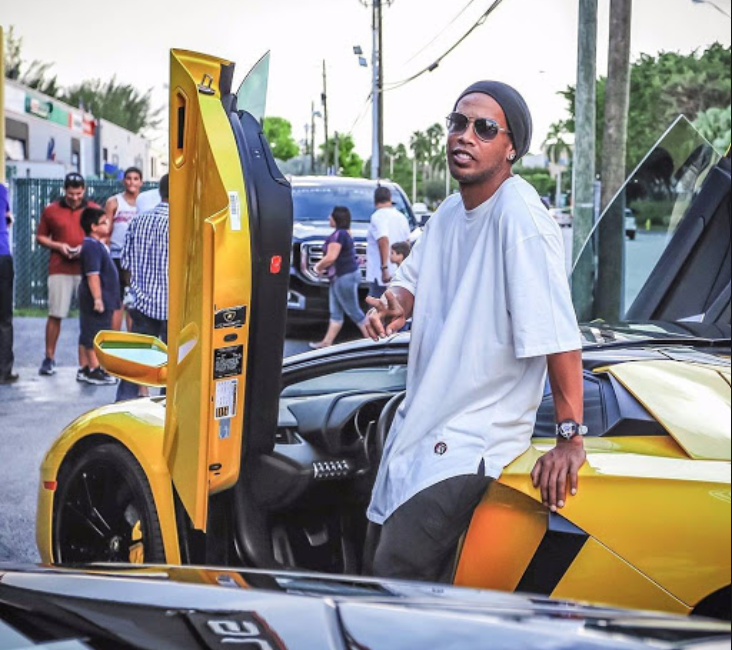 Ronaldinho Net Worth: Boots Partnership With Nike
While the Mercurials and Magistas were endorsed by Cristiano Ronaldo, Andres Iniesta, the NIKE Tiempos were Ronaldinho's baby. It's the oldest line of football boots since its start in 1984. Ronaldinho promoted it throughout his career and does so even now but Sergio Ramos is the biggest endorser amongst current players.
He is also being paid to promote the Nike 10R City Collection which are essentially futsal boots.
Also, check out –