2023 WWE Wrestlers Salaries & Contract Details
WWE Wrestlers Salaries? How much do WWE wrestlers get paid? WWE wrestling is known for it's acting, and general crazy gimmicks but the wrestlers do put their body on the line every week. Because of this, wrestlers get paid quite handsomely. Most of the WWE wrestlers in the roster have long term contracts with the company ranging from one year to 10 years. Wrestlers get a basic yearly salary plus bonuses and traveling allowances.
The average wrestler on the roster makes between $500,000 to $1 million a year in basic salary. We take a look at WWE's current contract and how much each wrestler makes in 2023. Here we look at the WWE Wrestlers Salaries to find out if they do indeed make millions. Here we look at the WWE Wrestlers Salaries 2023.
WWE Wrestlers Salaries 2023
How Much do WWE Executives Make In A Year? Here is how much the WWE executives get paid in 2023.
| | | |
| --- | --- | --- |
| Name | Position | Salary |
| Paul "Triple H" Levesque | Vice President Live events, Talent | $1.1 million (basic salary) plus hefty bonuses |
| Nick Khan | CEO | $1.2-1.35 million a year |
| Franck A. Riddick III | Financial and strategic officer | $800,000 a year |
| Brian McMahon | Producer | $800,000 a year |
| Michael Luisi | WWE Studios President | $700,000 a year |
Paul "Triple H" Levesque (vise president live events, talent) makes $1.1 million (basic salary). Plus he makes $1.65 million in the yearly talent contract and of course his WWE ring & match appearances. All of this makes Triple H the highest paid WWE executive.
WWE Wrestlers' Professional contracts terms
Below we take a look at what a professional contract of a WWE wrestler looks like. The contracts usually include at least 13 different clauses which are as follows:
Booking – Wrestler grants right to book him/her for events for which WWE can sell tickets and TV rights. Wrestler also grants permission for WWE to negotiate on their behalf for merchandising, publishing, endorsements and personal appearances etc.
Works- WWE has the right to film/photograph any event involving contracted wrestlers. Since the contract is based on "Works for hire" WWE owns rights from events which include anything from incidents, dialogues, routines, any special moves, ideas or gags.
Intellectual Property- WWE holds exclusive rights to wrestlers likeness, name, personality, costume, gestures etc.
Merchandising- WWE has rights to sell merchandising based on the wrestler
Exclusivity- This focuses on things like: All rights granted to WWE are exclusive to the company unless otherwise stated.
Term and Territory- States the length of the wrestler's contract with WWE. These can range from one year to 10 years. Territory is usually "Worldwide"meaning the wrestler has to travel worldwide if told to do so- (unless otherwise stated).
Payments and Royalties – A payment structure which covers basic salary plus any bonuses. WWE state that the average wrestler in the main roster makes about $500,000 a year.
Promoters Obligations
Wrestlers Obligations
Warranty
Early Termination
Breach
Miscellaneous
WWE Wrestlers Salaries & Contract + Bonuses
Every WWE wrestler gets a professional contract with the company stating the number of years, basic salary plus bonuses etc. These include things like; release clause and retirement etc. The basic yearly salary is the guaranteed payments. While the bonuses and royalties comes from PPV/merchandise sales share. Every WWE wrestler on the main roster makes at least $500,000 a year while top names make much more than that.
What are the PPV Events income?
Bigger names like John Cena, Randy Orton etc get PPV revenue share from the WWE. The PPV income figures are not released to the public because WWE don't disclose this information. But we will look at how much WWE compensate their stars in basic salary and other bonuses.
WWE Wrestlers Salaries: Who are the highest paid wrestlers?
John Cena and Brock Lesnar are both highly paid stars in WWE at the moment. Here we take a look at the WWE Wrestlers Salaries.
WWE Wrestlers Salaries and contract details 2023
Here are WWE Male Wrestlers Salaries & Contracts 2023:
| | | |
| --- | --- | --- |
| Star | Annual Salary | Bonuses & Royalties |
| Brock Lesnar | $10 million | According to the most recent Wrestling Observer Newsletter report, Brock Lesnar will earn a base salary of $5 million per year after his comeback in 2021. Lesnar earns $10 million annually from WWE, according to a prior Forbes estimate from 2020. |
| Roman Reigns | $5 million | The best star has benefits. Brock Lesnar and Roman Reigns both earn $5 million in WWE salaries with a $5 million downside assurance. Along with John Cena, Reigns continues to be the top merchandise seller, and he will receive an extra bonus for merchandise sales. |
| Vince McMahon | $5 million | Vince McMahon receives a yearly payout of about $5 million, which includes his $2 million fixed salary, stock options, and additional benefits. |
| Randy Orton | $4.5 million | Randy Orton signed a new 5-year contract with WWE in 2019 which made his top-earning star with earnings of $4.5 million per year |
| AJ Styles | $3.5 million | As he approaches the latter stages of his professional wrestling career, AJ Styles may have reduced his output. He still has a high profile, though, and his new, 2019 deal states that he makes about $3.5 million annually. |
| Triple H | $3.3 million | After replacing Vince McMahon as Creative Head of WWE, Triple H is now in control of scheduling RAW and Smackdown. He receives over $3 million for both his on-screen and off-camera duties. He receives a fixed salary of $730,000 annually, with stock awards and bonuses covering the remainder. |
| Seth Rollins | $3 million | Despite the fact that Monday Night Messiah continues to divide WWE fans, the Universal and WWE Champion is one of the best performers in the business with a $3 million annual salary. |
| The Undertaker | $2.5 million | The Undertaker left the WWE in 2020, but not before he signed a 10-year contract worth $2.5 million per year with the company. |
| The Miz | $2.5 million | One of the WWE brand identities that is well-known to people outside of the wrestling community is The Miz. Also, he receives about $2.5 million annually from WWE. |
| Kevin Owens | $2 million | According to reports, Kevin Owens recently inked a new contract with WWE and earns between $2 and $3 million annually. |
| Paul Heyman | $2 million | Paul Heyman, who plays the Wiseman now and was the Advocate before, is said to earn $2 million for both his on-screen and off-screen duties. |
| Dolph Ziggler | $1.5 million | Another ageing WWE icon, Dolph Ziggler, earns $1.5 million annually despite being in his later years. |
| Bobby Lashley | $1 million | According to reports, Bobby Lashley makes $1 million in basic pay. |
| Drew McIntyre | $1 million | In recent years, Drew McIntyre has become a star to watch. McIntyre's contract was extended, and it is reported that he now earns a salary of about $1 million annually. |
| Sheamus | $1 million | Sheamus, a former WWE and World Heavyweight Champion, is still a mainstay of the WWE roster and makes a wage of $1 million. |
| Jinder Mahal | $900,000 | Although The Modern Day Maharaja is not a fan favorite, his popularity among Indian supporters still places him among the top WWE stars. He makes just under $1 million annually. |
| Kane | $900,000 | Like The Undertaker, Kane has only ever appeared for WWE. He has managed to make close to $1 million through merchandise sales and a downside guarantee despite spending the majority of his time away from the arena. |
| Shane McMahon | $828,000 | Shane McMahon hasn't participated in WWE since the Royal Rumble in 2022, but according to WWE's SEC filing, he still earned $828,000. |
| Sami Zayn | $500,000 | The value of Bianca Belair has increased since her victory at WrestleMania 37. She is also one of the highest paid WWE performers, earning about $500,000 annually. |
| Ricochet | $450,000 | Following the signing of his new main roster deal in 2019, Ricochet's WWE earnings are said to be $450,000 annually. |
| Matt Riddle | $400,000 | Before making his main roster debut in 2021, Matt Riddle inked a new contract that increased his salary to $400,000 annually. |
| Bron Breakker | $150,000 | NXT Star Bron Breakker presently earns a top-end salary for NXT wrestlers of $150,000 per year. |
| JD McDonagh | $150,000 | Since joining WWE in 2017, JD McDonagh has participated in both NXT UK and NXT. He is anticipated to earn $150,000 annually. |
| Carmelo Hayes | $100,000 | Carmelo Hayes, a rising star in WWE NXT, is anticipated to earn $100,000 annually. |
WWE Wrestlers Salaries of Divas and Contract details
The female wrestlers have short term contracts. This means they usually have rolling contracts which are renewed every year. Female wrestlers earn less than male counterparts due to far less appearances. But they do have bonuses and other royalties.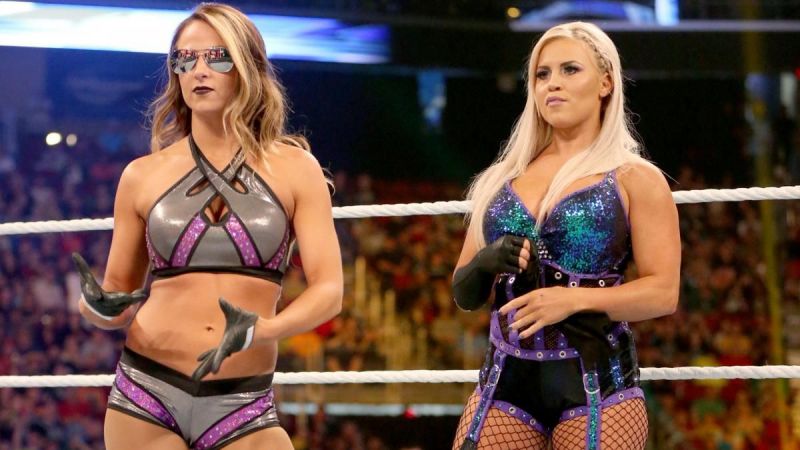 WWE Divas Salaries 2023 (Contract Upgraded)
| | | |
| --- | --- | --- |
| Star | Annual Salary | Bonuses & Royalties |
| Becky Lynch | $3 million | When Becky Lynch achieved the height of her fame as the RAW Women's Champion in 2019, she agreed to a new contract. Her base pay is still $1 million, but over the past few years, she has made close to $3 million. |
| Stephanie McMahon | $2.5 million | After Vince McMahon resigned, Stephaine McMahon was elevated to Co-CEO of WWE. She received a fixed wage of $730,000 over the last few years, with additional compensation in the form of stock and bonuses, totaling about $2.5 million. |
| Charlotte Flair | $2 million | The WWE's current top talent is Charlotte Flair. Although she used to make about $600,000 a year, it is anticipated that she will soon make about $2 million a year, making her one of the highest paid women in the business. |
| Ronda Rousey | $1.5 million | Probably the first female celebrity to earn more than $1 million was Ronda Rousey.(after Stephaine McMahon, who is more in the management side). She is said to earn $1.5 million annually. |
| Bianca Belair | $500,000 | The value of Bianca Belair has increased since her victory at WrestleMania 37. She is also one of the highest paid WWE performers, earning about $500,000 annually. |
| Bayley | $350,000 | With a reported compensation of $350,000, Bayley is most likely the Four Horsewomen of WWE with the lowest pay. Although it is unclear if she has signed a new contract in the last year, it would not be illogical to assume that she may be making a significantly higher income under her new contract, which is anticipated to be worth more than $500,000. |
| Alexa Bliss | $350,000 | One of the best merchandisers from the WWE women's locker room is Alexa Bliss. However, she only receives about $350,000 from WWE each year. |
| Asuka | $350,000 | Even though Asuka has a much greater following among fans, her WWE salary of $350,000 annually is considerably lower than that of other female champions. |
| Liv Morgan | $250,000 | One of the female wrestlers who has been on the top roster for the past five years is Liv Morgan. Her pay, however, is anticipated to be on the lower part of the range for main roster talent. |
| Roxanne Perez | $100,000 | Roxanne Perez, who is 21 years old, is anticipated to earn around $100,000 per year in WWE NXT. |
| Cora Jade | $100,000 | Cora Jade, another Young NXT Star, is anticipated to earn around $100,000 annually. |
See also…
Hottest Wives of the Soccer World Cup 2023
Hottest Wags Going To FIFA World Cup 2023