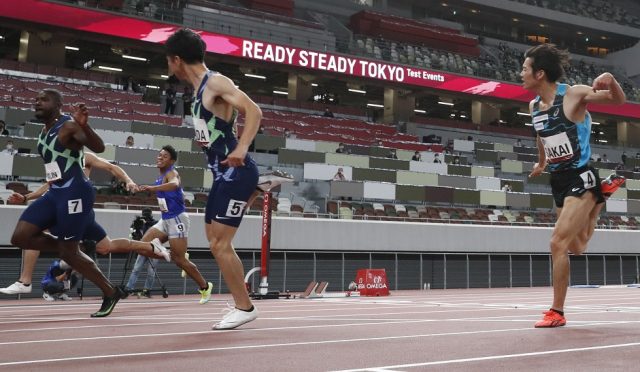 Tokyo Olympics 2021 Full Schedule
The 2020 Summer Olympics is about to begin from 23 July. It will last until 8 August in Tokyo, Japan. Are you looking for the full 2020 Olympics schedule? List of 2021 Summer Olympics events? Full Tokyo Olympics 2021 schedule? Watch & Bet here =>

The Olympics is an international sporting event. The last one was supposed to be held in March of 2020 but had to be postponed due to the COVID-19 pandemic. Now, it is set to be held behind closed doors. The Tokyo Olympics 2020 name will be retained for marketing and branding purposes despite being held in the year 2021. After this the Summer Paralympics will be held between 24 August and 5 September 2021.
Japan will host the Olympics for the second time with the first time being in 1964. This will make Tokyo the first city in Asia to host the Olympics twice. This will be also be the fourth Olympic games held in Japan with the Winter Olympics held twice before in 1972 (Sapporo) and 1998 (Nagano). We will get to see the world's most skilled athletes perform at the largest stage across 35 different spots, 53 disciplines and 400 events. 
Full Tokyo Olympics 2021 Schedule – Fixture Of All Events!
Here is the full list of events in the 2020 Summer Olympic games –
Tuesday, July 20
| | | | |
| --- | --- | --- | --- |
| Sport | Event | Time (ET) | Channel |
| Softball | Japan vs. Australia | 8 p.m. – 10 p.m. | NBCSN |
| Softball | U.S. vs. Italy | 11 p.m. – 1 a.m. | NBCSN |
Wednesday, July 21
| | | | |
| --- | --- | --- | --- |
| Sport | Event | Time (ET) | Channel |
| Softball | Mexico vs. Canada | 2 a.m. – 4 a.m. | NBCSN |
| Women's Soccer | Great Britain vs. Chile | 3:30 a.m. – 5:30 a.m. | Olympic Channel |
| Women's Soccer | China vs. Brazil | 4 a.m. – 6 a.m. | NBCSN |
| Women's Soccer | U.S. vs. Sweden | 4:30 a.m. – 6:30 a.m. | USA |
| Women's Soccer | Japan vs. Canada | 6:30 a.m. – 8:30 a.m. | NBCSN |
| Women's Soccer | Netherlands vs. Zambia | 7 a.m. – 9 a.m. | Olympic Channel |
| Women's Soccer | Australia vs. New Zealand | 7:30 a.m. – 9:30 a.m. | USA |
| Softball | U.S. vs. Canada | 8 p.m. – 10 p.m. | NBCSN |
| Softball | Japan vs. Mexico | 11 p.m. – 1 a.m. | NBCSN |
Thursday, July 22
| | | | |
| --- | --- | --- | --- |
| Sport | Event | Time (ET) | Channel |
| Softball | Italy vs. Australia | 2 a.m. – 4 a.m. | NBCSN |
| Men's Soccer | Egypt vs. Spain | 3:30 a.m. – 5:30 a.m. | Olympic Channel |
| Men's Soccer | Mexico vs. France | 4 a.m. – 6 a.m. | USA |
| Men's Soccer | New Zealand vs. South Korea | 4 a.m. – 6 a.m. | NBCSN |
| Men's Soccer | Ivory Coast vs. Saudi Arabia | 5:30 a.m. – 6:30 a.m. | Olympic Channel |
| Men's Soccer | Argentina vs. Australia | 6:30 a.m. – 8:30 a.m. | Olympic Channel |
| Men's Soccer | Japan vs. South Africa | 7 a.m. – 9 a.m. | NBCSN |
| Men's Soccer | Brazil vs. Germany | 7:30 a.m. – 9:30 a.m. | USA |
| Men's Soccer | Honduras vs. Romania | 8:30 a.m. – 9 a.m. | Olympic Channel |
| Rowing | Qualifying Heats | 7:30 p.m. – 11:10 p.m. | NBCSN |
Friday, July 23
| | | | |
| --- | --- | --- | --- |
| Sport | Event | Time (ET) | Channel |
| Opening Ceremony | — | 6:55 a.m. – 11 a.m. | NBC |
| Rowing | Qualifying Heat & Repechages | 7:30 p.m. – 2 a.m. | USA |
| Cycling | Men's Road Race | 7:30 p.m. – 2 a.m. | USA |
| Tennis | Men's/Women's first-round singles, doubles | 10 p.m. – 2 a.m. | Olympic Channel |
| Women's Water Polo | U.S. vs. Japan | 12 a.m. – 2 a.m. | NBCSN |
Saturday, July 24
| | | | |
| --- | --- | --- | --- |
| Sport | Event | Time (ET) | Channel |
| Tennis | Men's/Women's first-round singles, doubles | 2 a.m. – 7 a.m. | Olympic Channel |
| Women's Water Polo | U.S. vs. Japan | 2 a.m. – 7:30 a.m. | NBCSN |
| Softball | U.S. vs. Mexico | 2 a.m. – 7:30 a.m. | NBCSN |
| Archery | Mixed Team Final | 2 a.m. – 7:30 a.m. | NBCSN |
| Women's Soccer | Sweden vs. Australia | 2 a.m. – 7:30 a.m. | NBCSN |
| Cycling | Men's Road Race | 2 a.m. – 9:50 a.m. | USA |
| Beach Volleyball | Women's Qualifying Round | 2 a.m. – 9:50 a.m. | USA |
| Swimming | Qualifying Heats | 2 a.m. – 9:50 a.m. | USA |
| Beach Volleyball | Men's Qualifying Round | 2 a.m. – 9:50 a.m. | USA |
| Basketball | Men's 3×3 | 2 a.m. – 9:50 a.m. | USA |
| Men's Gymnastics | Qualifying | 6 a.m. – 11 a.m. | Peacock |
| Men's Volleyball | U.S. vs. France | 6 a.m. – 11 a.m. | Peacock |
| Women's Soccer | U.S. vs. New Zealand | 7:30 a.m. – 9:30 a.m. | NBCSN |
| Men's Volleyball | U.S. vs. France | 9 a.m. – 10:45 a.m. | NBC |
| Beach Volleyball | Women's Qualifying Round | 8 p.m. – 11:30 p.m. | NBC |
| Swimming | Finals | 8 p.m. – 11:30 p.m. | NBC |
| Skateboarding | Men's Street Qualifying | 8 p.m. – 2 a.m. | USA |
| Basketball | Men's 3×3 | 8 p.m. – 2 a.m. | USA |
| Skateboarding | Men's Street Final | 8 p.m. – 2 a.m. | USA |
| Cycling | Women's Round Race | 8 p.m. – 2 a.m. | USA |
| Softball | U.S. vs. Australia | 8 p.m. – 1 a.m. | CNBC |
| Tennis | Men's/Women's first-round singles, doubles | 10 p.m. – 2 a.m. | Olympic Channel |
| Skateboarding | Men's Street Qualifying | 11:30 p.m. – 2 a.m. | NBC |
| Men's Water Polo | U.S. vs. Japan | 1 a.m. – 2 a.m. | CNBC |
Sunday, July 25
| | | | |
| --- | --- | --- | --- |
| Sport | Event | Time (ET) | Channel |
| Men's Water Polo | U.S. vs. Japan | 2 a.m. – 4 a.m. | CNBC |
| Diving | Women's Synchronized Springboard Final | 2 a.m. – 4 a.m. | CNBC |
| Archery | Women's Team Final | 2 a.m. – 4 a.m. | CNBC |
| Tennis | Men's/Women's first-round singles, doubles | 2 a.m. – 7 a.m. | Olympic Channel |
| Cycling | Women's Road Race | 2 a.m. – 8:20 a.m. | USA |
| Women's 3×3 Basketball | U.S. vs. Romania | 2 a.m. – 8:20 a.m. | USA |
| Swimming | Qualifying Heats | 2 a.m. – 8:20 a.m. | USA |
| Men's Soccer | Brazil vs. Ivory Coast | 4:30 a.m. – 6:30 a.m. | NBCSN |
| Gymanstics | Women's Qualfying | 6 a.m. – 11 a.m. | Peacock |
| Men's Basketball | U.S. vs. France | 6 a.m. – 11 a.m. | Peacock |
| Men's Soccer | Australia vs. Spain | 6:30 a.m. – 8:30 a.m. | NBCSN |
| Swimming | Qualifying Heats | 8 a.m. – 12:15 p.m. | NBC |
| Women's 3×3 Basketball | U.S. vs. Taiwan | 8 a.m. – 12:15 p.m. | NBC |
| Beach Volleyball | Men's Qualifying Round | 8 a.m. – 12:15 p.m. | NBC |
| Men's Soccer | Japan vs. Mexico | 8:30 a.m. – 9 a.m. | NBCSN |
| Triathlon | Men's Final | 5:30 p.m. – 9 p.m. | USA |
| Beach Volleyball | Women's Qualifying Round | 5:30 p.m. – 9 p.m. | USA |
| Triathlon | Men's Final | 7 p.m. – 9:30 p.m. | NBC |
| Skateboarding | Women's Street Final | 8 p.m. – 2 a.m. | CNBC |
| Rugby | Men's Qualifying Round | 8 p.m. – 2 a.m. | CNBC |
| Skateboarding | Women's Street Final | 8 p.m. – 2 a.m. | CNBC |
| Men's Basketball | Argentina vs. Slovenia | 8 p.m. – 2 a.m. | CNBC |
| Softball | U.S. vs. Japan | 9 p.m. – 11 p.m. | USA |
| Swimming | Finals | 9:30 p.m. – 11:30 p.m. | NBC |
| Tennis | Men's/Women's second-round singles, doubles | 2 a.m. – 7 a.m. | Olympic Channel |
| Basketball | 3×3 | 11 p.m. – 2 a.m. | USA |
| Beach Volleyball | Women's Qualifying Round | 11 p.m. – 2 a.m. | USA |
| Women's Water Polo | U.S. vs. China | 11 p.m. – 2 a.m. | USA |
| Skateboarding | Women's Street Final | 11:30 p.m. – 2 a.m. | NBC |
Monday, July 26
| | | | |
| --- | --- | --- | --- |
| Sport | Event | Time (ET) | Channel |
| Men's Basketball | Argentina vs. Slovenia | 2 a.m. – 5 a.m. | CNBC |
| Shooting Skeet | Men's Final | 2 a.m. – 5 a.m. | CNBC |
| Archery | Men's Team Final | 2 a.m. – 5 a.m. | CNBC |
| Tennis | Men's/Women's second-round singles, doubles | 2 a.m. – 7 a.m. | Olympic Channel |
| Women's Water Polo | U.S. vs. China | 2 a.m. – 10:30 a.m. | USA |
| Diving | Men's Synchronized Platform Final | 2 a.m. – 10:30 a.m. | USA |
| Canoe Slalom | Men's Final | 2 a.m. – 10:30 a.m. | USA |
| Rugby | Men's Qualifying Round | 2 a.m. – 10:30 a.m. | USA |
| Swimming | Qualifying Heats | 2 a.m. – 10:30 a.m. | USA |
| Basketball | 3×3 | 2 a.m. – 10:30 a.m. | USA |
| Men's Volleyball | Brazil vs. Argentina | 2 a.m. – 10:30 a.m. | USA |
| Fencing | Men's Individual Foil & Women's Individual Sabre Finals | 5 a.m. – 8 p.m. | NBCSN |
| Beach Volleyball | Qualifying Round | 5 a.m. – 8 p.m. | NBCSN |
| Gymnastics | Men's Team Final | 6 a.m. – 11 a.m. | Peacock |
| Triathlon | Women's Final | 5:30 p.m. – 8 p.m. | USA |
| Beach Volleyball | Women's Qualifying Round | 8 p.m. – 10:10 p.m. | CNBC |
| Men's Water Polo | U.S. vs. South Africa | 8 p.m. – 10:10 p.m. | CNBC |
| Swimming | Finals | 9:30 p.m. – 11:30 p.m. | NBC |
| Tennis | Men's Round 2 singles, doubles | 10 p.m. – 2 a.m. | Olympic Channel |
| Tennis | Women's Round 3 singles, Round 2 doubles | 10 p.m. – 2 a.m. | Olympic Channel |
| Rugby | Men's Qualifying Round | 10:10 p.m. – 12 a.m. | CNBC |
| Fencing | Women's Team Epee Quarterfinals | 10:10 p.m. – 12 a.m. | CNBC |
| Beach Volleyball | Men's Qualifying Round | 11 p.m. – 12:30 a.m. | USA |
| Softball | Bronze Medal Game | 12 a.m. – 2 a.m. | CNBC |
| Women's Basketball | U.S. vs. Nigeria | 12:40 a.m. – 2 a.m. | USA |
Tuesday, July 27
| | | | |
| --- | --- | --- | --- |
| Sport | Event | Time (ET) | Channel |
| Diving | Women's Synchronized Platform Final | 2 a.m. – 4:30 a.m. | USA |
| Slalom Canoeing | Women's Final | 2 a.m. – 4:30 a.m. | USA |
| Beach Volleyball | Women's Qualifying Round | 2 a.m. – 7 a.m. | NBCSN |
| Rugby | Men's Quarterfinal | 2 a.m. – 7 a.m. | NBCSN |
| Tennis | Men's Singles, Round 2 | 2 a.m. – 7 a.m. | Olympic Channel |
| Tennis | Women's Singles, Round 3 | 2 a.m. – 7 a.m. | Olympic Channel |
| Tennis | Men's and Women's Doubles, Quarterfinals | 2 a.m. – 7 a.m. | Olympic Channel |
| Women's Basketball | U.S. vs. Nigeria | 2 a.m. – 10 a.m. | USA |
| Cycling | Women's Mountain Bike | 2 a.m. – 10 a.m. | USA |
| Swimming | Qualifying Heats | 2 a.m. – 10 a.m. | USA |
| 3×3 Basketball | Quarterfinals | 2 a.m. – 10 a.m. | USA |
| Women's Soccer | U.S. vs. Australia | 4 a.m. – 6 a.m. | USA |
| Gymnastics | Women's Gymnastics Team Final | 6 a.m. – 11 a.m. | Olympic Channel |
| Softball | Final | 7 a.m. – 9:30 a.m. | NBCSN |
| Beach Volleyball | Women's Qualifying Round | 9:30 a.m. – 8 p.m. | NBCSN |
| Beach Volleyball | Men's Qualifying Round | 8 p.m. – 2 a.m. | USA |
| Table Tennis | Women's Quarterfinal | 8 p.m. – 2 a.m. | USA |
| Men's Volleyball | U.S. vs. Tunisia | 8 p.m. – 2 a.m. | USA |
| Slalom Canoeing | Qualifying | 8 p.m. – 2 a.m. | USA |
| Rowing | Finals and Semifinals | 8 p.m. – 2 a.m. | CNBC |
| Cycling | Women's Time Trial | 8 p.m. – 2 a.m. | CNBC |
| Cycling | Men's Time Trial | 8 p.m. – 2 a.m. | CNBC |
| Tennis | Men's Third-round singles | 10 p.m. – 2 a.m. | Olympic Channel |
| Tennis | Women's Singles and Doubles, Quarterfinals | 10 p.m. – 2 a.m. | Olympic Channel |
| Tennis | Men's Doubles, Semifinals | 10 p.m. – 2 a.m. | Olympic Channel |
| Tennis | Mixed Doubles, First Round | 10 p.m. – 2 a.m. | Olympic Channel |
| Slalom Canoeing | Qualifying | 12 a.m. – 2 a.m | NBC |
| Women's Water Polo | U.S. vs. Hungary | 12 a.m. – 2 a.m | NBC |
Wednesday, July 28
| | | | |
| --- | --- | --- | --- |
| Sport | Event | Time (ET) | Channel |
| Men's Basketball | U.S. vs. Iran | 12:40 a.m. – 2 a.m. | Peacock |
| Cycling | Men's Individual Time Trial | 2 a.m. – 5 a.m. | CNBC |
| Tennis | Men's Singles, Third Round | 2 a.m. – 7 a.m. | Olympic Channel |
| Tennis | Women's Singles and Doubles, Quarterfinals | 2 a.m. – 7 a.m. | Olympic Channel |
| Tennis | Men's Doubles, Semifinals | 2 a.m. – 7 a.m. | Olympic Channel |
| Tennis | Mixed, First Round | 2 a.m. – 7 a.m. | Olympic Channel |
| Slalom Canoeing | Qualifying | 2 a.m. – 12 p.m. | USA |
| Women's Basketball | 3×3 Semifinal | 2 a.m. – 12 p.m. | USA |
| Rugby | Men's Bronze Medal and Final | 2 a.m. – 12 p.m. | USA |
| Men's Basketball | 3×3 Semfinal | 2 a.m. – 12 p.m. | USA |
| Swimming | Qualifying Heats | 2 a.m. – 12 p.m. | USA |
| 3×3 Basketball | Finals | 2 a.m. – 12 p.m. | USA |
| Men's Volleyball | Brazil vs. Taiwan | 2 a.m. – 12 p.m. | USA |
| Men's Soccer | Germany vs. Ivory Coast | 4 a.m. – 6:30 a.m. | NBCSN |
| Men's Soccer | Romania vs. New Zealand | 4 a.m. – 6:30 a.m. | NBCSN |
| Gymnastics | Men's All Around | 6 a.m. – 11 a.m. | Peacock |
| Men's Soccer | France vs. Japan | 7:30 a.m. – 9:30 a.m. | NBCSN |
| Golf | Men's First Round | 6:30 p.m. – 3 a.m. | Golf Channel |
| Swimming | Finals | 8 p.m. – 12 a.m. | NBC |
| Beach Volleyball | Qualifying Round | 8 p.m. – 2 a.m. | USA |
| Rugby | Women's Qualifying Round | 8 p.m. – 2 a.m. | USA |
| Table Tennis | Women's Semifinal | 8 p.m. – 2 a.m. | USA |
| Men's Water Polo | U.S. vs. Italy | 8 p.m. – 2 a.m. | USA |
| Rowing | Finals | 8 p.m. – 2 a.m. | CNBC |
| Cycling | BMX Racing Quarterfinals | 8 p.m. – 2 a.m. | CNBC |
| Fencing | Women's Team Foil Semifinals | 8 p.m. – 2 a.m. | CNBC |
| Tennis | Men's Singles and Mixed, Quarterfinals | 10 p.m. – 2 a.m. | Olympic Channel |
| Tennis | Women's Singles and Doubles, Semifinals | 10 p.m. – 2 a.m. | Olympic Channel |
Thursday, July 29
| | | | |
| --- | --- | --- | --- |
| Sport | Event | Time (ET) | Channel |
| Fencing | Women's Team Foil Semifinal | 2 a.m. – 5 a.m. | CNBC |
| Tennis | Men's Singles and Mixed, Quarterfinals | 2 a.m. – 7 a.m. | Olympic Channel |
| Tennis | Women's Singles and Doubles, Semifinals | 2 a.m. – 7 a.m. | Olympic Channel |
| Fencing | Women's Team Foil Bronze Medal and Final | 2 a.m. – 8:10 a.m. | NBCSN |
| Men's Water Polo | U.S. vs. Italy | 2 a.m. – 12:30 p.m. | USA |
| Slalom. Canoeing | Women's Final | 2 a.m. – 12:30 p.m. | USA |
| Rugby | Women's Qualifying Round | 2 a.m. – 12:30 p.m. | USA |
| Swimming | Qualifying Heats | 2 a.m. – 12:30 p.m. | USA |
| Women's Volleyball | U.S. vs. Turkey | 2 a.m. – 12:30 p.m. | USA |
| Gymnastics | Women's All Around | 6 a.m. – 11 a.m. | Peacock |
| Men's Basketball | Spain vs. Argentina | 8:10 a.m. – 10 a.m. | NBCSN |
| Swimming | Finals | 8 p.m. – 11:30 p.m. | NBC |
| Golf | Men's Second Round | 6:30 p.m. – 3 a.m. | Golf Channel |
| Track & Field | Qualifying Rounds | 8 p.m. – 11:30 p.m. | NBC |
| Track & Field | Qualifying Rounds | 8 p.m. – 12:30 a.m. | USA |
| Table Tennis | Men's Semifinals | 8 p.m. – 2 a.m. | CNBC |
| Men's Volleyball | U.S. vs. Brazil | 8 p.m. – 2 a.m. | CNBC |
| Beach Volleyball | Women's Qualifying Round | 8 p.m. – 2 a.m. | CNBC |
| Rowing | Finals | 8 p.m. – 2 a.m. | CNBC |
| Women's Rugby | U.S. vs. Australia | 8 p.m. – 2 a.m. | CNBC |
| Cycling | BMX Racing Finals | 8 p.m. – 2 a.m. | CNBC |
| Gymnastics | Women's Trampoline Final | 8 p.m. – 2 a.m. | CNBC |
| Tennis | Men's Singles and Mixed, Semifinals | 11 p.m. – 2 a.m. | Olympic Channel |
| Tennis | Men's Doubles, Final | 11 p.m. – 2 a.m. | Olympic Channel |
Friday, July 30
| | | | |
| --- | --- | --- | --- |
| Sport | Event | Time (ET) | Channel |
| Gymnastics | Women's Trampoline Final | 2 a.m. – 4 a.m. | CNBC |
| Women's Water Polo | U.S. vs. Taiwan | 2 a.m. – 4 a.m. | CNBC |
| Archery | Women's Individual Final | 2 a.m. – 4 a.m. | CNBC |
| Women's Volleyball | China vs. Taiwan | 2 a.m. – 4 a.m. | NBCSN |
| Tennis | Men's Doubles Final, Bronze Medal | 2 a.m. – 7 a.m. | Olympic Channel |
| Tennis | Men's Singles, Doubles Semifinals | 2 a.m. – 7 a.m. | Olympic Channel |
| Women's Basketball | U.S. vs. Japan | 2 a.m. – 2 p.m. | USA |
| Diving | Women's Springboard Qualifying | 2 a.m. – 2 p.m. | USA |
| Women's Soccer | Quarterfinal | 4 a.m. – 6 a.m. | NBCSN |
| Women's Rugby | Quarterfinals | 4:30 a.m. – 6 a.m. | USA |
| Swimming | Qualifying Heats | 6 a.m. – 8:45 a.m. | USA |
| Women's Soccer | Quarterfinal | 6 a.m. – 8 a.m. | NBCSN |
| Track & Field | Women's 5000m, Triple Jump Qualifying, Shot Put Qualifying | 6 a.m. – 11 a.m. | Peacock |
| Track & Field | Men's 10000m Final, Mixed 4x400m Relay Round 1 | 6 a.m. – 11 a.m. | Peacock |
| Golf | Men's Third Round | 6:30 p.m. – 3 a.m. | Golf Channel |
| Women's Soccer | Quarterfinal | 8 a.m. – 9 a.m. | NBCSN |
| Beach Volleyball | Men's Qualifying Round | 9 a.m. – 10 a.m. | NBCSN |
| Men's Volleyball | France vs. Taiwan | 10 a.m. – 10:30 a.m. | NBCSN |
| Cycling | BMX Freestyle Qualifying | 2 p.m. – 2 a.m. | USA |
| Triathlon | Mixed Relay | 6:30 p.m. – 8 p.m. | USA |
| Track & Field | Qualifying Round | 8 p.m. – 11 p.m. | USA |
| Track & Field | Women's 400m Hurdles Round One | 8 p.m. – 11:30 p.m. | NBC |
| Beach Volleyball | Women's Qualifying Round | 8 p.m. – 11:30 p.m. | NBC |
| Swimming | Finals | 8 p.m. – 11:30 p.m. | NBC |
| Beach Volleyball | Women's Qualifying Round | 8 p.m. – 2 a.m. | CNBC |
| Cycling | Women's BMX Freestyle Qualifying | 8 p.m. – 2 a.m. | CNBC |
| Women's Volleyball | U.S. vs. Taiwan | 8 p.m. – 2 a.m. | CNBC |
| Fencing | Women's Team Sabre, Semifinals | 8 p.m. – 2 a.m. | CNBC |
| Gymnastics | Men's Trampoline Final | 8 p.m. – 2 a.m. | CNBC |
| Tennis | Women's Singles Final, Bronze Medal | 11 p.m. – 2 a.m. | Olympic Channel |
| Tennis | Men's Singles Bronze Medal | 11 p.m. – 2 a.m. | Olympic Channel |
| Tennis | Women's Doubles Bronze Medal, Mixed Doubles Bronze | 11 p.m. – 2 a.m. | Olympic Channel |
Saturday, July 31
| | | | |
| --- | --- | --- | --- |
| Sport | Event | Time (ET) | Channel |
| Gymnastics | Men's Trampoline Final | 2 a.m. – 4 a.m. | CNBC |
| Archery | Men's Individual Final | 2 a.m. – 4 a.m. | CNBC |
| Diving | Women's Springboard Semifinal | 2 a.m. – 4:30 a.m. | USA |
| Tennis | Women's Singles Final, Bronze Medal | 2 a.m. – 7 a.m. | Olympic Channel |
| Tennis | Men'S Singles Bronze Medal | 2 a.m. – 7 a.m. | Olympic Channel |
| Tennis | Women's Doubles, Mixed Doubles Bronze Medal | 2 a.m. – 7 a.m. | Olympic Channel |
| Men's Soccer | Quarterfinal | 4 a.m. – 6 a.m. | NBCSN |
| Women's Rugby | Final and Bronze Medal | 4:30 a.m. – 5:30 a.m. | USA |
| Men's Soccer | Quarterfinal | 5:30 a.m. – 7 p.m. | USA |
| Baseball | U.S. vs. Korea | 6 a.m. – 9 a.m. | NBCSN |
| Track & Field | Men's Long Jump, Women's 100m, Men's 100m, more | 6 a.m. – 11 a.m. | Peacock |
| Women's Volleyball | China vs. Italy | 9 a.m. – 10:30 a.m. | USA |
| Men's Basketball | U.S. vs. TBD | 6 a.m. – 11 a.m. | Peacock |
| Badminton | Men's Doubles Final | 9 a.m. – 3 p.m. | NBCSN |
| Golf | Men's Final Round | 6:30 p.m. – 3 a.m. | Golf Channel |
| Men's Soccer | Quarterfinal | 7 a.m. – 9 a.m. | USA |
| Fencing | Men's Team Foil, Semifinal | 10:30 a.m. – 2 a.m. | USA |
| Beach Volleyball | Women's Elimination Round | 8 p.m. – 11:30 p.m. | NBC |
| Swimming | Finals | 8 p.m. – 11:30 p.m. | NBC |
| Cycling | BMX Freestyle Finals | 8 p.m. – 2 a.m. | CNBC |
| Westling | Qualifying Round | 8 p.m. – 2 a.m. | CNBC |
| Badminton | Men's Singles Semifinal | 8 p.m. – 2 a.m. | CNBC |
| Beach Volleyball | Elimination Round | 8 p.m. – 2 a.m. | CNBC |
| Track & Field | Finals and Qualifying Round | 8:10 p.m. – 10:45 p.m. | USA |
| Tennis | Men's Singles Final | 11 p.m. – 2 a.m. | Olympic Channel |
| Tennis | Women's Doubles Final, Mixed Doubles Final | 11 p.m. – 2 a.m. | Olympic Channel |
| Beach Volleyball | Men's Elimination Round | 12 a.m. – 2 a.m. | NBC |
Sunday, August 1
| | | | |
| --- | --- | --- | --- |
| Sport | Event | Time (ET) | Channel |
| Men's Handball | Norway vs. France | 2 a.m. – 5 a.m. | CNBC |
| Tennis | Men's Singles Final | 2 a.m. – 7 a.m. | Olympic Channel |
| Tennis | Women's Doubles Final | 2 a.m. – 7 a.m. | Olympic Channel |
| Tennis | Mixed Doubles Final | 2 a.m. – 7 a.m. | Olympic Channel |
| Diving | Women's Springboard Final | 2 a.m. – 2 p.m. | USA |
| Men's Handball | Denmark vs. Sweden | 2 a.m. – 2 p.m. | USA |
| Weightlifting | Women's Final | 3:30 a.m. – 2 p.m. | NBCSN |
| Fencing | Men's Team Foil Final | 3:30 a.m. – 2 p.m. | NBCSN |
| Badminton | Women's Singles Final | 3:30 a.m. – 2 p.m. | NBCSN |
| Gymnastics | Event Finals | 4 a.m. – 11 a.m. | Peacock |
| Track & Field | Event Finals & Semifinals | 4 a.m. – 11 a.m. | Peacock |
| Men's Basketball | Spain vs. Slovenia | 4:20 a.m. – 6:10 a.m. | USA |
| Men's Volleyball | U.S. vs. Argentina | 8:45 a.m. – 10:45 a.m. | NBC |
| Canoeing | Spring Qualifying | 2 p.m. – 2 a.m. | USA |
| Beach Volleyball | Women's Elimination Round | 7 p.m. – 11:30 p.m. | NBC |
| Track & Field | Finals and Qualifying Rounds | 8 p.m. – 10:55 p.m. | USA |
| Beach Volleyball | Men's Elimination Round | 8 p.m. – 2 a.m. | CNBC |
| Field Hockey | Women's Quarterfinal | 8 p.m. – 2 a.m. | CNBC |
| Badminton | Women's Doubles Bronze Medal & Final | 8 p.m. – 2 a.m. | CNBC |
| Wrestling | Qualifying Rounds & Semifinals | 10 p.m. – 12:30 a.m. | Olympic Channel |
| Men's Water Polo | U.S. vs. Greece | 10:30 p.m. – 11:40 p.m. | CNBC |
| Canoeing | Spring Qualifying | 11:30 p.m. – 12:05 a.m. | NBC |
| Women's Volleyball | U.S. vs. Italy | 12:05 a.m. – 2 p.m. | NBC |
| Women's Basketball | U.S. vs. France | 12:40 a.m. – 2:30 a.m. | USA |
Monday, August 2
| | | | |
| --- | --- | --- | --- |
| Sport | Event | Time (ET) | Channel |
| Men's Basketball | Quarterfinal | 12:40 a.m. – 2 a.m. | Peacock |
| Diving | Men's Springboard Qualifying | 2 a.m. – 5 a.m. | CNBC |
| Beach Volleyball | Elimination Rounds | 2 a.m. – 2 p.m. | NBCSN |
| Weightlifting | Women's Final | 2 a.m. – 2 p.m. | NBCSN |
| Badminton | Men's Singles Final | 2 a.m. – 2 p.m. | NBCSN |
| Soccer | Women's Semifinal | 4 a.m. – 8 p.m. | USA |
| Soccer | Women's Semifinal | 4 a.m. – 8 p.m. | USA |
| Beach Volleyball | Elimination Round | 4 a.m. – 8 p.m. | USA |
| Men's Water Polo | Spain vs. Croatia | 4 a.m. – 8 p.m. | USA |
| Gymnastics | Event Finals | 4 a.m. – 11 a.m. | Peacock |
| Track & Field | Finals, Semifinals & Qualifying | 4 a.m. – 11 a.m. | Peacock |
| Wrestling | Finals | 5 a.m. – 9 a.m. | Olympic Channel |
| Beach Volleyball | Women's Quarterfinal | 8 p.m. – 11:30 p.m. | NBC |
| Track & Field | Finals, Semifinals & Qualifying | 8 p.m. – 11:30 p.m. | NBC |
| Track & Field | Finals & Qualifying | 8 p.m. – 2 a.m. | CNBC |
| Wrestling | Qualifying Rounds | 10 p.m. – 12:30 a.m. | Olympic Channel |
| Water Polo | Women's Quarterfinal | 11 p.m. – 2 a.m. | USA |
| Canoeing | Sprint Finals | 11:30 p.m. – 12:05 a.m. | NBC |
| Volleyball | Men's Quarterfinal | 11:30 p.m. – 2 a.m. | NBC |
Tuesday, August 3
| | | | |
| --- | --- | --- | --- |
| Sport | Event | Time (ET) | Channel |
| Diving | Men's Springboard Final | 2 a.m. – 4 a.m. | CNBC |
| Soccer | Men's Semifinals | 4 a.m. – 8 p.m. | NBCSN |
| Beach Volleyball | Women's Quarterfinal | 4 a.m. – 8 p.m. | NBCSN |
| Swimming | Women's Marathon | 4 a.m. – 8 p.m. | NBCSN |
| Gymnastics | Event Finals | 4 a.m. – 11 a.m. | Peacock |
| Track & Field | Finals, Semifinals & Qualifying | 4 a.m. – 11 a.m. | Peacock |
| Wrestling | Finals | 5 a.m. – 9 a.m. | Olympic Channel |
| Basketball | Men's Quarterfinal | 8 a.m. – 9:50 a.m. | USA |
| Volleyball | Men's Quarterfinal | 9:50 a.m. – 8 p.m. | USA |
| Golf | Women's First Round | 6:30 p.m. – 3 a.m. | Golf Channel |
| Track & Field | Finals, Semifinals & Qualifying | 8 p.m. – 11:30 p.m. | NBC |
| Beach Volleyball | Men's Quarterfinal | 8 p.m. – 2 a.m. | CNBC |
| Skateboarding | Women's Park Qualifying & Final | 8 p.m. – 2 a.m. | CNBC |
| Canoeing | Sprint Quarterfinals | 8 p.m. – 2 a.m. | CNBC |
| Water Polo | Men's Quarterfinal | 8 p.m. – 2 a.m. | CNBC |
| Track & Field | Finals & Semifinals | 8 p.m. – 12:30 a.m. | USA |
| Wrestling | Qualifying Rounds | 10 p.m. – 12:30 a.m. | Olympic Channel |
| Volleyball | Women's Quarterfinal | 12:05 a.m. – 2 a.m. | NBC |
| Basketball | Women's Quarterfinal | 12:30 a.m. – 2:30 a.m. | USA |
Wednesday, August 4
| | | | |
| --- | --- | --- | --- |
| Sport | Event | Time (ET) | Channel |
| Men's Basketball | Semifinal | 12:15 a.m. – 2 a.m. | Peacock |
| Basketball | Women's Quarterfinals | 2 a.m. – 10 a.m. | USA |
| Diving | Women's Platform Qualifying | 2 a.m. – 10 a.m. | USA |
| Artistic Swimming | Duet Final | 2 a.m. – 10 a.m. | USA |
| Volleyball | Women's Quarterfinals | 2 a.m. – 8 p.m. | NBCSN |
| Equestrian | Individual Jumping Final | 2 a.m. – 8 p.m. | NBCSN |
| Swimming | Men's Marathon | 2 a.m. – 8 p.m. | NBCSN |
| Wrestling | Finals | 5 a.m. – 9 a.m. | Olympic Channel |
| Track & Field | Semifinals & Finals | 6 a.m. – 11 a.m. | Peacock |
| Golf | Women's Second Round | 6:30 p.m. – 3 a.m. | Golf Channel |
| Beach Volleyball | Women's Semifinal | 8 p.m. – 11:30 p.m. | NBC |
| Track & Field | Finals, Semifinals & Qualifying | 8 p.m. – 11:30 p.m. | NBC |
| Diving | Women's Platform Semifinal | 8 p.m. – 11:30 p.m. | NBC |
| Track & Field | Finals | 8 p.m. – 2 a.m. | USA |
| Skateboarding | Men's Park Qualifying & Final | 8 p.m. – 2 a.m. | CNBC |
| Diving | Women's Platform Semifinal | 8 p.m. – 2 a.m. | CNBC |
| Canoeing | Sprint Finals | 8 p.m. – 2 a.m. | CNBC |
| Wrestling | Qualifying Rounds | 10 p.m. – 12:30 a.m. | Olympic Channel |
| Volleyball | Men's Semifinal | 12:05 a.m. – 2 a.m. | NBC |
Thursday, August 5
| | | | |
| --- | --- | --- | --- |
| Sport | Event | Time (ET) | Channel |
| Water Polo | Women's Semifinal | 2 a.m. – 3:30 a.m. | CNBC |
| Diving | Women's Platform Final | 2 a.m. – 6 a.m. | USA |
| Soccer | Women's Bronze Medal | 2 a.m. – 6 a.m. | USA |
| Track & Field | Men's 20km Walk | 2 a.m. – 7 a.m. | NBCSN |
| Wrestling | Finals | 5:15 a.m. – 9 a.m. | Olympic Channel |
| Water Polo | Women's Semifinal | 6 a.m. – 10 p.m. | USA |
| Volleyball | Men's Semifinal | 6 a.m. – 10 p.m. | USA |
| Track & Field | Finals & Semifinals | 6 a.m. – 11 a.m. | Peacock |
| Basketball | Men's Semifinal | 7 a.m. – 9 a.m. | NBCSN |
| Track & Field | Men's 50km Walk | 4:30 p.m. – 8:30 p.m. | NBCSN |
| Golf | Women's Third Round | 6:30 p.m. – 3 a.m. | Golf Channel |
| Canoeing | Sprint Qualifying | 8 p.m. – 10 p.m. | USA |
| Beach Volleyball | Women's Final | 8 p.m. – 11:30 p.m. | NBC |
| Beach Volleyball | Women's Bronze Medal | 8 p.m. – 12:15 a.m. | CNBC |
| Gymnastics | Rhythmic Individual Qualifying | 8 p.m. – 12:15 a.m. | CNBC |
| Soccer | Women's Final | 10 p.m. – 2 a.m. | USA |
| Volleyball | Women's Semifinal | 10 p.m. – 2 a.m. | USA |
| Wrestling | Finals | 10 p.m. – 2 a.m. | Olympic Channel |
| Soccer | Women's Final | 11:30 p.m. – 12:05 a.m. | NBC |
| Basketball | Women's Semifinal | 12:05 a.m. – 2 a.m. | NBC |
Friday, August 6
| | | | |
| --- | --- | --- | --- |
| Sport | Event | Time (ET) | Channel |
| Water Polo | Men's Semifinal | 2 a.m. – 3:30 a.m. | CNBC |
| Diving | Men's Platform Qualifying | 2 a.m. – 6 a.m. | USA |
| Handball | Women's Semifinal | 2 a.m. – 6 a.m. | USA |
| Track & Field | Women's 20km Walk | 3:30 a.m. – 7 a.m. | NBCSN |
| Wrestling | Finals | 5:15 a.m. – 9 a.m. | Olympic Channel |
| Field Hockey | Women's Final | 6 a.m. – 10 a.m. | USA |
| Volleyball | Women's Semifinal | 6 a.m. – 10 a.m. | USA |
| Track & Field | Finals & Semifinals | 6 a.m. – 11 a.m. | Peacock |
| Soccer | Men's Bronze Medal | 7 a.m. – 11 a.m. | NBCSN |
| Track & Field | Women's Marathon | 6 p.m. – 9 p.m. | USA |
| Golf | Women's Final Round | 6:30 p.m. – 3 a.m. | Golf Channel |
| Track & Field | Women's Marathon | 8 p.m. – 10:30 p.m. | NBC |
| Beach Volleyball | Men's Bronze Medal | 8 p.m. – 11:30 p.m. | CNBC |
| Beach Volleyball | Men's Final | 8 p.m. – 11:30 p.m. | CNBC |
| Diving | Men's Platform Semifinal | 9 p.m. – 12:30 a.m. | USA |
| Gymnastics | Rhythmic Group Qualifying | 9 p.m. – 12:30 a.m. | USA |
| Men's Basketball | Final | 10:30 p.m. – 12:30 a.m. | Peacock |
| Basketball | Men's Final | 10:30 p.m. – 12:30 a.m. | NBC |
| Baseball | Bronze Medal | 11:30 p.m. – 2 a.m. | CNBC |
| Volleyball | Men's Bronze Medal | 12:30 a.m. – 2 a.m. | USA |
Saturday, August 7
| | | | |
| --- | --- | --- | --- |
| Sport | Event | Time (ET) | Channel |
| Volleyball | Men's Bronze Medal | 2 a.m. – 5 a.m. | USA |
| Diving | Men's Platform Final | 2 a.m. – 5 a.m. | USA |
| Water Polo | Women's Final | 2 a.m. – 5 a.m. | USA |
| Basketball | Women's Bronze Medal | 2 a.m. – 5 a.m. | CNBC |
| Basketball | Men's Bronze Medal | 5 a.m. – 9:30 a.m. | USA |
| Basketball | Men's Ceremony | 5 a.m. – 9:30 a.m. | USA |
| Wrestling | Finals | 5:45 a.m. – 9 a.m. | Olympic Channel |
| Track & Field | Finals | 6 a.m. – 11 a.m. | Peacock |
| Soccer | Men's Final | 7:30 a.m. – 10 a.m. | NBCSN |
| Volleyball | Men's Final | 8 a.m. – 10:15 a.m. | NBC |
| Track & Field | Men's Marathon | 6 p.m. – 11:30 p.m. | USA |
| Volleyball | Women's Bronze Medal | 6 p.m. – 11:30 p.m. | USA |
| Gymnastics | Rhythmic Group Final | 6 p.m. – 11:30 p.m. | USA |
| Track & Field | Men's Marathon | 8 p.m. – 10:30 p.m. | NBC |
| Handball | Women's Bronze Medal | 8 p.m. – 12:30 a.m. | CNBC |
| Basketball | Women's Final | 10:30 p.m. – 1 a.m. | NBC |
| Volleyball | Women's Final | 11:30 p.m. – 2 a.m. | USA |
| Water Polo | Men's Bronze Medal | 12:30 a.m. – 2 a.m. | CNBC |
| Boxing | Finals | 12:30 a.m. – 2 a.m. | CNBC |
| Volleyball | Women's Final | 1:30 a.m. – 2:30 a.m. | NBC |
Sunday, August 8
| | | | |
| --- | --- | --- | --- |
| Sport | Event | Time (ET) | Channel |
| Boxing | Finals | 2 a.m. – 3 a.m. | CNBC |
| Volleyball | Women's Final | 2 a.m. – 7 p.m. | USA |
| Water Polo | Men's Final | 2 a.m. – 7 p.m. | USA |
| Tokyo Gold | — | 7 p.m. – 8 p.m. | NBC |
| Closing Ceremony | — | 8 p.m. – 10:30 p.m. | NBC |
READ MORE: