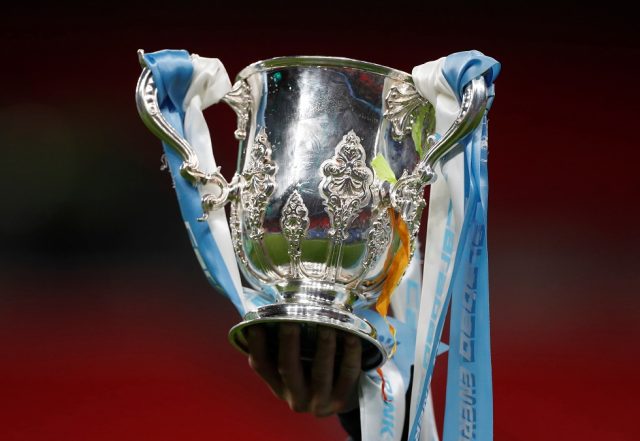 EFL Carabao Cup Fixtures 2021
EFL Cup fixtures 2021? Who are the teams left in EFL Cup? What have the results been in EFL Cup 2021? Watch & Bet here =>
The EFL Cup is one of the oldest English cup competitions. It is the main English FA knockout tournament next to the English Premier League.
The EFL Cup, the Carabao Cup, is an annual football cup competition for English football teams. The historical name is Football League Cup.

2021 EFL Carabao Cup Matches
The EFL Cup is known as the Carabao Cup for sponsorship reasons, was first held in the 1960/61 season. The tournament is played across seven rounds with single-leg ties until the semi-finals.
The EFL Cup final of 2021 was originally scheduled to take place on 28 February but now has been pushed back to 25 April 2021. More commonly known as the Carabao Cup, this year's finalists are Manchester City and Tottenham Hotspur.
EFL Cup Fixtures Today
Unfortunately for all Carabao Cup fans, there are no matches today.
The Carabao Cup games for the 2020/21 season have all been listed below. Now, only the final remains which is set to take place on 25 April 2021.

EFL Cup Results 2021
The results have been extremely erratic and different from the usual EFL Cup tournaments. This time – the three big teams of Liverpool, Manchester City, Manchester United have all been knocked out of the competition. This set of results have left the chances for odds very erratic.

The teams left in the semi-finals were Manchester United, Manchester City, Tottenham Hotspur and Brentford. Only the last club is from the Championship.
EFL Cup semi-final fixtures
The semi-final round is like any other knockout tournament with one leg. This year Tottenham Hotspur beat Brentford comfortable while the two Manchester clubs duelled it out in the other tie.

EFL Cup Fixtures & Results 2021
The EFL Cup fixtures 2021 have supported the Premier League teams to play full sides. Unlike in England, where the FA Cup, Carabao Cup and the Premier League are simultaneously played in full flow in December and January and February, Spain only has the Premier League and the EFL Cup fixtures.
Moreover, when the EFL Cup fixtures are played, the Premier League matches are either mostly on break or spread a week apart to give the teams enough rest. Here check out the EFL Cup fixtures from round one to the final and the dates!
Third Round
Date

Home

Score

Away

22-Sep-20

Newport County (4)

3–1

Watford (2)

22-Sep-20

West Bromwich Albion (1)

2–2

Brentford (2)

(4–5 p)

22-Sep-20

West Ham United (1)

5–1

Hull City (3)

22-Sep-20

Luton Town (2)

0–3

Manchester United (1)

23-Sep-20

Millwall (2)

0–2

Burnley (1)

23-Sep-20

Preston North End (2)

0–2

Brighton & Hove Albion (1)

23-Sep-20

Stoke City (2)

1–0

Gillingham (3)

23-Sep-20

Fulham (1)

2–0

Sheffield Wednesday (2)

23-Sep-20

Chelsea (1)

6–0

Barnsley (2)

23-Sep-20

Fleetwood Town (3)

2–5

Everton (1)

23-Sep-20

Leicester City (1)

0–2

Arsenal (1)

23-Sep-20

Morecambe (4)

0–7

Newcastle United (1)

24-Sep-20

Bristol City (2)

0–3

Aston Villa (1)

24-Sep-20

Lincoln City (3)

2–7

Liverpool (1)

24-Sep-20

Manchester City (1)

2–1

Bournemouth (2)

Leyton Orient (4)

w/o

Tottenham Hotspur (1)

(0–3)

Fourth Round
Date

Home

Score

Away

29-Sep-20

Tottenham Hotspur (1)

1–1

Chelsea (1)

(5–4 p)

30-Sep-20

Newport County (4)

1–1

Newcastle United (1)

(4–5 p)

30-Sep-20

Burnley (1)

0–3

Manchester City (1)

30-Sep-20

Brighton & Hove Albion (1)

0–3

Manchester United (1)

30-Sep-20

Everton (1)

4–1

West Ham United (1)

01-Oct-20

Brentford (2)

3–0

Fulham (1)

01-Oct-20

Aston Villa (1)

0–1

Stoke City (2)

01-Oct-20

Liverpool (1)

0–0

Arsenal (1)

(4–5 p)

Quarter-Finals
| | | | |
| --- | --- | --- | --- |
| Date | Home | Score | Away |
| 22-Dec-20 | Brentford (2) | 1–0 | Newcastle United (1) |
| 22-Dec-20 | Arsenal (1) | 1–4 | Manchester City (1) |
| 23-Dec-20 | Stoke City (2) | 1–3 | Tottenham Hotspur (1) |
| 23-Dec-20 | Everton (1) | 0–2 | Manchester United (1) |
Semi-Finals
| | | | |
| --- | --- | --- | --- |
| Date | Home | Score | Away |
| 05-Jan-21 | Tottenham Hotspur | 2-0 | Brentford |
| 06-Jan-21 | Manchester United | 0-2 | Manchester City |
Final
| | | | |
| --- | --- | --- | --- |
| Date | Team 1 | Team 2 | Results |
| 25-April | Manchester City | Tottenham Hotspur | |

Also, check out –