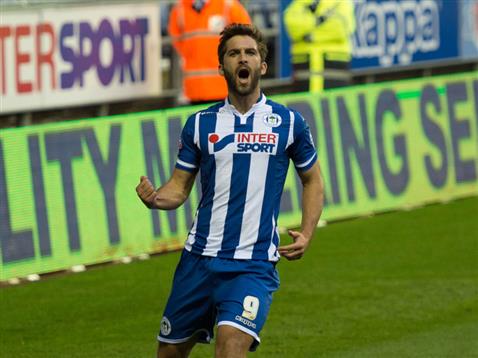 The Latics will be back playing Championship football again next season
The fan who created the viral 'Will Grigg's on fire' chant has been rewarded with a free Wigan season ticket for his efforts.
Sean Kennedy is the fan who came up with the chant, which has become hugely popular not just with Wigan fans but with a lot of other football fans too.
As a reward for coming up with the now iconic chant, the Latics have given him a free season ticket for the club's return to the Championship next season.
The chant is based on the song "Freed from Desire" by Gala and there have been a multitude of videos of fans all singing the chant shared around on social media.
Newcastle and Stevenage have also used the chant
Most notably, there are videos of fans packed in a bar cheering on the former Brentford and MK Dons striker and also a group of fans singing it on a street and stopping a bus from getting past!
They aren't however the first side to use the tune for a chant. Newcastle have sang the same about Mitrovic for some time now, while it was also sang about Luke Freeman during his days at Stevenage. However, this is undoubtedly the most well-known version now and the one that has gained the chant some serious popularity.
As a reward for, in his own words, "inventing the best chant ever known to man" David Sharpe – the Wigan chairman – has now given Kennedy a free season ticket.
Grigg has had a tremendous season for Wigan and has no doubt earned the chant, helping his side to promotion back to the Championship with 28 goals in all competitions.
It appears that Will Grigg – and his chant – are most certainly on fire.