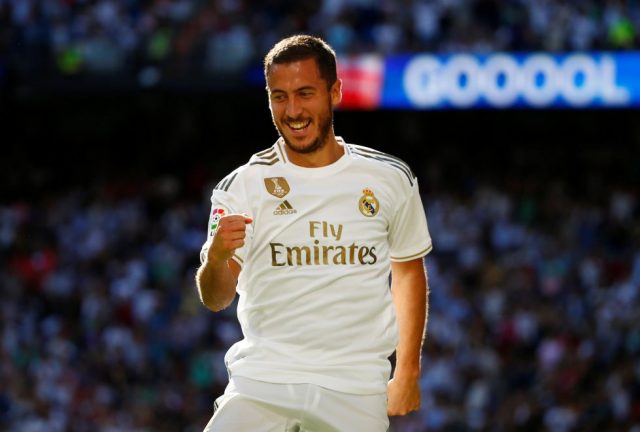 Eden Hazard ended his goal scoring drought with a thumper against Huesca on Saturday night.
Real Madrid triumphed 4-1 over their La Liga opponents and the opener was scored by none other than their record signing.
Hazard netted only his second goal for Real Madrid ever after 392 days from the first one. That has to be a huge scar on his Galactico career after arriving with such pomp and splendor.
After the game, he said, "It was a good goal, I receive Valverde's pass and shot.
"I'm happy for the team and for myself. When you score you get extra confidence. I'm tired, I want to play more games. My peak fitness will come with the matches and we've got another one in a few days. We need to keep training and be ready."
Hazard linked up well with Karim Benzema during the game and Zinedine Zidane was pleased with his performance.
"We are happy with Hazard's game and happy with what we did today. He has no discomfort, he is happy with his goal, his teammates are happy with him. It's a victory, it's four goals, three points and you have to be happy," the Real manager said.
Real's director of institutional relations and former star striker Butragueno said, "What Hazard did was magnificent. We saw that in the first goal. It gives you an idea of the category of player we're talking about.
"From then on, the team felt more comfortable. Being effective up top helps the game to go how you want it to.
"He has had back luck since he came due to injuries. He's a winner and what he wants is to be out on the pitch and helping the team. Hopefully, we can have him like this because he makes the difference."
READ MORE: Real Madrid Players Weekly Wages 2020/21