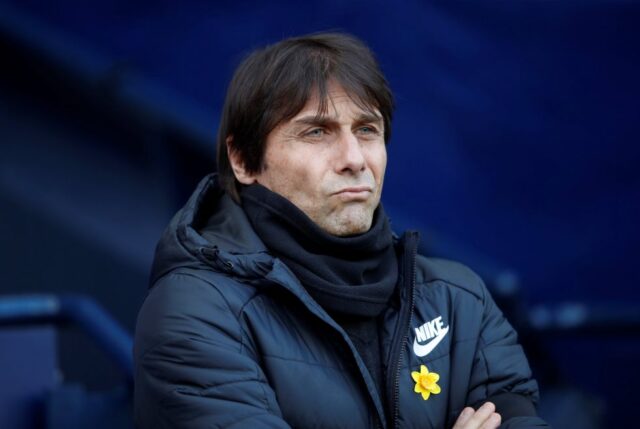 Conte's side now turns their attention to Wednesday's EFL Cup encounter with Nottingham Forest.
Tottenham manager Antonio Conte has called on fans to give his side "time and patience" following their Premier League defeat to Liverpool.
The Lilywhites had a strong chance to put pressure on Manchester City and Arsenal at the top of the Premier League table. They could have reclaimed the third spot from Newcastle United.
But, Conte's side lost to Liverpool 2-1. They were two goals behind in the first half, courtesy of Salah's double strike. Harry Kane's strike on the 70-minute mark gave Tottenham a chance but they failed to get one more in complete time.
"First of all I think that we have to show in every moment great respect for our fans because they are our fans, they pay the ticket. At the same time, if you ask me if I was a bit disappointed? Yes," Conte said after the game, as quoted by football.london.
"I think after one year we made a lot of improvement. If someone thinks that we are already ready to win, I have to be honest with you and tell you it will be really, really, difficult.
"Because when you start and Liverpool is a good example, when you start a process, you need time and patience. If we understand this, time and patience, everybody is okay. Otherwise we can lose the passion and we can lose the enthusiasm.
"I can't promise in this moment to win trophies for our fans because in this moment we are far to do it. Then if it happens in domestic league, then it would be a super plus because I repeat I continue to ask for time and patience because I have the experience to tell that we are far from other teams that are used to winning and have squads strong to win."
Tottenham have now suffered three defeats in their last four Premier League games to fall eight points behind leaders Arsenal.
"About the performance, I have to be happy," Conte added. "In the dressing room I can tell you that I didn't say anything negative to my players. I said we have to continue this way, we are 2-0 down but we have to continue to do what we prepared, with the right intensity, to move the ball more quickly, to move it from one side to the other side to create more problems.
"There is disappointment for the final result but at the same time we have to take this example for my players, because despite the difficulty to play without many important players, we showed that we can play good football and to get a good result against a team like Liverpool who in the last few years have dominated in the Premier League and Champions League.
"We have to know that to stay in this position now there is a project, there is a vision, the club knows very well the way to try to improve, but we have to be enthusiastic, everybody, because for me if I don't find the passion and enthusiasm, OK we can work a lot but for me the passion and enthusiasm is my fuel."
Tottenham now turns their attention to Wednesday's EFL Cup encounter with Nottingham Forest before facing Leeds United in their final Premier League match before the World Cup.
See More: