Top 10 Highest Paid Brazilian Footballers
There are many Brazilian footballers but who are the Top 10 Highest Paid Brazilian Born Soccer Players? Brazil is no doubt one of the leading countries in producing young football stars in Europe, over the years we have witnessed great footballers like Ronaldo who is now regarded as one of the best strikers of all time, Also Roberto Carlos is regarded as one of the greatest defenders ever, and not to forget the wizard Romario, Cafu.
Brazilian Footballers are very well known for their skills on the field and recently we have seen one of the most skillful players join FC Barcelona and being that of footballing senstation Neymar Jr who joined the Catalan Giants from Santos back in 2013 for a crazy £57 million.
The Seleção are slowly phasing out older Soccer players like Ronaldinho, Ricardo Kaka, Julio Cesar, and Fred, and now they are bringing some new blood likes of Neymar Jr, Oscar Dos Santos, Willian, Jo, Lucas Moura and many more, players who are willing to take Brazilian football to the next stage and gain more experience like the old boys who won so much as a country.
Brazil have only recently hosted the 2014 FIFA World Cup and will now be hosting the 2016 Olympic games which will be held over in Rio de Janeiro.
Top 10 Highest Paid Brazilian Born Soccer Players
Previously we have published the Top 10 Highest Paid African Footballers 2015, Top 10 Highest Paid MLS Players 2015, Top 10 Highest Paid Footballers In The English Premier League and if you haven't seen these check them out after this count down. Now let's find out the Top 10 Highest Paid Brazilian Football Players.
10. Ronaldinho – Querétaro F.C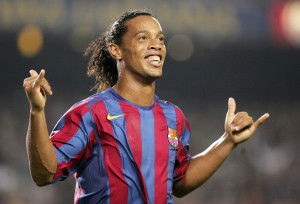 Starting the list of Top 10 Highest Paid Brazilian Born Soccer Players is Brazilian legend Ronaldinho Gaucho, well known for his amazing dribbling skills and eye for goals. Ronaldinho was best known during his career at Barcelona and AC Milan, clubs he won so much with while playing for them during his best days of his career. In 2003 Barcelona signed Ronaldinho from Paris Saint Germain after outbidding Manchester United for his signature for a fee around €30 million.
Ronaldinho won his first League title during the 2004/05 season and was named FIFA Player of The Year for the first tie in 2005, he also won the award for the second year running winning the Ballon D'or for two consecutive years.
In 2008 Ronaldinho turned down a move to join English side Manchester City for £25.5 million and instead joined Italian giants AC Milan for €22.05 million. Ronaldinho struggled with fitness in Italy before he moved back to Brazil and is now playing for Mexican club Queretaro Football Club where he is earning $100,000 per week making him the 10th Brazilian on the Top 10 Highest Paid Brazilian Football Players. Despite his age the Brazilian is pretty earning some solid cash in Mexico.