BATTLE OF THE BRIDGE PART 2 ….Chelsea vs Manchester United
N'Golo Kante scored the 51st minute winner to take Chelsea into the Semi-finals of the FA Cup. Waiting for them will be Wembley's current home team and the subject of the first Battle of the Bridge, Tottenham! Well at least on a part time basis as Spurs have already played a handful of European ties there this season.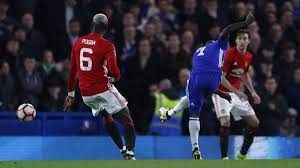 Tonight's Monday night game at Stamford Bridge was a one sided affair. Manchester United started well and created a couple of chances, but that really only lasted until the 12th minute! Then Chelsea started to take control with both Willian and Hazard tormenting the United defence. After the quarter hour mark, Hazard almost repeated his wonder goal against Arsenal. He did a majestic Cruyff turn on Smalling and then eased through the rest of the defence to get a great low shot to the far right corner which was brilliantly saved by United's player of the night, David De Gea. Another 3 quick chances in successive minutes for Chelsea had United quickly reverting to plan B. The B in this case stands for brutality!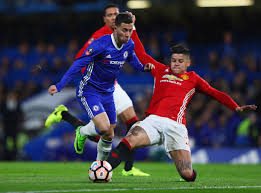 From this point on United seem to have only one ambition, to knock Eden Hazard out of the game. In the 20th minute Herrera cynically blocks another run by Hazard and gets a yellow card. Poor tackles come in by Jones and Pogba, but go unpunished. It seems United have lost their desire to make a game of this. Their focus seems to be on kicking Chelsea off the pitch and then somehow make it to extra time and penalties.
Football is almost off the agenda for them now. Another poor challenge on Hazard goes unpunished but referee Michael Oliver at least had a word with United's captain telling him to cool down his team's over aggressive approach. This was something missing in last season's Chelsea vs Spurs crucial title battle for Spurs. Referee Mark Klattenburg let Spurs run wild and get away with all manner of offence from stamping, eye gouging to blatant fouling and again the main target was Hazard.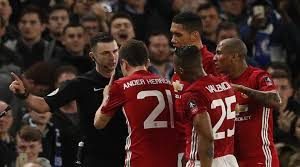 Just a few seconds after Oliver's warning, Hazard has the ball. Herrera goes in from behind again. It wasn't the worst challenge of the evening but it deservedly gets a second yellow card and Herrera is off! It was probably as much an accumulation of so many bad challenges by United as a reflection of the ref's warning to tone it down. He had no choice if he wanted to keep control of this game. Mourinho gave his custom smirk from the touchline. You know he was already planning his excuses should United go on to lose. Soon after though the two managers almost came to blows as United insisted with their non footballing tactics when Valencia badly fouled Alonso.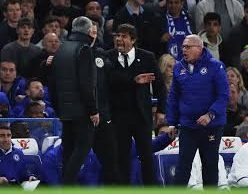 Then after many wasted chances, Chelsea eventually break through in the 51st minute. After an interchange of many passes the ball lands to Kante just outside the box. This was his second goal of the season. He already scored in Chelsea's 4-0 victory over United in the league game earlier in the season and he just let fly with a low shot to De Gea's right which seemed to catch him by surprise. On the hour mark, United's only shot on target comes. Rashford slips past Luiz and then takes on and easily beats Cahill. He's into the box with only Courtois to beat and a low shot produces a great save by Courtois's long legs. And that's it for United's 'effort' all night. From then on it's all Chelsea again and it seems to turn into a training game with attack against defence.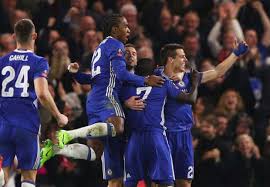 The game descends a little into farce at times as the Costa vs Rojo show takes over. But then one of them is Argentinian and the other was born in Brazil! They wrestle and fight and goad each other but Oliver is not interested in taking any real action. Rojo goes on to foul almost every Chelsea player during the rest of the game. Luckily for Courtois, United don't get out of their own half, so he's safe from the angry young man. There  is one disturbing flashpoint however, that may come back to haunt Rojo.  After fouling the brilliant Belgian, Hazard he appears to stamp on his stomach. Watch this space as surely after recent events involving Tyrone Mings of Bournemouth the FA must take retrospective action.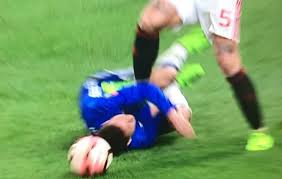 In the final 20 minutes it's all Chelsea. Costa heads wide, Willian comes with a brilliant curler that goes just over the bar and then Hazard tries another shot. It's purely one way traffic and Chelsea's 20 shots are matched by United's 20 bad fouls. That's the only parity here this evening!
Mourinho claims later that it was a different game after the sending off. It wasn't. Before and after Herrera's red card United were poor. They were dirty, they were defensive and they only had one shot on target the whole match……..to summarise the match these are the stats….
Chelsea 73% Possession…. United 27%
Chelsea had 20 shots, 5 on target……United 4 shots and 1 on target
To emphasise Chelsea's dominance, United's best player was by far De Gea.  Without him it would have surely been a 3 or 4-0 game, which is the least Chelsea deserved. United and their fans argue that the referee had given the game to Chelsea. Funny that. If there is one team that could never complain about refereeing decisions then it is surely United. Anyway they were lucky to finish with only 10 men as take your pick, anyone from Rojo, Jones, Pogba, Valencia Young, Darmian could have joined Herrera as so many bad fouls were let off the hook by Oliver.
In the post match interview, Chelsea boss Antonio Conte is clearly upset. He said "We go to play football…..It was impossible for my players to play football, Hazard got a lot of kicks!"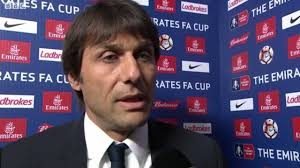 Many media sites and journalists run with Chelsea scrape through…or Chelsea edge it. I prefer to go with the biggest 1-0 thrashing you will see for a long time and a sequel to the Battle of the Bridge, this time starring Manchester United instead of Spurs. Will there be another episode though as Chelsea yet again face Spurs in the next round at Wembley. That will be for sure another eventful encounter. Let's hope though it will not be the referee who will be making the news again!