Reds secure top 4 finish today vs Boro
For just the second time in 7 years, Liverpool today claimed a top 4 finish in the Premier League by beating Middlesbrough 3-0 at Anfield.
It was a sense of relief for the fans at Anfield as Gini Wijnaldum fired Liverpool into the lead just before half time after a tense first half. From there, the game was a little more plain sailing as Philippe Coutinho and Adam Lallana added more goals.
So we're into the Champions League qualifying rounds. That will do for now. We'll worry about qualifying when we get to August. Right now, let's just enjoy what we've achieved today.
Overall, it's something Liverpool have deserved. We have been no where near perfect this season, but this is a significant step in the progress we are making under Jurgen Klopp.
It's disappointing ultimately that we didn't finish higher up the league. Given some of the performances we put in this season, particularly against the top 7. We had poor patches during the season that had a massive impact on where we ended up and why the race for the top 4 ended up going right to the wire. Both fixtures against Bournemouth, Swansea at home and Crystal Palace at home are all games that stick out in my mind where we should've picked up extra points.
But, we achieved what we set out to do at the beginning of the season, and if we look at the bigger picture, what we've achieved is actually more significant than most realise. I think a lot of us feared the worst when we realised just how thin Liverpool's squad is. Most weeks, our bench has been full of rejects and kids. With injuries to Jordan Henderson, Adam Lallana, Sadio Mane and Philippe Coutinho for extended parts of this season, we've really shown the lack of squad depth we've had. It's been worrying that in some weeks, the best talent we've had to turn to has been Ben Woodburn.
So what does it mean?
There's no trophy for finishing 4th, and there shouldn't be. But what this achievement today represents, is excellent progress for Liverpool.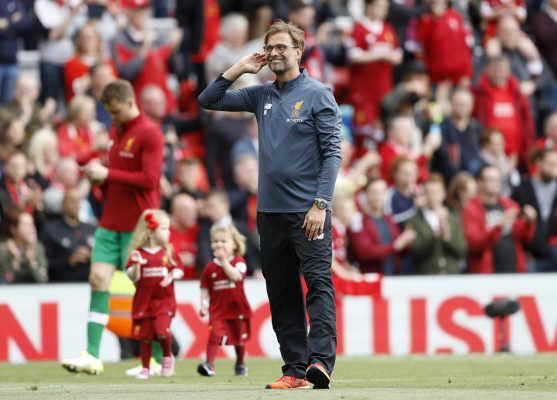 This is a team that finished 8th last season. Just a year ago. And this season, with just 13, maybe 14 players that were capable of starting consistently, have finished in the top 4. And Jurgen Klopp has done it all with a POSITIVE net spend.
No, he didn't have to do that. The club isn't in financial trouble, we're not in desperate need to sell. But Klopp only signed players who he was sure was going to make an impact on his team. He didn't want unnecessary add-ons that weren't going to fit in. It was a massive risk not signing anyone in January. It was a risk that very nearly didn't pay off. But why sign players just for the sake of it? It was a logic questioned by many, but any quality targets identified mid-season were all still going to be playing in European competitions. So then there's a choice to be made by Klopp, do we stick with our squad as it is? Or do we throw money at any half-decent player who will take it in a panic-buy that is a risk, and could draw further criticism from fans later in the season.
January just isn't the time, you very rarely find a good deal that changes the course of your season. And in the end, Klopp made a great decision. Maybe the decision wouldn't have been so great if Liverpool had finished 5th, but Klopp had faith in his own squad to finish the job.
So Liverpool march on towards a huge season from August onwards. There is no trophy for finishing 4th, and there shouldn't be, but this is huge progress for Liverpool Football Club.
It's something the club deserve, something the fans deserve. It's definitely something Jurgen Klopp deserves. Roll on August, where hopefully the progress will continue.
By Ben Kelly – @benkelly_10