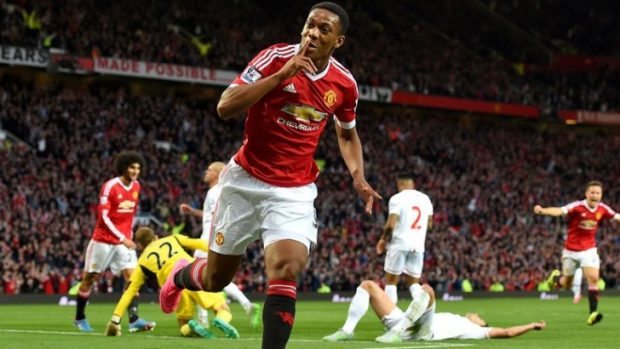 Both sides will be desperate for the win on Super Sunday
Man United and Arsenal go head-to-head in a crunch clash at the top of the table this Sunday.
Arsenal will be desperate for the three points in their bid to try and win the title, while the Red Devils will want to come away with the victory as they try to claim a top four place.
As with any big football game, we at SillySeason have put together our combined XI for the game and here it is…
GK – David De Gea
De Gea continues to prove himself not only as one of the best keepers in the Premier League but arguably one of the best in Europe. He was sought after by Real Madrid and for good reason – he is a rock in goal and continues to make tremendous saves each week to keep his side in games.
RB – Hector Bellerin
Bellerin has really established himself as a top RB this season and he has quickly become a mainstay of the Arsenal team. His dribbling ability down the right hand side of the pitch is top quality and he is capable of defending well for his side but he is also able to help his side break and start attack with his runs down the wing.
CB – Laurent Koscielny
Koscielny is solid at the centre of defence for the Gunners and he is an integral part of the side. He is not only extremely good at defending and keeping the opposition out but he likes to play short passes and play the ball out from the back and he has good passing ability for a defender.
CB – Chris Smalling
The 26-year old has become one of the main players for both his club and his country in the past season and rightly so. When he plays for the Red Devils, he always retains his focus and concentration and defends out of his skin to ensure that his side don't concede goals. Without him, United suffer defensively.
LB – Nacho Monreal
Monreal has become arguably one of the best LB's in the league. He is a massive boost to the team when he is on the field, with the 30-year old able to intercept the ball and key passes really well to ensure he helps his side in defence but again, like Bellerin, he is capable of helping start attacks with a superb passing ability.
CDM – Morgan Schneiderlin
Tackling is arguably Schneiderlin's strongest skill, with the Frenchman never afraid to try and win the ball off the opposition by putting a foot in. He is also quite good in the air for United and since his move from Southampton, he has continued to do well at Old Trafford.
CDM – Francis Coquelin
The Frenchman has cemented the CDM spot at Arsenal as his own. He is a superb tackler and is capable of stopping opposition attacks dead with his ball-winning and ball interception skills. Still only 24-years old too, the best could still be yet to come from Coquelin.
LM – Alexis Sanchez
Sanchez seems to be the complete package – he has amazing work-rate, pace, goalscoring ability, passing ability and more. Since his move to the Emirates Stadium from Barcelona, he has become one of the best players in the league and he is one of the most influential players that the Gunners have – if the Chile international is having a good day, then it is likely that Arsenal will also be having a good day too.
RM – Memphis Depay
Memphis may not have had the greatest season at Man United but he still earns his place in the team. He has recently started to find his goalscoring ability again and not only that but his dribbling is superb and he is capable of a vast number of skills too. Despite not excelling in the Premier League just yet, he has shown signs of what he is capable of in the Europa League.
CAM – Mesut Ozil
Ozil really enjoys having the ball at his feet and helping his side to get the goals they need with killer passes and cross. He is best when he and his side are in possession and not only is he able to score goals for the Gunners but his best attribute is how he always seems to set his teammates up for goals – his assists record is tremendous, with the German having 17 assists going into this game.
ST – Anthony Martial
The 20-year old has had a solid season for the Red Devils, contributing both goals and assists for his side. He too has a superb dribbling ability, with the Frenchman able to take on defenders and get it round them and create goalscoring opportunities for himself and teammates. At just 20-years old too, he still has bags of potential to get even better.