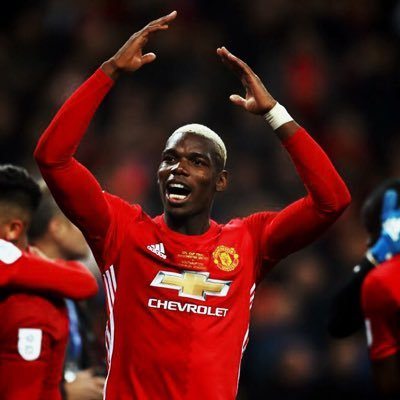 Manchester United ace Paul Pogba believes Sundays game against league leaders Chelsea will be a chance for revenge.
Pogba has been on the losing side with Manchester United against Chelsea twice so far this season, once in the Premier League, facing a humiliating 4-0 defeat at Stamford Bridge, and then being eliminated by Jose Mourinho's former side in the FA Cup.
Chelsea and Manchester United have a rivalry that grew more and more bitter after Roman Abramovic bought Chelsea, and they began to compete for silverware thanks in part to the money poured in by the Russian tycoon.
But with recent events – resulting in Jose Mourinho being sacked by Chelsea and then employed by Manchester United, it now seems a more bitter rivalry than ever, despite Manchester United struggling to compete for silverware like they did in the time of Sir Alex Ferguson.
Pogba believes this is a chance for Mourinho's Men to prove their worth, and get some revenge.
"Well, this season Chelsea have beaten us two times and, obviously, we don't want that to happen a third time," Pogba said. "We want to win.
"Obviously they are ahead of us, they're playing for the title and, for them, it's important to win this game. For us as well, because we're playing for the top four, it's going to be a game that's really important for each team.
 "We have to be focused and get ready and show them revenge, it's revenge for us. So, let's be positive about it and hopefully go and win this game."
"They have a great team and everybody knows that," Pogba said.
"When you're playing in the Premier League, you have to have a bit of luck as well but you create the luck.
"They have a manager who pushes them and they have players who want to show the world that Chelsea are still alive… Last year that didn't happen.
"But you never know, that's the beautiful thing in the Premier League. You never know what's going to happen. They've done good this season."
Pogba also touched on his fellow French international N'Golo Kante, who has had a terrific season for Chelsea thus far, and scored in both victories over Manchester United.
"Everybody knows that N'Golo Kante can run for 11 players – that's his best quality," Pogba told MUTV.
"He gets the ball and plays simple. When the manager tells him something, he will do it and he will do it perfectly.
"He's one of the biggest players for Chelsea, he makes the difference because, to be honest, when you see when they lose the ball…he will lose the ball three times and win the ball back four times! He's everywhere! He's a big player."