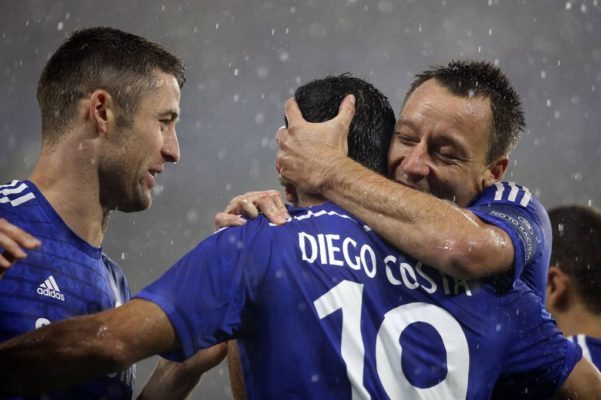 The Rise
Now on top of the Premier league table unbeaten in six games in a row without conceding a single goal and with the same team and  against teams like Arsenal and Liverpool who have been having amazing games and who also have defeated Chelsea it seems that Passionate one has really unleashed a Chelsea of the past one can one truly  say the blues are back.
The journey towards this incredible form hasn't been an easy one. A team which was about to be relegated Last season sits on top of the Premier league table this season after week 12 and well who is responsible for this great achievement the obvious answer might be the change of manager to Antoine Conte which is without a doubt true but there is much more to it then what meets the eye.
Incredible Players and The Boss
After Conte came Chelsea got what it needed the most to be particular an opportunity of change which was gladly given to the players of Chelsea through Conte. Courtois who heavily under performed and criticized last year just got six clean sheets, Victor Moses who nobody knew last season become a strong pillar for Chelsea helping them immensely to where they are now, Pedro has become somewhat of a whirlwind with the amazing assist and passes which he keeps on creating and  providing for the team,David Luiz who was suspected to be a panic buy is causing a lot of Panic to the opponents especially to the forwards, Kante has been an incredible purchase for Chelsea the best one so far and Lecister City without no doubt are missing him and Kante combined with the Brilliance of Matic have taken care of the midfield superbly but there are two players in particular who have made the most out of the new leadership of Antoine Conte and without a doubt those two players are Eden Hazard and Diego Costa. Hazard  form has been totally unexpected after the horrific Last season alot of people had doubts in their mind regarding his performance this season but Hazard has gladly removed all of the doubts in anyone's mind with his incredible performance consisting of 8 goals and 5 assists Chelsea  he has also  been given a lot of freedom under the new boss alot of pundits say he is back to his older form but I for one think he as come to a point where he is much better than anytime ever in his career.Next up is Diego Costa he has been a total beast with 10 goals and 3 assists in just 12 matches and one more great achievement is that the beast who was know for his anger and misbehavior last season has not been booked with a red card for the entire season which is amazing.
To Finish 
All said and done Chelsea are truly doing a Marvelous job in first of all respecting themselves for what they stood for and what they are worth and second and one of the most important factors by showing respect to their fans with their amazing performance may they continue to do so and have a great title race,