Which players earned the most points on the Premier League Fantasy game
Today's top-10 for SillySeason is going to be a little different to what people are used to. Today we are going to look into the top-10 players who got the most points on Fantasy Football.
There are several websites that run this game, but we are going to use the Premier League's official website for the points and today we are listing the players that performed the best in game-week one.
If you are unsure on how Fantasy Football works, players get points for clean-sheets, assists and goals scored. Players also get bonus points for Man of the Match performances.
If you are a defender, you get more points for a goal than what strikers do. So for example, Vincent Kompany got six points for his goal last night, whilst Arouna Kone got four for his goal because he's a striker.
But which players got the best points tally this game-week? It's time to find out!
10) Andre Ayew – 10 points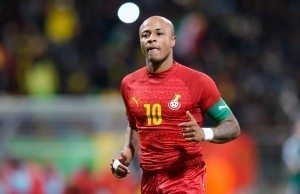 Andre Ayew of Swansea City comes tenth on our list after he picked up 10-points on Fantasy Football for his performance against Chelsea.
The Swans drew 2-2 at Stamford Bridge and the Ghanaian international bagged one of the goals for his new club.
As he is classed as a midfielder on the game, Ayew got five points for his goal, a further two points for playing 90-minutes (the rules of the game give a player two points for playing over 60 minutes), and he was also given a three-point bonus.
Adding all the points up together, Ayew got Fantasy players a nice 10-points in game-week one, putting him tenth on our list.