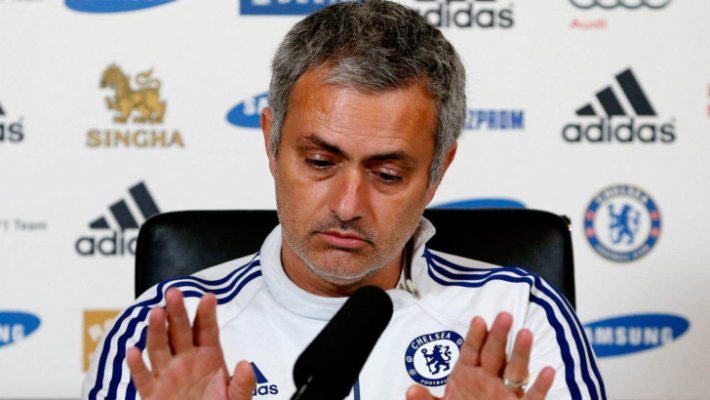 Chelsea boss faces media ahead of Champions League match
Under-fire manager Jose Mourinho has faced the media today ahead of Chelsea's Champions League match against Dynamo Kiev.
There have been a lot of questions raised over Mourinho's future, with reports claiming The Special One has two games to save his job.
Mourinho was very quiet following the club's latest defeat at the hands of Liverpool, but today he sat in front of the media and addressed all their questions.
Below is a full transcript of how it went down.
Q) You say you think you've got time, have you spoken with Roman since the weekend?
A) "I don't have to answer you. If I was with the owner or not, I don't have to answer. "Three years and seven months,", referring to his contract.
Q) Have you lost the support of the players?
A) "Very sad accusation, you are accusing more than one player of dishonesty. If I accuse you to be a dishonest journalist, you would be very upset and probably would take legal action."
Q) How have the players responded since defeat on Saturday and are they still responding to your methods?
A) "Yes. By giving their best every minute of every training session. By showing solidarity, by fantastic personal and professional relationship.
"Training always in the limits of the quality and the effort and always with the strong desire to win the next game, which is what we are going to try and do tomorrow."
Q) Are you taking too many bullets for the players?
A) "For my players I do everything, I am not going to change."
Q) Why aren't results turning around?
A) "I told you already, it is a combination of factors. One reason would be easy to fix, it is not one reason."
Q) Do you need to show more dignity?
A) "This moment the way I am going to show my dignity is not to answer you."
Q) Have the players asked you to play in a different way or told you they are unhappy?
A) "No."
Q) Have you lost any confidence?
A) "No, you asked me yes or no and I said no."
Q) Will you qualify for the Champions League knockout stages?
A) "I think Chelsea will finish first in the group, I am completely convinced we are going to qualify. The reality is the game is not even one we have to win because a draw and two victories after mean we will qualify."
Something tells me Jose Mourinho didn't enjoy that.
Written by Alex Batt – @AlexBatt