It's no secret that Canada doesn't exactly have a bright history at the world cup. In fact the last (and only) time they even entered the FIFA world cup was the 1986 world cup in Mexico, the world cup famous for Diego Maradona's "Hand of God" goal against england in the quarter final, a world cup that Argentina went on to win. Canada however, didn't do too great in that tournament. They went 0-3 in their group that contained the Soviet Union, France and Hungary. Conceding 5 and scoring 0.
While it's hard to compare the football of today to the football they played 36 years ago given how much the game has changed, I think it's safe to say that the team and the fans probably feel more comfortable attending a world cup with this current group of players. They have some good young talent, playing all across the world. Some of which are regularly making appearances in the Champions League/Europa League football, like Alphonso Davies for Bayern Munich and Jonathan David for Lille.
But how important will that experience prove to be when it comes to a tournament like this? Well, before we break down what we think will happen, it's probably worth taking a look at how the experts, including the bookies, are looking at their potential. Given the World Cup will probably be the most bet on sporting event of the year, they need to be on point with this stuff, so let's take a look at the big one first. Taking home the gold.
Looking at the betting odds for the World Cup by Tonybet Sportsbook CA and pretty much every other sportsbook at this point, you'd be looking at a massive return if you bet on Canada to win the world cup and they come through. Seemingly between 150/1 and 200/1 across the board. Not looking great from the bookies outlook really is it? Okay so, it's unlikely they're going to win the whole thing, even if crazier things HAVE happened. What about just making it out of their group?
So the issue you've got here is, Canadas group contains Belgium, Croatia and Morocco. Belgium are 14/1 to win the whole thing which puts them 9th favourite, probably based on the fact they keep choking in these tournaments, they should arguably be higher. Croatia aren't quite that high up, but you can still get 50/1 for them to win. They're a team with experience at these tournaments and likely get second in their group. The bookies will give you 11/4 for them to qualify for the knockouts.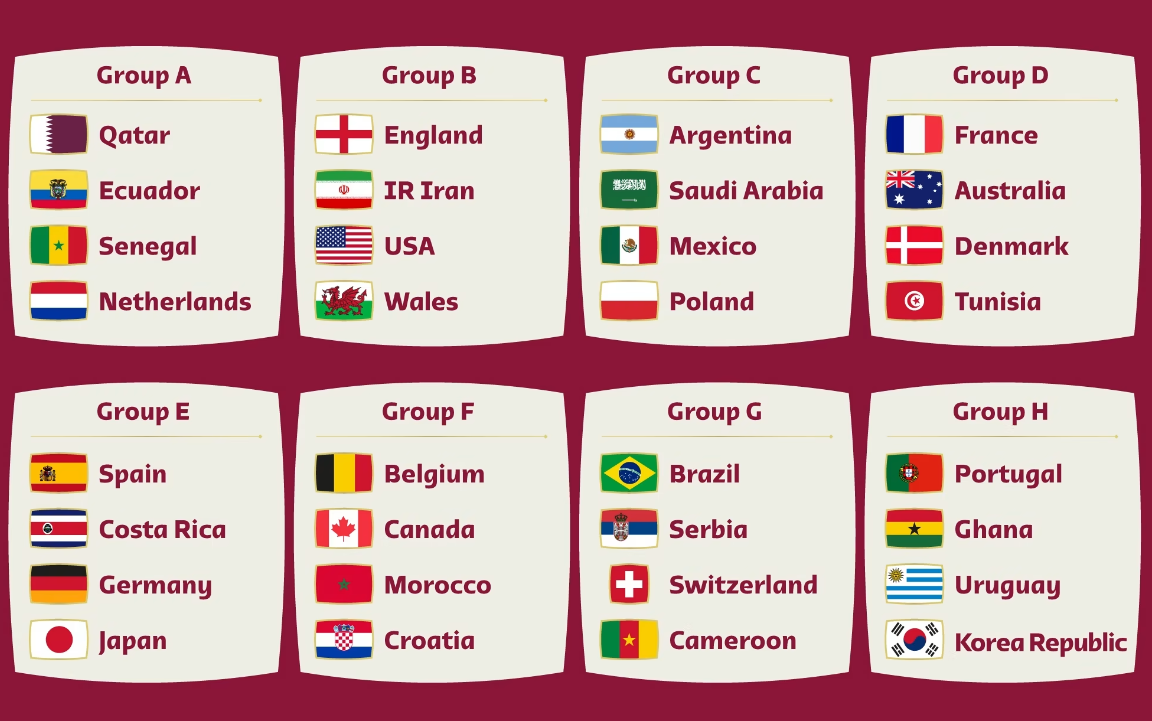 A quick look at the groups shows Canada have a tough road ahead, the knock out stages aren't an impossible reach, but it may be a dream too far? Source: FIFA
I have to admit that, for their first world cup in 36 years and their second world cup in the nations history, they have been dealt a rough group. There are for sure much easier groups where they scrape by in second place. For example, if you look at group D, Australia, Denmark, France, Tunisia. If they took the place of either of those teams they could probably get to the knockouts stage, but outside of their group being a hard slog to get through, how do we think the players are going to perform? That's the real question.
It probably goes without saying that Alphonso Davies will hit the ground running. Though he's only 21 years old he plays well above his years. A mature player with a winners mindset who has performed consistently at the highest level for Bayern Munich, establishing himself as one of the best modern fullbacks in the game. But for Canada he tends to get shuffled around a bit playing on the wing instead. No matter where he actually plays however he always puts in a great performance leading the way for his team mates.
Canada will be looking to see how much playing in the Premier League will help Richie Laryea grow, hoping he can get some good minutes under his belt before November. They'll need him to be at his best if they have any chance of competing with the likes of Mertens and Carrasco when they face Belgium.
Then of course there's Jonathan David, the forward currently playing for OSC Lille in France. People joke about Ligue 1 being a "farmers league" and that may be true when you consider that one team (PSG) has billions worth of players while the rest of the league are clubs run properly, that's a story for another time though. The fact remains that outside of the top team Ligue 1 is a very competitive league with some good teams in and around the fight for the European football positions.
Jonathan David has started his life in France pretty well. He is consistently amongst the goals and is only getting better. It's worth remembering that he's only 22 years old and if he can perhaps continue his improvement this season, he could maybe find that next level when put under pressure on the global stage. It only ever goes one of two ways. Either you have zero luck and look like a fish out of water or you hit the ground running and take the world by storm. Making a name for yourself. I think a player like him could really use the latter happening to prove to the world he's at that level.
The last player I want to talk about is Junior Hoilett. Hoilett is getting on a bit now at 32 years old and while he may not be the best player in the squad, having spent most of his years in the Premier League and Championship, his experience is priceless. Whether he starts down the right for Canada or not, it's worth mentioning that a player like him will be chomping at the bit to show what Canada are capable of at this World Cup. While it may not be the case for other nations, this may be a once in a lifetime opportunity for a lot of these players to represent their nation at a world cup. At 32 years old for Hoilett you have to think this is his only opportunity, will be capture the opportunity? Or let it slip?
That's going to do it for this one. I believe that the future of Canadian football is quite bright, more fans are showing an interest and some good young Canadian talent is coming through the ranks. I feel like this world cup is a step too far too soon, especially with the draw they've been given, but if they can keep producing young talent similar to the likes of Alphonso Davies and Jonathan David then who knows what they could achieve in the future? Only time will tell but it's looking good.
See More: