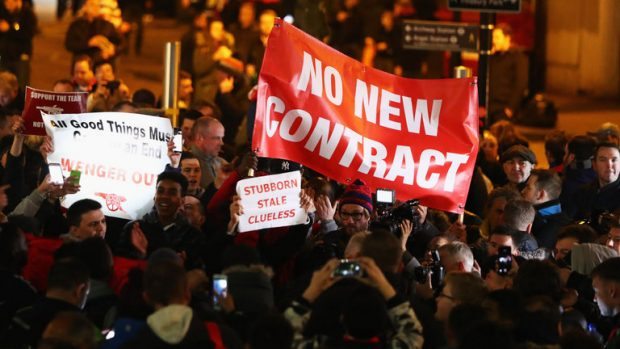 Which side has been the biggest disappointment?
With a month to go until the end of another Premier League season, there are fans everywhere buzzing about what their teams could be about to achieve. 
Chelsea fans will be ecstatic, with their team on course to secure another title this year, while any team from 2nd-6th could make up the rest of the top 4.
At the other end of the table, Bournemouth, Burnley and Watford are all on course to maintain Premier League status for another year, which is a big deal for their fans.
However, there are always fans left massively disappointed by what they've seen over the course of a season. Think of a cycle of a Premier League year- you make signings in the summer, you keep up with pre-season, then that first game of the season arrives and suddenly, 30 games later, all the excitement you had at the beginning of the season has gone and you're just waiting for the season to end so you can look ahead to the next one.
There are some teams this season who I think have been particularly disappointing for the standards they will have set at the beginning of the season. It's obvious that the fans and club board have individual targets they expect their team to achieve at the end of the season, and failure to hit these targets leaves a lot of frustrated and unhappy fans, with the optimism they had in August long gone.
Which begs the question, with 5 games to go, who has been the most disappointing side this season? Here are our candidates.
Arsenal
The elephant in the room. Arsenal actually made this list last year when I wrote the 2015/16 edition of this article. And the most frustrating thing for Arsenal fans will be that, absolutely nothing has changed. In fact, this year they've been an even bigger disappointment. I write this the morning after the Gunners' embarrassing 3-0 loss to Crystal Palace. Players were hounded last night with chants of 'You're not fit to wear the shirt' by travelling fans. The club is a mess from top to bottom. Arsene Wenger has lost the dressing room but the board don't care about anything apart from their own pockets. For the club to move forward, they need a new manager, fresh talent, and someone on the board who actually cares about football, because otherwise, Arsenal's demise could soon be up there with the Milan clubs.
Their Champions League showing was an embarrassment, and they've taken 6 points from 8 games against their fellow top 6 rivals. After the Palace game, they have conceded 3 goals in each of their last 3 away games