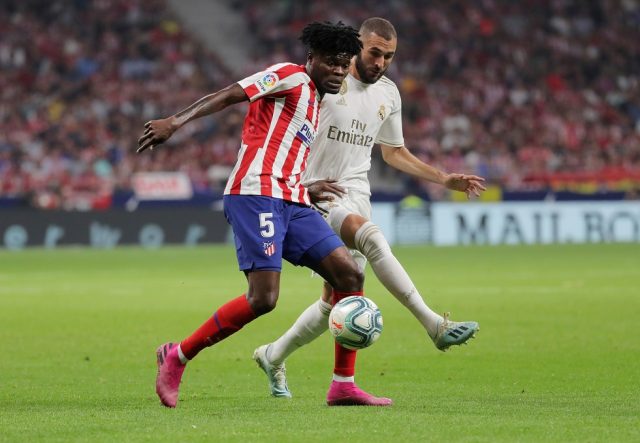 Arsenal made a big statement on deadline day with the signing of Thomas Partey from Atletico Madrid for a fee of £45m.
A proven defensive midfield stalwart for El Pupas, the Senegalese international will be looking to bring his A-game to the hungry North London side that struggled to establish consistency in recent years. Can Mikel Arteta make the most out of him and throw a party once again at the Emirates?
The gaffer is putting his confidence in their latest signing. Being an all-around player, Arteta believes that the 27-year-old can make a difference to his team.
"We believe he has the right qualities, with his character and his personality and as well with his technical qualities and positional options that he can give to the team", Arteta said in an interview.
Given his transfer value, Thomas is surely not someone to be slept on. Though not so much of a goal scorer, his defence and passing skills are surely assets to his game.
With an average of 7.9 duels won per 90 minutes, he can certainly be of big help for the Gunners to establish their stability in defence and midfield. Though not conceding much in the season so far, defence is something that they should address. Partey will be looking to step up to help resolve this issue.
The midfielder is a good passer of the ball with an 84% passing success rate. When pressing high, he can be a retriever and a good supplier of the ball for the Gunners He can also be key to lethal attacking plays by linking up with forwards Willian and Pierre-Emerick Aubameyang.
Despite his good playing style, discipline can be a downside for Thomas. Having committed 13 bookings in La Liga last season, this will be an avenue Arteta will surely give emphasis on, especially in the Premier League's unpredictable VAR landscape.
Arsenal fans will surely have high hopes for the Ghanian who was part of their wish list during the transfer market. With a good set of skills, they will be really eager to see him thrive in guiding Arsenal to the levels of the best English clubs once again.
READ MORE: Arsenal Players Salaries 2020/21 (Weekly Wages)