Emirates Cup 2017 teams confirmed
All the teams playing in the 2017 Emirates Cup
Emirates Cup 2017 teams ? who are the Premier League Confirmed transfers? the Emirates Cup is returning this pre-season and will be held on Saturday, July 29 and Sunday, July 30. Emirates Cup 2017 line-up confirmed, This will be the ninth staging of the Emirates Cup, which has been a regular in the club's pre-season schedule since moving to Emirates Stadium,with that we Now we present you Emirates Cup 2017 team that have been confirmed
Who made Emirates Cup 2017 ? Emirates Cup 2017 teams are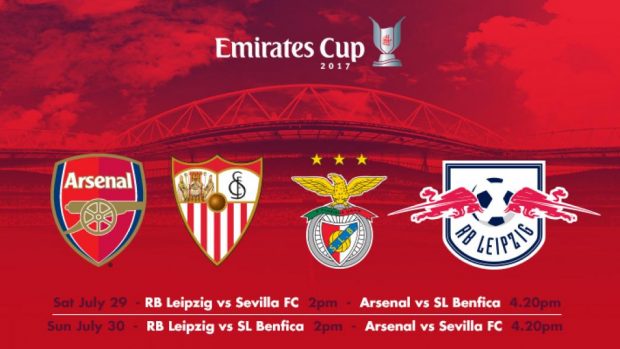 Joining Arsenal at the Emirates Stadium for this summer's pre-season tournament will be current Portuguese champions Benfica, Europa League winners in 2014, 2015 and 2016, Sevilla; and RB Leipzig, who have been hugely impressive during their first season in the Bundesliga.
This will be the ninth tournament of the Emirates Cup, which has been quite a regular fixture in the club's pre-season schedule since moving to Emirates Stadium. As with the previous Emirates Cup tournaments, fans will enjoy two matches each on both Saturday and Sunday, with one ticket giving access to both matches on a particular day.
Emirates 2017 Kick-off times and ticket information
The kick-off times for the Emirates 2017 on both days are 2pm and 4.20pm, ticket are priced from only £25 for adults and £12 for concessions for each day. Members will be offered a priority window within which they can buy tickets for the Emirates Cup 2017.
Platinum and Gold Members can buy their own seats from Thursday, May 11, and will also have the opportunity to buy another ticket anywhere in the stadium from Thursday, May 18. Silver Members can purchase from Friday, May 19 and Red Members can purchase from Monday, May 22.
Emirates Cup 2017 Bonus Offers