Highest La Liga Goalscorers All-Time
Highest La Liga Goalscorers All-Time? List of all time highest Goalscorers in Spanish La Liga? Who are the highest Goalscorers in the Spanish La Liga of all time? Is it Ronaldo? Lionel Messi? Are these two fantastic players on the list? Well, let's find out as we have prepared a list of the Highest La Liga Goalscorers All-Time. Watch & Bet Football Here =>

The Spanish La Liga was formed as Spain's top division league in 1929 since then Athletic Bilbao's Telmo Zarra held the record of being the competition's all-time top scorer until 2014. He was the top scorer for six seasons of the Spanish league between the years 1945 and 1953.
Top 10 La Liga Top Scorers 2022/23
Here are the current top scorers in La Liga's 2022/23 season.
Rank
Player
Club
Goals
1
Robert Lewandowski
Barcelona
15
2
Enes Ünal
Getafe
13
3
Iago Aspas
Celta Vigo
12
Borja Iglesias
Real Betis
Joselu
Espanyol
6
Karim Benzema
Real Madrid
11
7
Álvaro Morata
Atletico Madrid
10
Vedat Muriqi
Mallorca
9
Antoine Griezmann
Atletico Madrid
9
Alexander Sørloth
Real Sociedad
Gabriel Veiga
Celta Vigo
Top assists
Rank
Player
Club
Assists
1
Antoine Griezmann
Atlético Madrid
8
2
Mikel Merino
Real Sociedad
7
3
Alejandro Baldé
Barcelona
5
Samuel Chukwueze
Villarreal
Óscar de Marcos
Athletic Bilbao
Ousmane Dembélé
Barcelona
Aleix García
Girona
Robert Lewandowski
Barcelona
Brian Oliván
Espanyol
Isi Palazón
Rayo Vallecano
Lucas Robertone
Almería
Rodrygo
Real Madrid
All Time Highest Goal Scorer in La Liga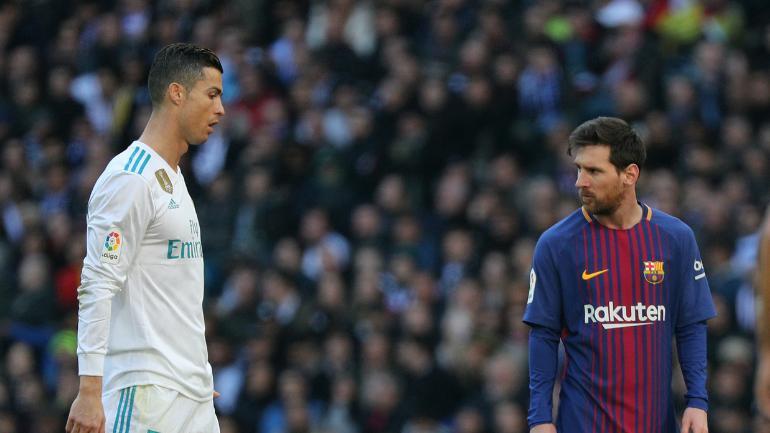 Who is the all time leading goal scorer in the Spanish La Liga? Let's find out. Lionel Messi is the all time leading goal scorer with 475 goals in 520 appearances. The Argentine has only played for Barcelona in the league as it is where he kick-started his career through the clubs youth ranks.
In second is rival Cristiano Ronaldo who left La Liga in 2018 and had managed to score 311 goals in 292 appearances for Real Madrid making him the second all time leading goal scorer in La Liga.
Cristiano Ronaldo has the best goal ratio among all the players on the list with a ratio of 1.07 per goal.
All time highest Goalscorers in Spanish La Liga
We have prepared a list with the Top 20 Highest La Liga Goalscorers of All Time. Here is the full list of the all time leading Goalscorers in La Liga. Enjoy!
| Rank | Player | Years | Goals | Apps | Ratio |
| --- | --- | --- | --- | --- | --- |
| 1 |  Lionel Messi | 2004–2021 | 474 | 520 | 0.91 |
| 2 |  Cristiano Ronaldo | 2009–2018 | 311 | 292 | 1.07 |
| 3 |  Telmo Zarra | 1940–1955 | 251 | 278 | 0.9 |
| 4 |  Karim Benzema | 2009– | 230 | 431 | 0.53 |
| 5 |  Hugo Sánchez | 1981–1994 | 234 | 347 | 0.67 |
| 6 |  Raúl | 1994–2010 | 228 | 550 | 0.41 |
| 7 |  Alfredo Di Stéfano | 1953–1966 | 227 | 329 | 0.69 |
| 8 |  César Rodríguez | 1939–1955 | 223 | 353 | 0.63 |
| 9 |  Quini | 1970–1987 | 219 | 448 | 0.49 |
| 10 |  Pahiño | 1943–1956 | 210 | 278 | 0.76 |
| 11 |  Edmundo Suárez | 1939–1950 | 195 | 231 | 0.84 |
| 12 |  Santillana | 1970–1988 | 186 | 461 | 0.4 |
| 13 |  David Villa | 2003–2014 | 185 | 352 | 0.53 |
| 14 |  Juan Arza | 1943–1959 | 182 | 349 | 0.52 |
| 15 | Luis Suarez | 2014-2022 | 179 |  258 | 0.69 |
| 16 |  Antoine Griezmann | 2010- |  168 | 447 | 0.38 |
| 17 |  Guillermo Gorostiza | 1929–1945 | 178 | 256 | 0.7 |
| 18 |  Samuel Eto'o | 1998–2008 | 162 | 280 | 0.58 |
| 19 |  Luis Aragonés | 1960–1974 | 160 | 360 | 0.44 |
| 20 |  Aritz Aduriz | 2002–2020 | 158 | 443 | 0.36 |
All time top active Goalscorers in Spanish La Liga
Player

Goals

Apps

Ratio

Team(s) (goals)

 Karim Benzema
230
431
0.53
Real Madrid
 Antoine Griezmann
168
447
0.38

Real Sociedad (40/141)

, 

Atlético Madrid (106/232)

, 

Barcelona (22/74)

 Iago Aspas
147
311
0.47

Celta de Vigo (145/295)

, 

Sevilla (2/16)

 Álvaro Negredo
128
347
0.37

Almería (32/70)

, 

Sevilla (70/139)

, 

Valencia (10/55)

, 

Cádiz (16/83)

 Raul Garcia
111
579
0.19

Osasuna (20/101)

, 

Atlético Madrid (27/216)

, 

Athletic Bilbao (64/262)

 Gerard Moreno
107
269
0.4

Villarreal (70/161)

, 

Espanyol (36/107)
Have a look at these other lists: