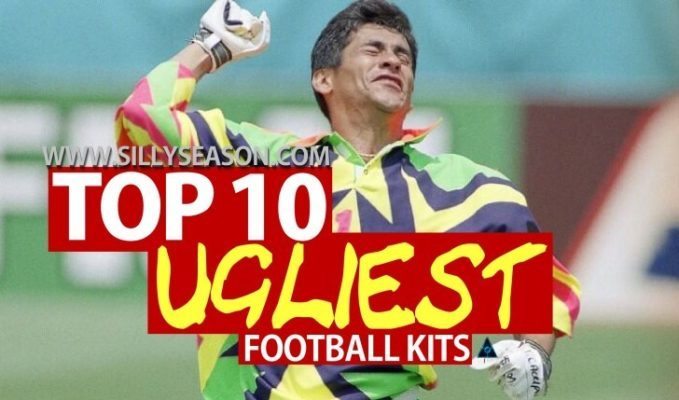 Top 10 Ugliest Kits In Football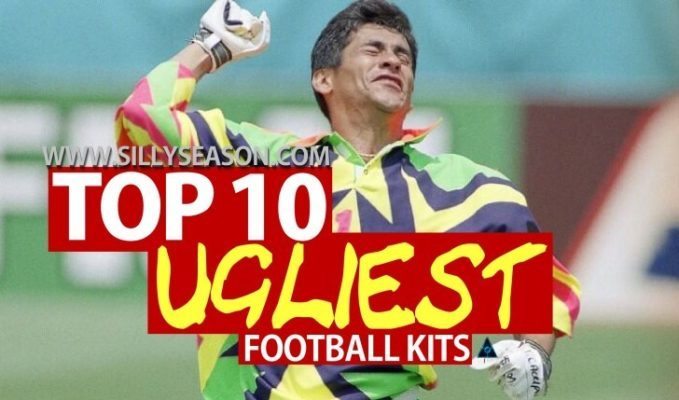 Which are The Ugliest Football Kits Ever 2015? Over the years there has been some awful kits that make you wonder who in there right mind would make a Professional Football Club wear that? Most times it is the manufacturer that will come up with the design and the club just accepts it, other times the club think it is a great design, however, the fans just don't like it at all.
The Most Ugliest Kits In Football
Not long ago we published the Top 10 Footballers Who Look Older Than Their Real Age and Oldest Stadiums In The World if you have not seen them yet make sure you do after this list of the Top 10 The Most Ugliest Kits In Football List.
Out of the thousands of horrible Football kits we compiled the top ten ugliest Football Shirts ever!
10. Manchester United away 1992-93
A horrible mix of charcoal black smudges, unfortunately this kit looks like the players were on a safari, It's easy to see why you wont see this worn by the fans at any games. This kit bombed before it hit the stores, and you can clearly see why it did not make many sales, this is a kit you would find at a cheap market stall claiming to be 'Genuine'.
9. Stoke City away 1992-93
Wow, Just Wow, Considering this shirt was designed for the 92/93 season, It looks like the guy who made this was hung up on the 60's, here's a tip, stay of the LSD when designing Football kits mate.
8. Norway away 1996
Oh geez, If you want your nation to do well I suggest designing a kit that WONT bring the players self esteem down, what an embarrassment, surely the players said something, Not even one? Ok then…
7. Hull City home 1992-93
Whoever designed this should sue the guy who invented the onesie, you have to feel sorry for the players, trying to act tough in this is an absolute joke, terrible!
6. VfL Bochum away 1998-99
Where to begin, Did a rainbow throw up on this? who designed this? looks like someone was angry at the club, I think we can see why players keep leaving… a big LOL
5. Athletic Bilbao home 2004-05
Clearly Vanilla Ice designed this kit, Wow!, what is that even supposed to be? did they only have a limited amount of red dye to use, it looks like something some sleazy fat guy would wear…
4. Norwich City home 1993-1994
There is way too much going on here, did they just flick green paint onto a yellow shirt? I'm getting a headache just looking at it, it's kind of depressing,
3. Caribous Colorado 1978
Yep, This is real my friends, this was actually (for real) the 1978 Caribous Colorado home jersey, I'll just let that marinate with you for a bit…
2. Wolverhampton Wanderers home 1992-93
What is this..oh wait I see what you did there with those scuff marks, this kit must a have annoyed the cleaning staff, It always looked dirty! disgusting Kit!
1. La Hoya Lorca third 2013-14
AND the Pea's de résistance, the last but not pea's, see what I did there?, But most importantly look what THEY did there! WOAH like pea's much, I cant imagine too many kids wanting to walk around promoting the one thing their parents force them to eat, what were they thinking!
Well there you have it folks, you have to admit, those are some terrible designs