Manchester United against Arsenal.
It has always beena  game with a sense of rivalry, and a certain sense of bitterness.
With the two Premier League juggernauts set to go head to head this weekend, Sky Sports pundit Charlie Nicholas' has put together his CURRENT Arsenal/Man United combined 11.
Here is his team, and his explanation behind it: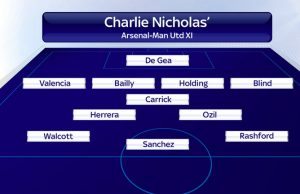 "
This was a team I've picked under duress. What it says about these sides is that they've both had bang average seasons. Arsenal's worst under Arsene Wenger and Manchester United are uninspiring, although they could remarkably end with three trophies between them.
Zlatan Ibrahimovic would have obviously been in there if he wasn't injured and Juan Mata might have also made the line-up if he was fully fit.
Paul Pogba and Marouane Fellaini miss out, but I'm not sure many people will be surprised by that. Likewise, Granit Xhaka and Aaron Ramsey simply have not been good enough.
In goal, David de Gea is the easy one. It's tremendously close between him and Thibaut Courtois for the best goalkeeper in the Premier League. Petr Cech obviously wasn't going to improve at his age but he also hasn't helped improve the defence in front of him, which is what Arsenal were really hoping for.
ll go for a back four with Antonio Valencia on the right and at centre-back Eric Bailly paired with Rob Holding, that is how bad I think the other centre-backs for both teams have been. It's even harder finding a left-back here and it has to be Daley Blind because the rest have been so disappointing.
My midfield three would have Ander Herrera on the right, Michael Carrick central and then, he shouldn't be in there on this season, a lack of competition means Mesut Ozil gets in.
Then, in attack, I'd have Theo Walcott on the right. He might not have fulfilled his potential or have the greatest technical quality but he's scored goals at least. Despite being in and out of the team, he's got 19 goals in all competitions, which is only five behind Alexis Sanchez, and his movement is important to get the best out of Ozil, who needs runners to pick out. Likewise, Marcus Rashford's movement on the left would get the best out of that midfield's passing ability.
I've got Alexis Sanchez as my centre-forward, which is undoubtedly his best position. He looks like he's trying to make a point when he's out on the left. He's barely involved in play, especially when you compare to the way he plays for Chile, and just doesn't look interested. The only thing that I could think would motivate him is the transfer links he's got with other clubs, which include Manchester United."
Whilst it seems like Nicholas' struggled somewhat with choosing his side, many fans will not agree with him leaving out Paul Pogba among others.
Do you agree with this team?