The 45-year-old has never before managed outside of Russia has revealed that Chelsea owner Abramovich is helping him to become the first Russian manager in the Premier League.
Rumours are circulating that Antonio Conte has offers flooding in from Juventus to Milan to now Barcelona, and today the media is going crazy with speculation he will leave Stamford Bridge.
Antonio Conte has said in a few press conference interviews that he's not looking at any offers and eluded to the rumors being blown up or false.
I personally think he will stay at Chelsea Football Club for many reasons, he has a lot of passion for what he does, he's worked hard on the club and with Champions League coming up next season, I have no doubt Conte has his eye on the Blues taking it all the way to the final to win it.
However, one thing has popped up that I find interesting, Leonid Slutsky who was manager at CSKA Moscow for six seasons before then resigning in December 2016, his last game was a 3-1 loss to Tottenham Hotspur in the Champions League, has come out saying Chelsea boss Roman Abramovich has been footing the bill for everything while he get's a job in the Premier League.
The mainstream media are straight on it, and you can imagine what spin they have on it, everything from Conte to be replaced by Slutsky to Roman preparing for Conte leave to Roman to secretly replace Conte with Leonid Slutsky.
I don't know about 'secretly' as Conte no doubt knows the Roman is helping his Russian friend: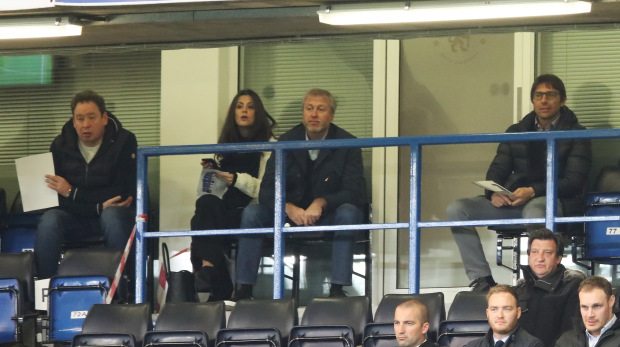 Unlike the mainstream media journalists, I have a brain, these sad people have nothing better to do than spin, spin, spin.
They've spun so much they can't walk straight and struggle see reality in their nauseating lives full of BS and spin.
There's nothing to worry about, Conte is not going anywhere and Roman is just helping his Russian friend get a job in the Premier League.
What did Chelsea Boss Roman Abramovich say to Leonid Slutsky?
Look this is what Slutsky said:
"Mr Abramovich is my friend and he is helping me achieve my dream. It's a challenge for him also," Slutsky said in an interview with Sky Sports.
"He is like my agent, the best agent in the world.
"His new project in Russian football is helping me with my career in England. He's giving me lots of advice about tactics and behavior and communication with chairmen and owners."
Slutsky believes he is well prepared for a job in England, adding: "One hundred per cent I guarantee success.
"I hope I will have a chance. I have new ideas that may be interesting for English football."
So don't worry snowflakes out there, The Russians aren't hacking your Club, Conte will stay, Costa might stay, depends on how he takes that awful attack from a lot of Chelsea fans yesterday.
Which if you didn't hear about that, give this a read, real Football fans will appreciate it:
DISGUSTING! Plastic snowflake fans turn on Chelsea star Diego Costa!
Also See.
THREE players Chelsea should Keep, Sell and Loan this summer
Stoke City confirm interest in Chelsea veteran John Terry
Chelsea open to selling Star this summer