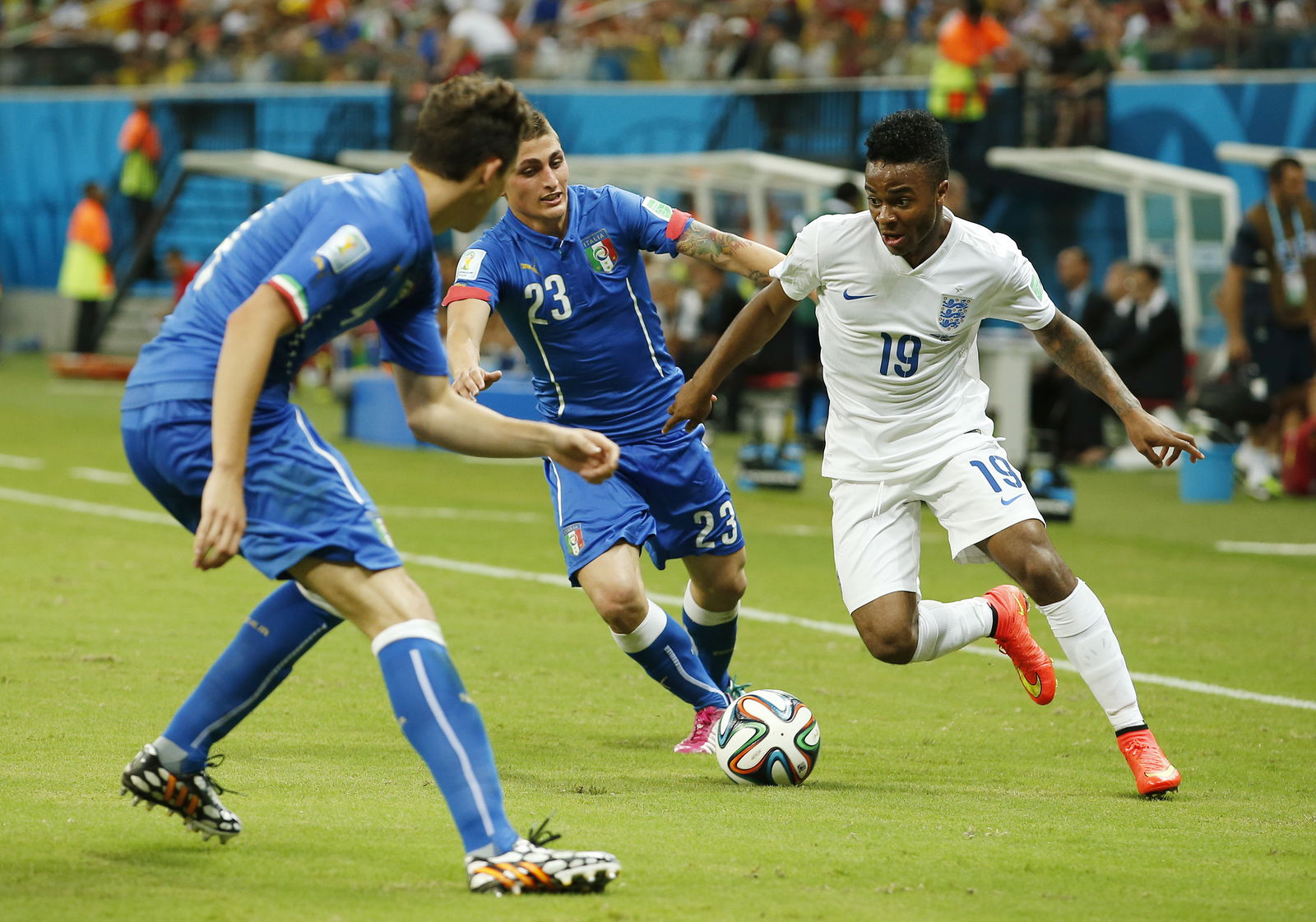 Greatest FIFA World Cup Matches Of All Time – Top 10
Greatest FIFA World Cup matches? Best World Cup matches of all time? What are the best ever football World Cup matches? The FIFA World Cup is the biggest event and most watched sport in the world. Here we look at the greatest soccer World Cup matches ever! So sit back and take a look at our ten most memorable World Cup games of all time.

See also: World Cup winners list football – past FIFA World Cup winners list by year!
Greatest FIFA World Cup matches of all time
10. Germany 0-2 Italy (2006 World Cup Semi Final)
Italy were the underdogs going into this match against Germany in the World Cup Semi-Final. But Marcello Lippi's side scored two goals in extra-time including a memorable goal by Fabio Grosso in the 119th minute to seal the win over the favourites and host nation Germany. A few days later and the Italians won the World Cup Final. How times have changed since Italy aren't even in this upcoming World Cup. This game is one of the Greatest FIFA World Cup matches of all time.
9. Ghana 1-1 Uruguay (2010 World Cup Quarterfinal)
One of the most controversial and hotly debated World Cup matches of all time. Ghana and Uruguay were level for almost the entire match in the 2010 World Cup Quarter-Final. Ghana were awarded a penalty in the very last minute of the match due to a disgusting act of cheating by Luis Suarez. The African nation were 1-1 with Uruguay at the time and were fighting to the very end when they had a sure goal stopped by Suarez handling the ball to ensure it didn't go in the net.
So even though he clearly stopped the goal, the rules stipulate that Ghana had to take a penalty while Suarez was rightly sent-off. Unfortunately, millions of African hearts were broken as Ghana's Asamoah Gyan hit the cross-bar. The match went onto penalty kicks and Uruguay won.
8. Argentina 2-2 England (1998 Second Round)
One of the best World Cup matches of all time. Reigniting the rivalry from that handball from Diego Maradona, way back when, this match was a fiery contest. England and Argentina both went for it in the first-half in what was an entertaining open game of football. Finishing the match 2-2 after a disallowed goal, a sending off and a goal saving tackle, the match had everything. Argentina went on to win the match via penalties after extra time- 4-3.
See also: FIFA World Cup Golden Boot Winners list – Past All Time Winners
7. Uruguay 2-1 Brazil (1950 World Cup Final)
Way back in 1950, the world saw one of the best World Cup football matches of all time. Uruguay and Brazil have always hated each other and even more so after this match.
There was a different format back in those days with a weird group stage after the initial group stage deciding the World Cup winner. Brazil only needed a draw to win the World Cup after beating Sweden 7-1, and Spain 6-1.  The Brazilians were clear favourites and had a lot of pressure on their shoulders as it was held in Brazil. And you know how South American fans can get. But Uruguay decided to spoil their party.
In front of a record crowd of 200,000 in the Estadio do Maracana, Brazil were 1-0 up at half-time. But Uruguay came back from behind with two goals in the last 25 minutes of the match. breaking the hearts of millions of Brazilians.
6. Hungary 4-2 Uruguay (1954 World Cup Semifinal)
After having won the World Cup in 1950, Uruguay were  favourites in this match against Hungary. However, Hungary were unbeaten in 30 matches while Uruguay had never lost a World Cup game before. This was always going to be a great match. Hungary went into half-time 1-0 up over Uruguay. But the South Americans clawed their way back into the match with an equalising goal by Juan Hohberg.
But then, Hungary scored three goals while Uruguay could only score one in what was a memorable match. Hungary have not found their dominance in world football for a very long time which is a shame as they were one of the best sides in the planet in the 1950's.
5. West Germany 3-3 France (1982 World Cup Semifinal)
Back in the days when Germany was called West Germany, the Germans were still one of the best teams in the world. This game was a high-scoring affair with three goals to each side after extra time. The match went to a penalty shootout and West Germany won 5-4 on penalties. The match may also be remembered for a ruthless tackle by the West Germany goalkeeper on a France star Patrick Battiston which left him with cracked ribs and two missing teeth leaving him unconscious. This semi-final had everything.
4. France 1-1 Brazil (1986 World Cup quarter-final)
The World Cup in 1986 was held in Mexico which turned out to be great decision as the host nation put on a fantastic tournament. France and Brazil played each other in the Quarter Final. Brazilian star Careca scored in the 17th minute with a beautiful goal. Then France star Michel Platini equalised in the 41st minute. The match went onto extra-time and then penalties where France won 4-3. The match may be remembered as one of the hottest games ever- the match was played in scorching 45 deg Celsius heat. How none of the players collapsed is a mystery.
3. England 4-2 West Germany (1966 World Cup Final)
The last time and only time that England- the inventors of football- won the holy grail, the World Cup. England were hosting the World Cup for the first time and it was a memorable one. England and West Germany were 2-2 at full-time in the World Cup final. But England scored two goals in extra-time to beat the Germans at Wembley in what was England's only World Cup win. My father was in the stands at this game and he still talks about it to this day.
SEE ALSO: England vs Germany Head To Head Record & Results
2. Brazil 2-3 Italy (1982 Second Round)
It may have only been a second-round match but it was one of the greatest World Cup matches of all time. Italy star Paolo Rossi scored a hat-trick to eliminate football royalty Brazil from the World Cup. If Brazil was known as the attacking gods of football the Italians became known as the defensive godfathers of football.
The Brazilians had won three World Cups already by then but their free-flowing attacking style of football was stifled by a stubborn and defensive Italian team. This marked a shift from attacking football to a more defensive style after this tournament. But, the defensive Azzurri went on to win the competition. Brazil and Italy played one of the Greatest FIFA World Cup matches of all time.
See also: England World Cup games 2018: dates, fixtures on TV schedule, channels!
 1. Italy 4-3 West Germany (1970 World Cup Semi Final)
Known as the 'game of the century' Italy fought back to win 4-3 over a stubborn German side that wouldn't lay down. Played in the scorching heat of Mexico City, Italy and West Germany played one of the most open and attacking games ever seen.
A stunning five goals was scored in extra time-a record in a World Cup game – which saw Italy advance to the final of the World Cup. 102,444 people attended the game in what was an electric atmosphere. Italy and West Germany played one of the Greatest FIFA World Cup matches of all time.

Who played in the game of the century? Italy Vs West Germany- Greatest FIFA World Cup matches ever played
Italy
GK 1 Enrico Albertosi
DF 2 Tarcisio Burgnich
CB 3 Giacinto Facchetti (c)
CB 5 Pierluigi Cera
DF 8 Roberto Rosato
MF 10 Mario Bertini
MF 15 Sandro Mazzola
DM 16 Giancarlo De Sisti
FW 13 Angelo Domenghini
ST 20 Roberto Boninsegna
FW 11 Luigi Riva
West Germany
GK 1 Sepp Maier
RB 7 Berti Vogts
CB 15 Bernd Patzke
CB 5 Willi Schulz
LB 3 Karl-Heinz Schnellinger
CM 4 Franz Beckenbauer
CM 12 Wolfgang Overath
RW 20 Jürgen Grabowski
CF 9 Uwe Seeler (c)
CF 13 Gerd Müller
LW 17 Hannes Löhr
See More: FIFA World Cup All Time Top Goal Scorers List