Ballon d'Or 2019 Voting breakdown
Ballon d'Or 2019 Voting breakdown? Who voted for whom? Have you ever wanted to find more about the voting process of the FIFA Ballon d'Or award before? Well, if you have then worry not because we have prepared a list of Ballon d'Or 2019 Voting breakdown.
Ballon d'Or Award winners list
The Ballon d'Or is an individual award organised by France Football to recognize the best talent of the year. The Ballon d'Or award is by far the biggest individual award a footballer should ever hope for during his career as a professional footballer.
During the first days the only players who were eligible to be part of the Ballon d'Or were only European players, it would then be called the best player from Europe now these days it doesn't matter from which league or country you are playing from.
Even though it includes even countries outside Europe most players who have gone on to win the award play from European countries. Spain, Germany, England, Italy and Portugal are the countries that has produced most winners. So you could say its still a European award.
How is the Ballon d' Or winner selected?
The "diverse international jury" of voters is made up of national team coaches and captains from a selection of FIFA's 209 national associations, in addition to "specialist journalists." There are some surprisingly lax stipulations laid out for the voters:
Only one journalist per country may vote. They are allowed to select players who play in or are affiliated with their own country. 
National team captains cannot vote for themselves, but can vote for national or club colleagues. (Bleacher report)
What is the vote for? What are the votes based on?
According to its Rules of Allocation, FIFA bestows the award "according to on-field performance and overall behavior on and off the pitch."
The behavioral aspect is an important one, as the chosen player must have role model qualities—on and off the field. It is for this reason that we see players like Luis Suarez not winning the award despite being on top of his and everyone's game.
Nominations are submitted by 184 coaches, 184 national captains and 173 members of the global media.
Ballon d'Or 2019 Voting breakdown: Who voted for whom?
Full details of which country picked whom in the Ballon d'Or 2019 voting are out and here's the full list:
Countries from A-C: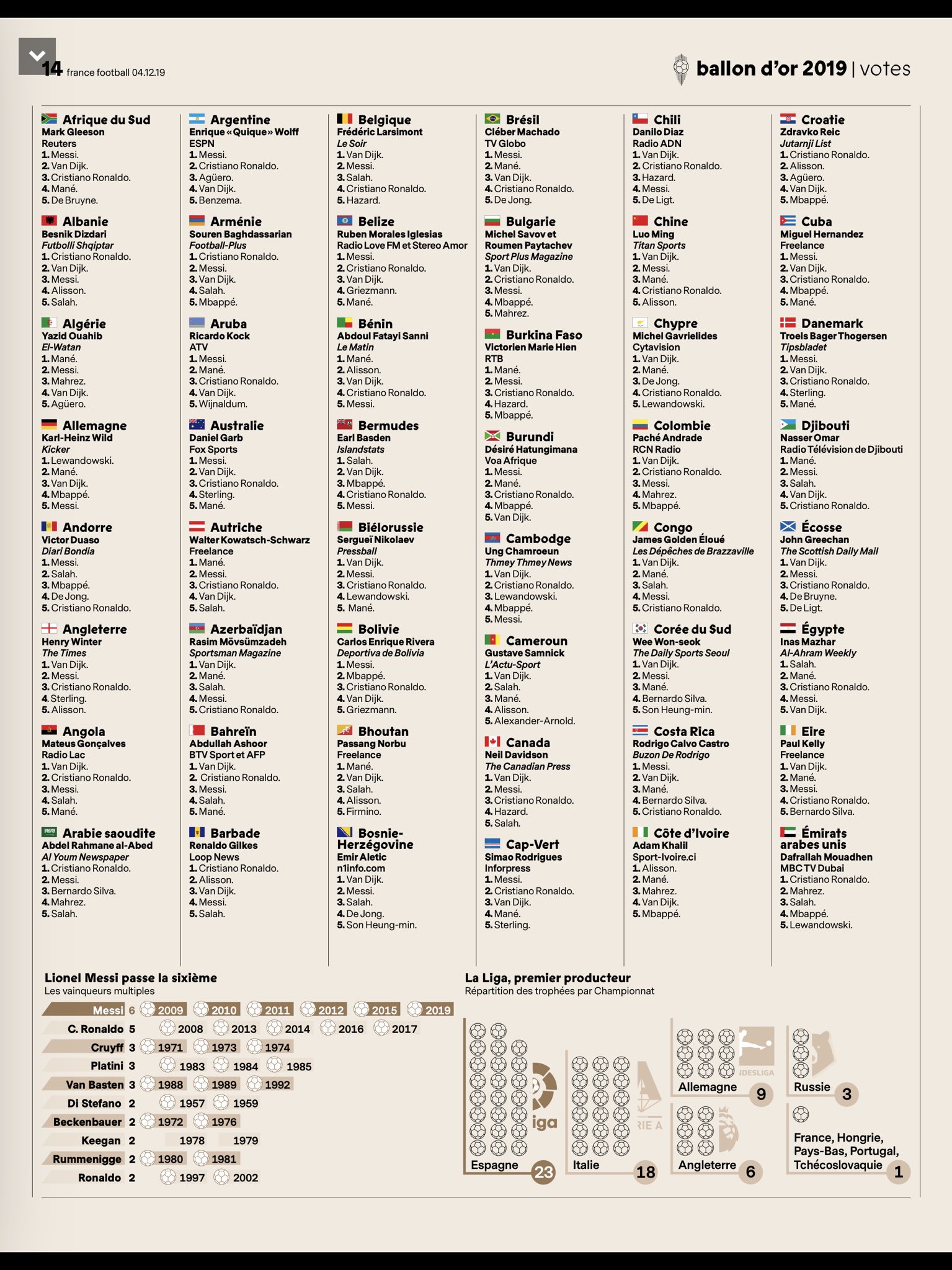 Countries from E-L: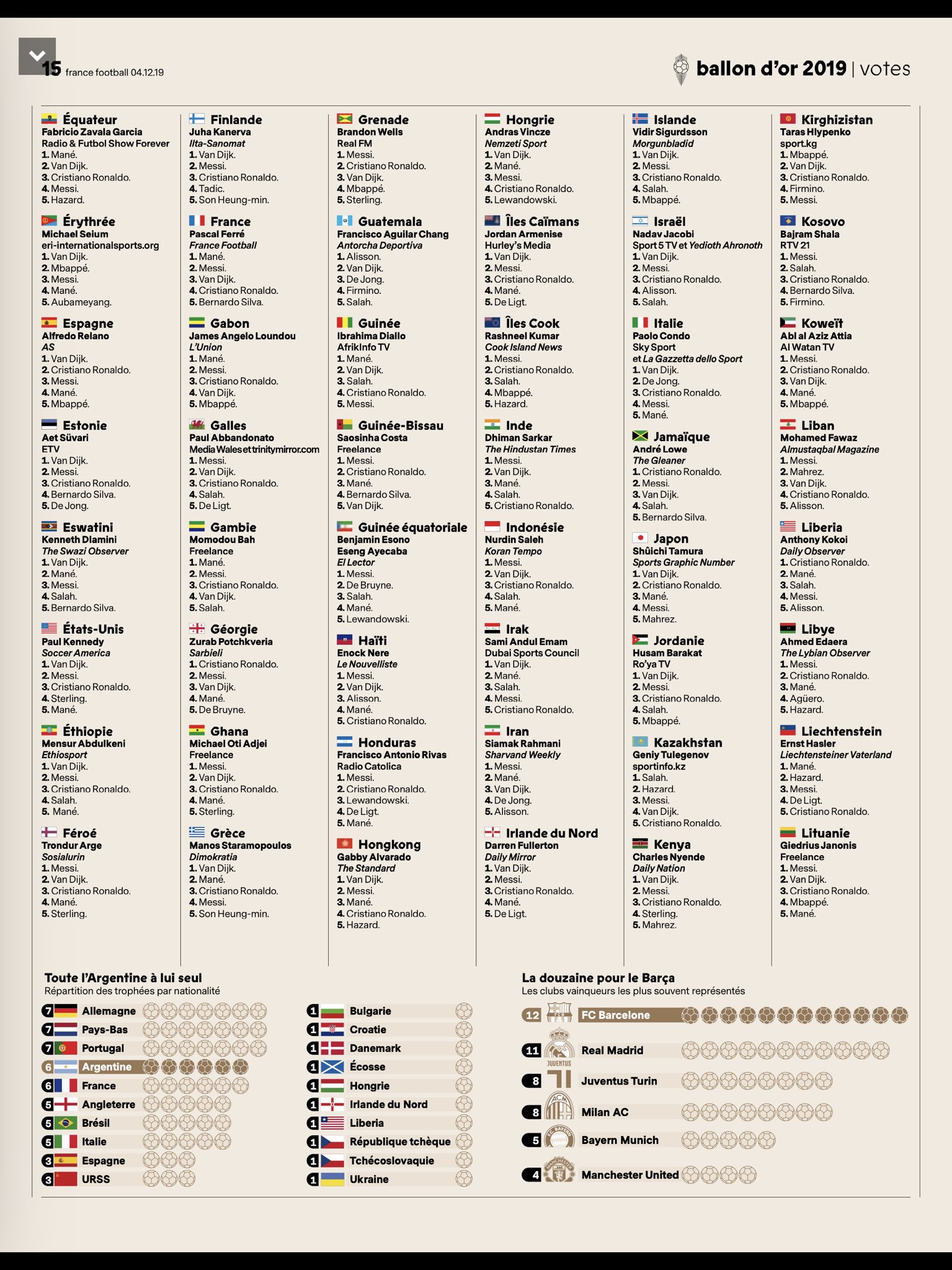 Countries from M-R: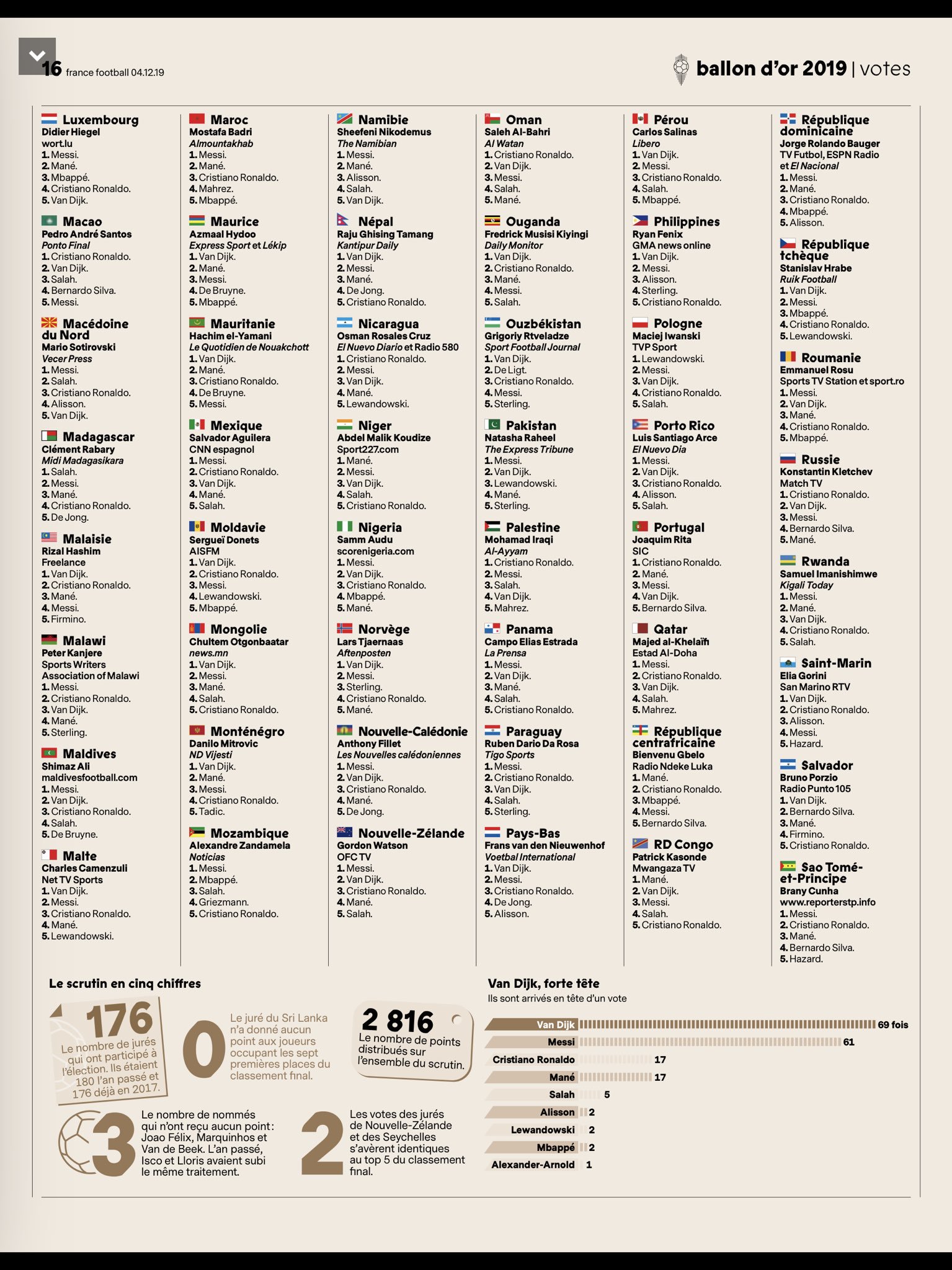 Countries from S-Z: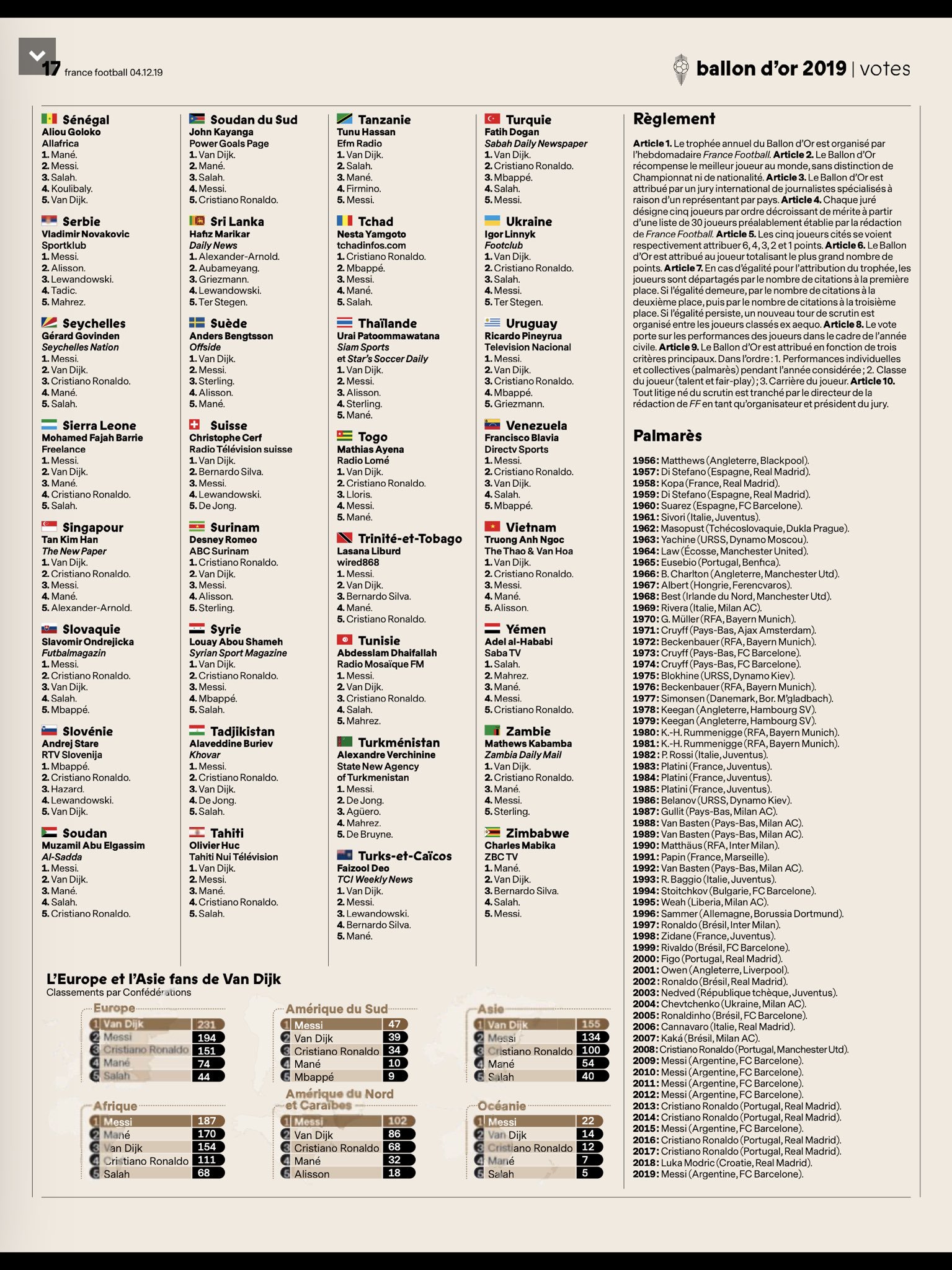 Ballon d'Or Award 2019 winner – who won Ballon d'Or 2019?
Ballon d'Or Award Winner 2019 – Lionel Messi Wins 2019 Ballon d'Or Award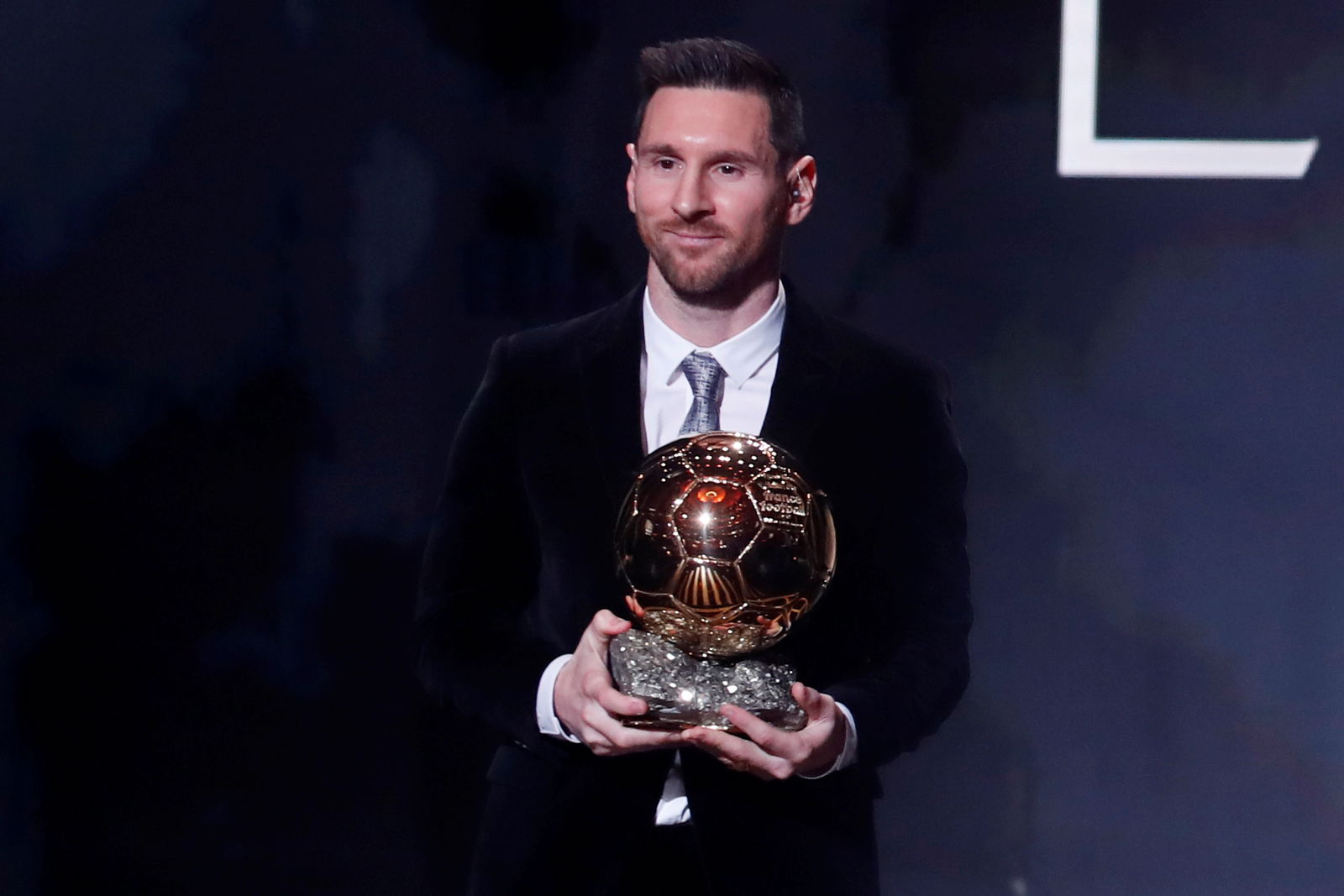 Who won 2019 Ballon d'Or? Lionel Messi won 2019 Ballon d'Or award. He won his record sixth men's Ballon d'Or award, beating Liverpool defender Virgil van Dijk to take the honours. Third was Cristiano Ronaldo.
Ballon d'Or 2019 30 Man Nominees List
The list of 30 Ballon d'Or 2019 candidates has been revealed. Here is the released 30 man shortlist for the Ballon d'Or and how they finished:
Rank

Player

Club(s)

Points

1

 Lionel Messi
 Barcelona

686

2

 Virgil van Dijk
 Liverpool

679

3

 Cristiano Ronaldo
 Juventus

476

4

 Sadio Mané
 Liverpool

347

5

 Mohamed Salah
 Liverpool

178

6

 Kylian Mbappé
 Paris Saint-Germain

89

7

 Alisson
 Liverpool

67

8

 Robert Lewandowski
 Bayern Munich

44

9

 Bernardo Silva
 Manchester City

41

10

 Riyad Mahrez
 Manchester City

33

11

 Frenkie de Jong
 Ajax
 Barcelona

31

12

 Raheem Sterling
 Manchester City

30

13

 Eden Hazard
 Chelsea
 Real Madrid

25

14

 Kevin De Bruyne
 Manchester City

14

15

 Matthijs de Ligt
 Ajax
 Juventus

13

16

 Sergio Agüero
 Manchester City

12

17

 Roberto Firmino
 Liverpool

11

18

 Antoine Griezmann
 Atlético Madrid
 Barcelona

9

19

 Trent Alexander-Arnold
 Liverpool

8

20

 Pierre-Emerick Aubameyang
 Arsenal

5

 Dušan Tadić
 Ajax

5

22

 Son Heung-min
 Tottenham Hotspur

4

23

 Hugo Lloris
 Tottenham Hotspur

3

24

 Kalidou Koulibaly
 Napoli

2

25

 Marc-André ter Stegen
 Barcelona

2

26

 Karim Benzema
 Real Madrid

1

27

 Georginio Wijnaldum
 Liverpool

1

28

 João Félix
 Benfica
 Atlético Madrid

0

29

 Marquinhos
 Paris Saint-Germain

0

30

 Donny van de Beek
 Ajax

0
For more information on the Ballon d'Or, have a look at:
More about Ballon d'Or award
Here is more about the Ballon d'Or award