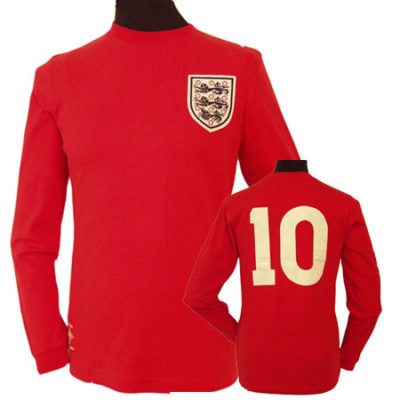 Best Football Kits Ever Made
Best Football Kits Ever? What are the best ever football kits? Have you ever wondered of finding out which football jerseys are the best of all times? Well, if you have then worry not because we have prepared a list of the Top 10 Best Football Kits Ever. Watch & Bet on Football =>
There are a number of good kits which have been worn by football clubs all of the world but we have managed to pick out the best 10. While for some it is an anti-climax due to poor design, for other fans, it is just what they have been waiting for, a fantastic designed ensemble.

Top 10 best kits ever made of all time
In this list of the Top 10 Best Football Kits Ever we look at the best designed kits ever! Some of the best football kits have gone on to be on the Top 10 Best Selling Personalized Premier League Replica Shirts.
10) Liverpool, 1990
9) Real Madrid. 1950s
8) Arsenal, 1988
7) Brazil, 1970
6) France, 1984
5) England, 1990
4) Holland, 1988
3) West Germany, 1990
2) England, 1966
1) Manchester United, 1990/92
Top Ten Best Football Kits of All Time
Do the Football Clubs go too far? Is a overly designed kit unnecessary? Back 50 years ago kits were designed for the players comfort with just colors and a crest, nowadays, it has to be a work of art. guess now its all really about selling to the fans more than anything. Well, let's look at the best football kits of all time. Watch & Bet on Football =>
10) Fiorentina home kit 2017/18
Fiorentina Kit
Purple for home, the other four for away@padangbolasepak @mysemuanyabola @twt_bola pic.twitter.com/2E9bhzL8xt

— Ry (@Fxkhry) July 5, 2017
The home and away kits in the 2017/18 season for Fiorentina are incredible! Love the purple colour and the simplicity of the kit.
9) Real Madrid, 1950s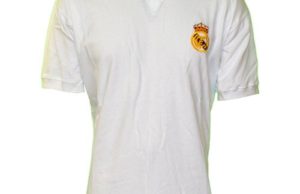 What is there to say about this retro Real Madrid shirt? It is plain white with just the club crest and a big chunky V-neck collar. There are not many smarter kits than this all white one!
8) Arsenal, 1988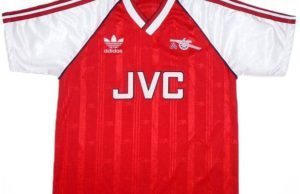 Adidas Originals coming up with another astonishing shirt and this time for the Gunners! The red from matches the white sleeves nicely with the wide collar playing a vital role in the design of the shirt.
7) Brazil, 1970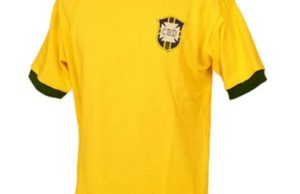 Another vintage but beautiful shirt! All Brazil shirts are nice no matter how old or young they are but this is something else. The green collar and arm endings give it that cutting edge above past Brazil kits.
6) France, 1984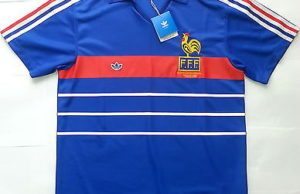 Adidas Originals again! Why do they not manufacture kits anymore? France colours always go nice together and the huge badge is a really nice touch.

5) England, 1990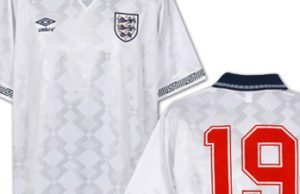 Gascoigne – the only word needed for this one! Umbro produced this classic and it was just a really nice shirt with a polo-type collar and a baggy fit made it look great in game.
4) Nigeria, 2018
Best Nigerian Football Kit have ever seen.?????? pic.twitter.com/0AT6Ki1y33

— connected2JesuS (@eao_10) February 7, 2018
This has to be one of the best football kits I've seen in a long time. The new Nigeria kit was recently announced in preparation for the upcoming World Cup later this year.
3) West Germany, 1990
Easily one of Germany's most ever famous kits! Adidas Originals designed this quirky shirt and it looked very smart. The German colours are spread right the way across the top which is rare nowadays.
2) England, 1966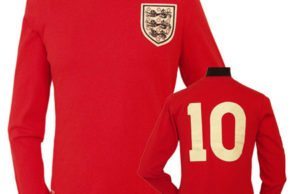 What a kit to win the World Cup in back in 1966! It was a plain red shirt with white shorts and big number on the back. It is very nice to look at and it is simple but highly effective.
1) Manchester United, 1990/92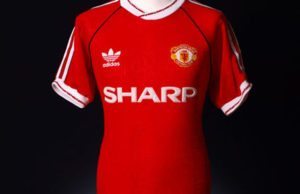 Was it going to be anything else? This design by Adidas Originals is the best kit ever made in world football! The shade of red is perfect along with all white sponsors and white collar. It is the perfect kit and was combined with white shorts and black socks which made the shirt stand out even more. Watch & Bet on Football =>

See also: