Pierre-Emerick Aubameyang Net Worth: How much is Pierre-Emerick Aubameyang worth?
Pierre-Emerick Aubameyang net worth? What is Aubameyang net worth? Aubameyang is one of Arsenal's most important players, being the Gunners captain. So, if you're not familiar with this Arsenal striker, allow us to introduce him to you!
Who Is Pierre-Emerick Aubameyang?
Pierre-Emerick Aubameyang is the captain of Arsenal Football Club and plays as a forward. He is a French striker from Gabon. The Gabon international signed in 2007 to AC Milan, where he got his first break – playing for AC Milan's youth team. He joined Arsenal in 2018 where he finally started playing in the Premier League. In 2019, Aubameyang got appointed as the Gunners captain. He is also the captain of the Gabon national team. He is famous for finishing strong, crossing and has an outstanding ability to take a shot from long distance or long shot ability.
Pierre-Emerick Aubameyang net worth
How much is Aubameyang net worth? Being the captain of his national team and Premier League giants Arsenal, Aubameyang is sure to have a high net worth! His market value is currently 70 million euros. With his salary of £200,000 a week combined with several bonuses, he should be averaging out a lot more than we think.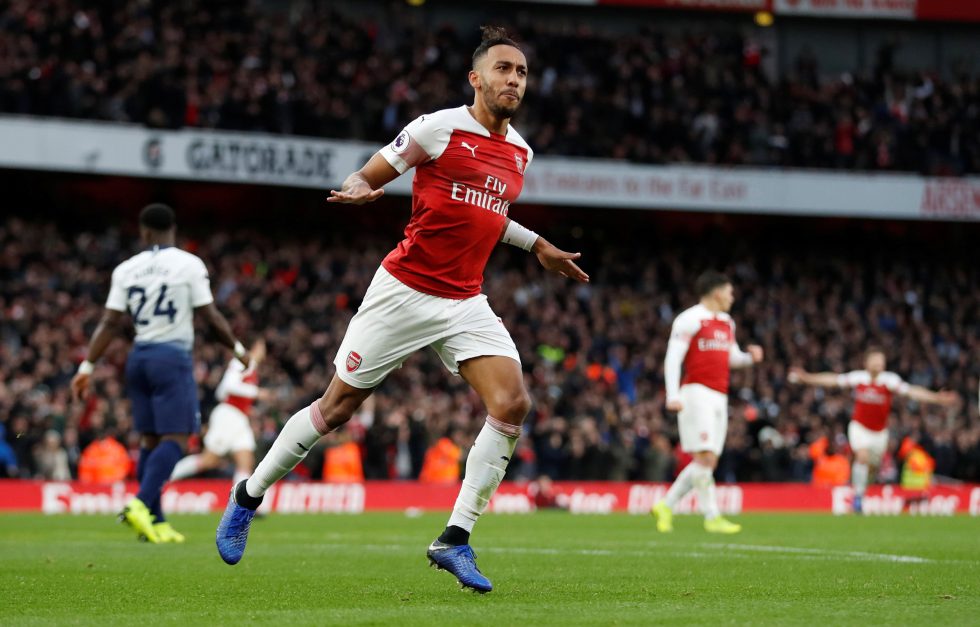 Pierre-Emerick Aubameyang net worth 2020
After rounding up weekly wages, and bonuses, along with brand endorsements and affiliations, we can estimate his net worth as of 2020 to be $20 Million.
Aubameyang Brand: Which brands is he affiliated to?
Pierre-Emeric Aubameyang's main brand affiliation is that of popular sports brand Nike. Nike released the Nike Mercurial Superfly 360 'GabonPanther' football boots, modelled after the Black Panther and Aubameyang. He wore a mask on the pitch in order to promote the boots and the brand.
View this post on Instagram
However, here's a fun fact! Aubameyang had actually got into trouble for showing off and advertising his Nike shoes publicly when he was playing with Borussia Dortmund. The reason he got into so much trouble was that Borussia Dortmund was affiliated and sponsored by sports company Puma, who were direct rivals of Nike. His Nike endorsement now definitely adds to his entire net worth and is currently Nike's brand ambassador. He featured in their advertisements from time to time.
Aubameyang money
Being a top tier football player automatically means a lot of money. Since Premier League is also one of the most-watched football leagues in the world, each player who plays in it is bound to get a huge sum of money annually. Arsenal is one of the biggest clubs in England. Aubameyang being a very important and valuable player for them, earns £10,400,000 annually. And that is only the sum of his weekly wages. Extra money gets added through bonuses, and brand endorsements.
Aubameyang salary per week
Per week, Pierre-Emerick Aubameyang earns £200,000. Annually, his salary comes to up £10,400,000. He is the second highest-paid Arsenal player. Aubameyang salary per week is a huge sum of £200,000 per week. The fact that he gets this much shows how valuable he is to Arsenal. Arteta regards him invaluable due to his impeccable goalscoring abilities and will pay more to keep him at Arsenal for a long time.
You May Also Like: Arsenal Players Salaries 2020 (Weekly Wages) Highest Paid 2019/20
Aubameyang Instagram
You can find Aubameyang on Instagram! His handle is aubameyang97. You can follow him to see what the top striker is always up to! He posts a lot about himself and his life, along with snapshots of him on the field. Currently, he has put up photos of him along with his wife, Alysha Behague and two children.
View this post on Instagram
Isn't this the cutest?
Aubmeyang house
With a whopping £200,000 per week wage, you'd think Aubameyang would have a great mansion. Well, it's true, he does. According to The Sun, Pierre-Emerick Aubameyang has a £16million luxury home, where he lives with his wife, Alysha Behague and two children. His home (or, mansion) is equipped with a high tech and super comfortable home theatre. His entire home is very open and spacious and is situated in North London. The North London luxury home also has a indoor swimming pool, along with a lift. The lift opens at each floor of his mansion. Or they could just take the beautiful spiral staircase! There is also a health suite in his home catering to his health needs. In total, his home has six bedrooms – more than enough space for him and his family!
View this post on Instagram
Aubmeyang cars
However, in his luxury pad, there is only one drawback. He does not have enough space to store his entire fleet of cars! Currently, his home only fits in two of his cars. But sadly, the rest of them stay parked outside. His entire collection of cars amounts up to £1.5m – a Range Rover, black Lamborghini, two Porsches and gold Aston Martins and Audis. And guess what? He also has a Batmobile!