Wayne Rooney net worth: What is Wayne Rooney's net worth?
Wayne Rooney net worth is one of the highest in England! The man has done it all – scoring bicycles, going back to his old club, playing in the US, endorsing FIFA, Nike. So what is his Wayne Rooney net worth?
Wayne Rooney Net Worth Forbes
In 2018, Forbes estimated that Wayne Rooney has a net worth of $27 million just from football. However, we can assure you that it is way below the mark. Forbes was, however, correct on aspect – that in 2018 for the 11th year running, Rooney was in the top 10 highest paid footballers list.
Forbes divided Rooney's assets into $22 million of salary and $5 million of endorsements.
Wayne Rooney Net Worth 2020
In a much more accurate and newer survey done by Goal and other football renowned journalism websites, Rooney's career fortune was estimated at £100 million on January 2020. It roughly converts to $127 million – $100 million more than what Forbes claimed back in 2018.
Rooney has done multiple ads and is a brand ambassador of Nike and was once the same of FIFA. He earned his highest salary in Manchester United, from where he kept taking subsequent pay cuts to first join Everton and then join MLS side Washington D.C. United and finally come back to England with Derby County in the Sky Bet Championships.
Wayne Rooney hair transplant
One of the most debated and discussed topics about Rooney is his hair and transplant surgeries. Even when young Wayne burst onto the scene at Everton, he had a receding hairline if not balding. However, the same man went on to play with hair all his career and even had more than he initially did at one stage!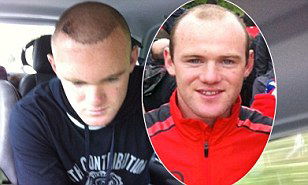 The above shown photo was posted on dailymail right after rumors spiked if Rooney had actually gotten a hair transplant. Kudos to the man, he came forward bravely and admitted that if anyone is balding at 25, they have all the right to get a hair transplant!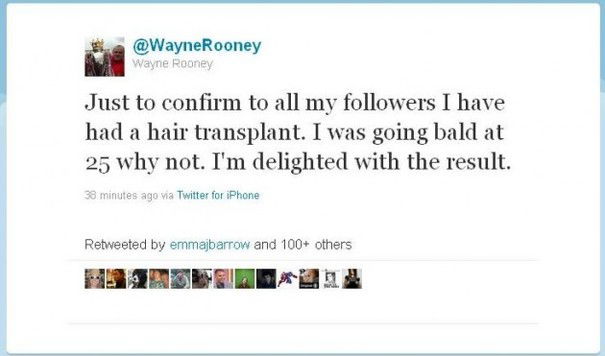 Ahh the things money can buy you!
Wayne Rooney house
Rooney has a £20 million worth house in Knutsford, Cheshire. Amongst, the most amazing features in the house, there is a full-size football pitch with changing rooms and showers for his mates! The 40-acre house was bought in 2017!
Amongst the other features in the house are – an orangery, bar, TV room, snooker room, cinema and wine cellar.
It also has huge indoor swimming pool surrounded by a glass pavilion, a hot tub, plunge pool, steam room and "his" or "hers" changing rooms.
The house also boasts an extensive patio, landscaped gardens and a luxury car garage.
It also has a guest toilet too and separate lifts – one for the family, the other for visitors to avoid the social faux pas of using the couple's own downstairs loo.
It is believed Rooney paid 20% of the house value, ie £4 million at least to the property developer.
Besides this, Rooney also has a £5million sprawling Barbados villa, which he rents out for £25,000 a week and a £320,000 waterfront apartment in Florida.
He also still owns his £6million home in nearby Prestbury which he purchased in 2005.
Wayne Rooney FIFA
Wayne Rooney appeared on six consecutive editions of FIFA on their game cover from FIFA 06 to FIFA 12. In that time it is believed he made at least £10 million from the game developers itself! He has proven by far to be the most successful marketing cover next to Lionel Messi and Cristiano Ronaldo!
Wayne Rooney Nike, Samsung, Instagram
Wayne Rooney has a sponsorship deal with Nike. He earns over £1 million from the company annually. He also had a huge deal with Samsung for the longest time ever. On Instagram, Rooney has 15 million followers and gets paid separately from all his sponsors for paid promotions on top of the regular earnings through endorsement contracts. He also has 17 million on Twitter and 24 million on Facebook as fans!
Wayne Rooney new contract
Rooney's current contract at Derby sees him earn a modest £70,000! He has the contract running till the summer of 2021. He left DC United after a successful campaign over there where he earned in similar numbers.
Wayne Rooney wages
Rooney's first bumper contract was at Manchester United where he earned over £230,000 a week. It went up even more in number after the club acknowledged not only his football value but his endorsement power. The new contract at United saw him become the first player ever in the English Premier League earn a salary of £300,000!
The contract was supposed to run with United till 2019 but Rooney left a couple of years in search of regular football. He took a pay cut and started earning in the region of £160,000 to play for Everton – his boyhood club.
Finally, he left Everton as well fo DC United in the MLS where he earned £70,000. Now he is at Derby earning the same amount. Although £70,000 does seem less for a player who earned 4 times as much in his prime, let us check how much money it is if we break it down to per second.
After tax deductions, the salary comes down to £50,000 per week – so here is how the breakdown looks:
| Timeframe | Earnings |
| --- | --- |
| Per second | £0.10 |
| Per minute | £5 |
| Per hour | £300 |
| Per day | £7,120 |
| Per week | £50,000 |
| Per month | £220,000 |
| Per year | £2.6m |
Wayne Rooney affair
One of Wayne Rooney's biggest down points in his career was back in 2010 when he was accused of infidelity. The matter consumed even more negative publicity as his wife Coleen was pregnant at that moment. Rooney accepted and apologized to his wife, family, and fans. It is reported that Coca-Cola, with whom Rooney had a £600,000 contract annually, nulled their agreement in light of his actions.
He was once again allegedly caught on tape in US while playing for DC. He was in a hotel entering the life, seeing talking to a beautiful woman at 5:30 am in the morning while his wife was in the UK.
See More:
Paul Pogba net worth: How much is Paul Pogba worth?
Lionel Messi Net Worth: How much is Lionel Messi worth?