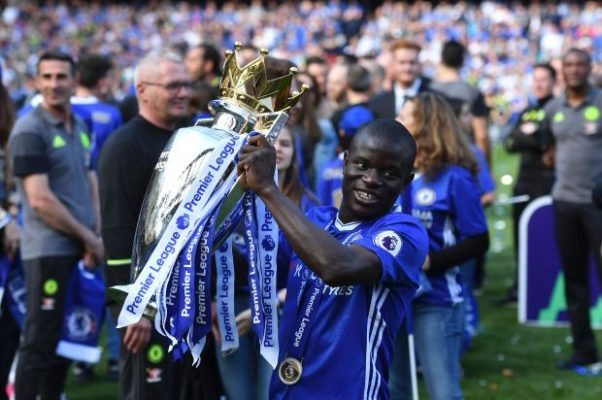 David Luiz has praised team-mate N'Golo Kante after they lifted the Premier League trophy, saying the Frenchman's potential 'scares' him.
Kante is now the first player in Premier League history to win back-to-back Championship trophies with different clubs, having starred for the Blues this season following his summer move over from the reigning champions Leicester City.
The 26-year-old was just named the PFA Player of the Year and has begun to show just how versatile he is under under Antonio Conte.
When David  asked about the in-form midfielder, Luiz told Sky Sports: 'He's incredible – to have him is unbelievable.
'He's progressed so much – I'm a bit scared about [Kante], imagine how good he will become if he progresses even more and can score more.'
Luiz also paid a tribute to his Blues team-mates after John Terry and Gary Cahill lifted the trophy  following another emphatic victory at Stamford Bridge, this time against relegated Sunderland.
'It's been a great year for us,' the Brazilian added. 'It's never easy to win the Premier League and it was a dream come true to come back here.
See Also
Win a pair of exclusive Beats 'Chelsea champions edition' gold headphones
Premier League 2017 Prize Money Distribution & Breakdown 16/17
David Beckham: 'This Chelsea Player is so good'