1) Ryan Giggs – Manchester United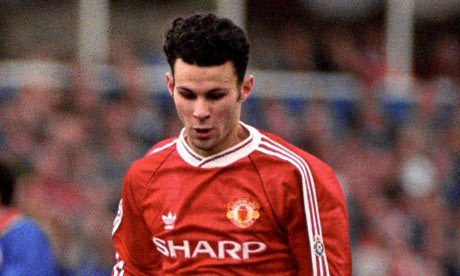 Ryan Giggs is one of football's all-time greats. He joined Manchester United when he was 14 in 1987, and it was a spell at the club that lasted 29 years as he ruled United's left midfield. Giggs is the most decorated player in football history. During his time at United, he won 13 Premier League winner's medals, four FA Cup winner's medals, three League Cup winner's medals, two UEFA Champions League winner's medals, a FIFA Club World Cup winners medal, an Intercontinental Cup winner's medal, a UEFA Super Cup winner's medal and nine FA Community Shield winner's medals. Giggs captained the team on numerous occasions, particularly in the 2007–08 season when regular captain Gary Neville was ruled out with various injuries. He made 652 appearances at Old Trafford and got 114 goals. Legend.
SEE ALSO:Top 10 Oldest footballers to score goals in the Premier League
Top 10 Jose Mourinho Scapegoats
Fastest Footballer In The World 2018 (Currently Active)
Top 10: Hardest shots in football ever recorded-Watch
Premier League Player Salaries 2018 (Highest Paid)
LIST: Popular Footballers Available on Snapchat (+Username)
Worst managers in Premier League history!
Biggest football player shirt sales in 2018 confirmed
Premier League Top Goal Scorers – EPL top scorers of all time!
TOP 10: Shortest managerial reigns in Premier League history
Top 10 Footballers Who Never Played in the Premier League-2018